Woman Finds Sexual Note Scribbled on TSA Form in her Luggage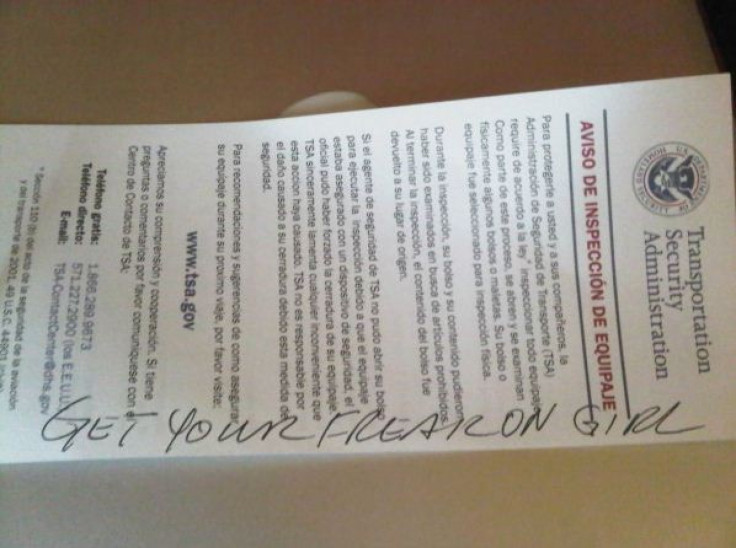 Jill Filipovic, a well-known American blogger and founder of Feministe, a popular feminist blog, took a flight from Newark airport to Dublin Saturday night. After spending Sunday recovering from jet lag, when she opened her suitcase to unpack her belongings, she discovered a note from the U.S. Transportation Security Administration with a handwritten message scrawled on it.
GET YOUR FREAK ON GIRL, it read.
Filipovic, who has also blogged for The Huffington Post in the past, posted a photo of the note with a message saying: Just unpacked my suitcase and found this note from TSA. Guess they discovered a 'personal item' in my bag. Wow.
Kashmir Hill, a staff member at Forbes who claims to know Filipovic socially, asked the TSA for a comment. In response, the TSA said in a statement that it takes all allegations of inappropriate conduct seriously and is investigating this claim.
Is there a particular reason behind the sexually suggestive note? Filipovic did carry a $15 vibrator but it's not particularly freaky, Forbes reported. Filipovic reportedly brought the device along because [she] figured it wouldn't raise any red flags at TSA.
Commenting on the matter, Filipovic wrote, under a post titled Your tax dollars at work on her Feministe blog, that the note was wildly inappropriate.
I'm grossed out, but it's also hilarious, she told Forbes.
The incident may sound amusing and her story may have gone viral. However, according to ABC News, she is planning on filing a complaint with the TSA after she gets home. So far, the identity of the author of the note, which was written on an official form, is unknown.
© Copyright IBTimes 2023. All rights reserved.