Woman Mouths 'Help Me' To Cops, Leads Them To Elderly Mother's Dead Body
A man has been arrested for allegedly killing his 67-year-old mother-in-law inside her house in Pennsylvania.
Police responded to a report of a disturbance at a home on South Main Street in Dover, York County, on Tuesday. When they reached the home, they saw four people – William Gautier, 42, his wife and two small children – in the backyard of the home. As officers were speaking with Gautier, the woman, who was standing behind her husband, signaled for help, mouthing "help me," reported CBS21.
When they tried to speak to her, Gautier intervened and pushed a section of wooden fence at officers, which hit one of them, WGAL reported.
After a brief struggle, officers took Gautier into custody. The woman then told officers that her mother was inside the house and needed help. When police entered the house, they found the 67-year-old woman, identified as Lourdes Ramos Baez, unconscious in an upstairs bedroom. Baez was pronounced dead at the scene.
According to a statement released by the coroner's office, the woman died of "blunt force head and neck injuries with strangulation." "The death appears to be domestic-related and is being investigated as a homicide. At this time, minimal detail is being released as this is an ongoing investigation," the coroner's office said.
The motive behind the murder was not known.
Gautier was arrested in connection with the woman's death and was charged with criminal homicide, aggravated assault on law enforcement officers, abuse of a corpse, resisting arrest and criminal mischief. The man reportedly spat on an officer when he was taken to the patrol car after his arrest. He then kicked and broke a camera system and a rear window of the vehicle.
Baez's body was found face down under a pile of clothing and other items. Her head and face were wrapped in duct tape and had coat hangers around her neck, a criminal complaint accessed by WGAL said. Officers also found a pair of scissors that was used to stab her in the back.
Gautier's wife told police that when she woke up Tuesday morning, her husband was acting "ballistic." She claimed she heard screamings from her mother's bedroom.
She took the children outside and stayed there for the next few hours as the suspect told them not to come back inside the house. She also said Gautier was "inside fixing things" and "using Clorox." Gautier reportedly told her the night before that he was going to kill Baez and take all her money.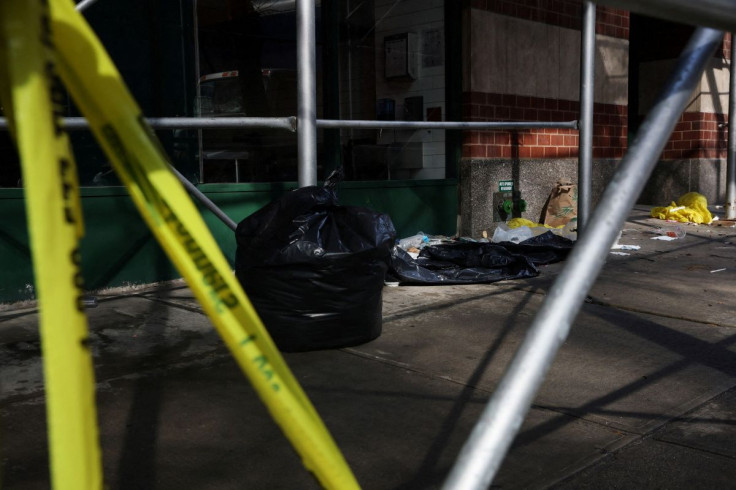 © Copyright IBTimes 2023. All rights reserved.