Woman Removes Pants In Public, Gives Birth And Flees Without Baby After Cutting Umbilical Cord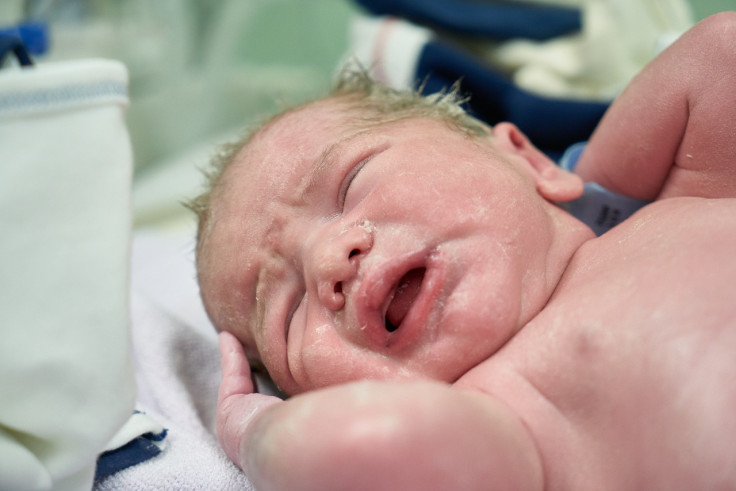 A woman in California gave birth at a parking lot, cut off the umbilical cord by herself and immediately fled the scene, leaving her newborn baby behind as people watched.
The incident took place Friday morning outside an industrial facility in Ventura. Workers at a nearby business heard a woman screaming in an alley and rushed out to find her in labor, the Ventura Police Department said.
The employees approached the woman and witnessed her removing her pants and giving birth behind a bakery in the industrial complex, WFIN News reported.
"They approached the female and saw her remove her pants and immediately give birth to an infant. She placed the infant on the ground, severed the umbilical cord, and quickly ran away from the area," the police department said in a statement.
The witnesses, who were working at the bakery, called 911 and picked up the newborn baby boy.
Jaime Benavides, who was one of the bakery employees at the scene, said he saw the baby slip down into the woman's pants. He took the infant out of the woman's pants after she ran away.
"When I saw the baby was still alive, I was relieved," he told ABC7.
The employees looked after the baby until the officers arrived. The infant was taken to a local hospital and was in stable condition.
The infant boy's mother was not immediately located despite an extensive search being launched. Officers said she appeared to be homeless and might need medical attention.
"She is described as a white female with short, dark hair, who appeared to be unhoused. If you have information about her whereabouts, please call 9-1-1. She may be in need of medical care," the police department said.
They urged Californians to utilize the state's Safe Surrender program that allows parents to safely hand over their infants to authorities.
"We remind you that the State of California has a Safe Surrender program in which a child can be safely surrendered confidentially, and without fear of prosecution, within 72 hours of birth," the police department said.
One can call 1-877-222-9723 or click here to find the nearest safe surrender site.
© Copyright IBTimes 2023. All rights reserved.