The Word 'Nazi' Was Tweeted 30k Times During USA-Germany World Cup Match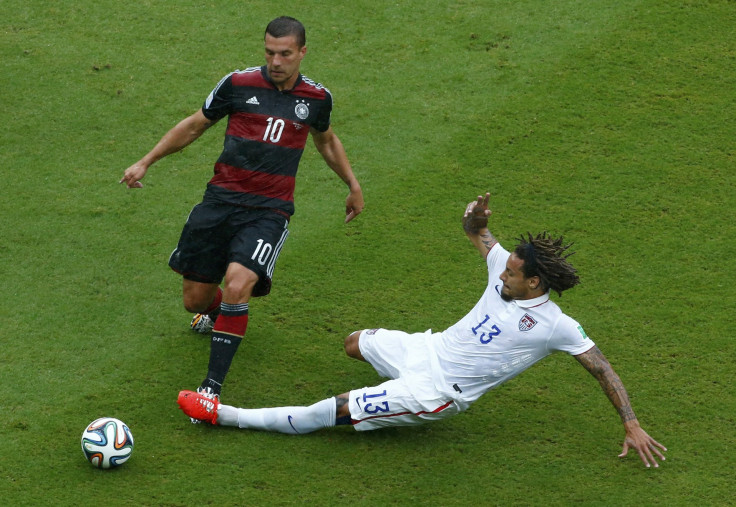 Thursday's USA-Germany World Cup showdown may have been dubbed "World War III" by some fans, but it appears that thousands of fans are still fighting World War II.
The match, which ended in a 2-1 loss for the Americans (who still advanced out of the so-called Group of Death because Portugal simultaneously beat Ghana), roused some pretty ugly nods to the past on Twitter, according to a graph shared by user @DrewG7. The chart, seen below, shows that Twitter users used the word "Nazi" or "Nazis" in tweets and retweets 30,209 times over the course of match, which lasted less than two hours.
Check out the chart below.
That figure represents 3.4 tweets containing the term per second, rising to nearly 25 per second right around the point near 1:15 p.m. when Germany scored the game's lone goal:
The frequency of "Nazi" tweets also jumped when the on-field referee supposedly gave a Nazi-style salute, suggesting to some disgruntled American fans that he was in the Germans' pockets:
A certain percentage of the tweets did come from people chiding users for using the word "Nazi," but it is impossible to tell from the data how many of the more than 30,000 tweets were not pejorative:
The World Cup and international and club soccer in general have been plagued, mainly in Europe, by racist chants and actions, as well as the occasional expression of neo-Nazi sentiment. The 2014 World Cup has also seen a number of racially insensitive and apparently pro-Nazi incidents, which FIFA has vowed to investigate. Two fans attended the June 23 World Cup match between Germany and Ghana wearing blackface and shirts with the word Ghana scrawled on their fronts. A shirtless man originally identified as a German fan ran onto the pitch during that match with what some said were neo-Nazi symbols scrawled on his chest, including an "HH" for "Heil Hitler" and an "SS" for Schutzstaffel, the elite Nazi paramilitary squad. It turns out that the man may have just been a Polish bartender advertising his email address, according to The Independent.
Thursday's Nazi tweets were just the latest chapter in a continuing saga.
© Copyright IBTimes 2023. All rights reserved.