World Cup Rio Match Sunday Reinforced With Extra Police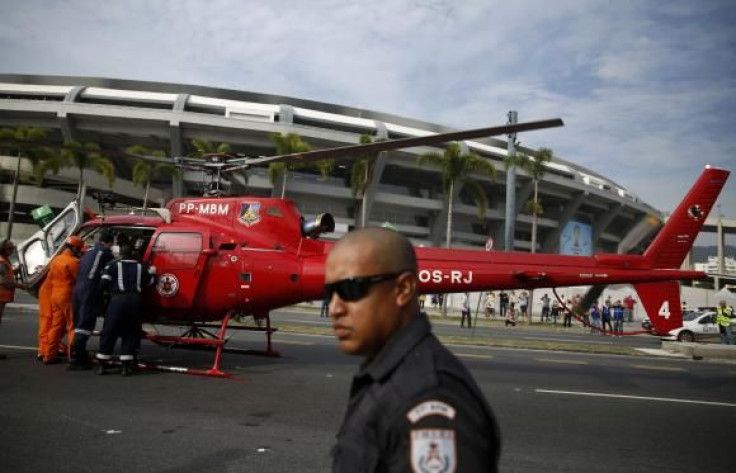 At the World Cup match on Sunday between Belgium and Russia at Rio's Maracana stadium, 600 extra military police will be assigned, the New York Times reported. The added security comes after nearly 100 Chilean fans without tickets rampaged through Maracana's media center before the last game.
The reinforcements would bolster the 2,500 military police that had already been assigned to the game, according to Jose Luis Castro, head of military police for Rio de Janeiro state, according to the Times. Reuters reported that about 600 trainee police officers will join officers already deployed and that additional barriers will be set up for security checks.
"Should there be an attempt to invade, we will have a contingency force to prevent this," Castro said.
Ralf Mutschke, director of security for FIFA, said the security lapse prior to Chile's 2-0 win over Spain on Wednesday was "embarrassing," the Times noted.
The number of private security workers at Sunday's match could also get beefed up from the 1,037 at the last game.
At least 10 Argentine fans were detained a week ago after they scaled fences at the stadium to watch Argentina battle Bosnia-Herzegovina.
"This is a challenge for us," said Roberto Alzir, a Rio de Janeiro state security official who oversees the World Cup's policing. "This is a very complex operation. ...We had specific failures, but various other invasion attempts were avoided by public and private security forces."
He did not say what they were.
Considering that Maracana is a tourist attraction, preventing people from getting close to the stadium isn't an option, Alzir said, "unless the situation becomes abnormal," Alzir said.
Unlike at some of the other World Cup stadium, people are allowed to walk around outside the the Maracana venue, he said.
Alzir also said that Brazil's armed forces could be used if necessary, the Times reported.
"If the situation reaches the point where the measures being taken are not enough, we will have to think about different measures to take," Alzir said. "The armed forces are our partners. They are available if we need them. The president [Brazil President Dilma Rousseff] has made a few men available to work with us."
According to Reuters, other new security measures included extending a planned half-day public holiday in Rio to a full-day holiday on Wednesday, when France is scheduled to play Ecuador, to decrease the amount of people close to the Maracana stadium. Traffic will be barred from streets in the area for longer periods than for previous games, the news agency said.
Sunday's is the third of seven matches at the stadium, where the final will be played on July 13.
© Copyright IBTimes 2022. All rights reserved.
FOLLOW MORE IBT NEWS ON THE BELOW CHANNELS