World Press Photo of the Year: Meaning Behind Symbolic Contest Winner [PHOTO]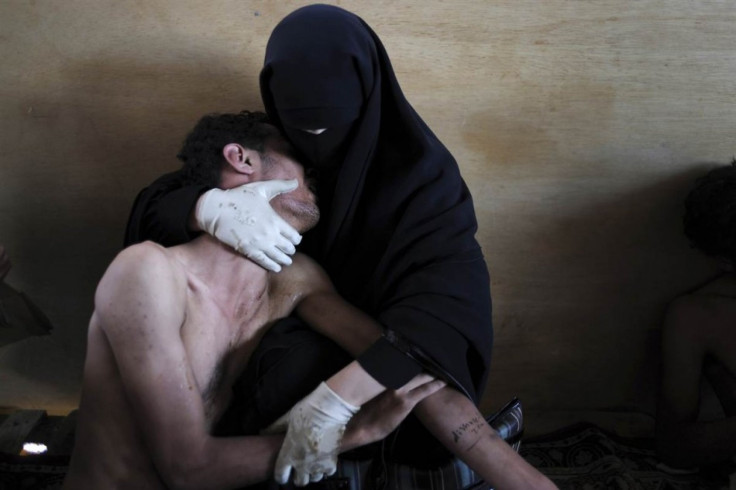 The World Press Photo of the Year winner has been chosen and the meaning behind the powerful image is not only heartbreaking, but symbolic as well.
Spanish photographer Samual Aranda won the 2011 World Press Photo of the Year contest with his shot of a veiled women holding a wounded relative in her arms after a protest in Yemen. Even the eyes of the woman can barely be seen, as the slit is small and the black Birka thick over her body. Her white-gloved clutches the face of her wounded relative as she holds his head against her shoulder.
The symbolic photo demonstrates the human toll and emotional struggle of the Arab Spring uprising in the Middle East. The photo, taken for The New York Times, reveals the heart-wrenching reality of a brutal fight for freedom. Though the story was covering via media outlets worldwide, inked narratives do not necessarily do the protest justice. This photo gives a firsthand glimpse into the gritty truth.
The World Press Photo of the Year was shot on Oct. 15 in a mosque in Sanaa, Yemen, according to The Associated Press. The holy temple was being used as a temporary hospital for wounded protesters.
The winning photo shows a poignant, compassionate moment, the human consequence of an enormous event, an event that is still going on, said chairman Aidan Sullivan. We might never know who this woman is, cradling an injured relative, but together they become a living image of the courage of ordinary people that helped create an important chapter in the history of the Middle East.
Aranda said that the man held by the woman might have been her husband, but he was unsure. He noted the powerful, almost Biblical undertones of the shot, comparing it to Michelangelo's Pieta.
It stands for Yemen, Egypt, Tunisia, Libya, Syria, for all that happened in the Arab Spring, said juror Koyo Kouoh. But it shows a private, intimate side of what went on, and it shows the role that women played, not only as caregivers but as active people in the movement.
As more and more victims perish in Syria, the World Press Photo of the Year winner is a shocking reminder of the horrific cost of war and bloodshed in the name of freedom.
© Copyright IBTimes 2023. All rights reserved.