Yankees News: Soriano To Sign With Nationals, New York To Shop For A Replacement?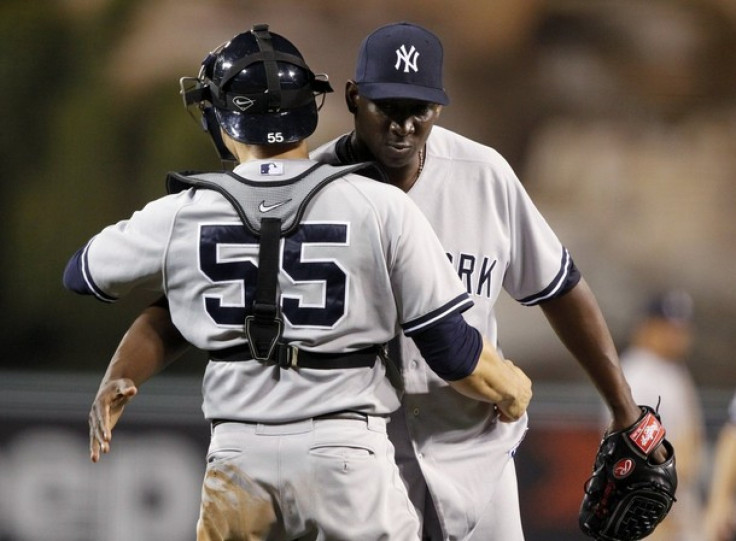 The Washington Nationals have agreed on a two-year deal with Yankees reliever Rafael Soriano worth $28 million, according to sources.
The deal includes a 2015 option valued at about $14 million.
Soriano, 33, spent two seasons with the Yankees and finished the 2012 season with a 2.26 earned-run average, to go along with 42 saves in 67 and two-third innings.
The right-hander is entering his 12th season in the majors, and has a career 2.78 ERA. His departure from New York is not surprising, as the Yankees publicly stated that they planned to cut costs in the offseason.
The Nationals had the second-best ERA in baseball in 2012, and finished tied for fourth in saves with the Yankees. Soriano bolsters an already strong Nationals bullpen.
The deal means the Nationals will lose the 29th overall pick in the next draft, while the Yankees receive the 32nd overall selection as compensation.
The loss of Soriano may mean the Yankees may pursue other players in the free-agent market. The Yankees expect the return of closer Mariano Rivera, and received a strong season from set-up man David Robertson, but New York may be a little thin in the bullpen with Soriano gone.
"We've signed three or four of the biggest free agents on the market. We're pretty happy with that," said owner Hal Steinbrenner to a team of reporters in Arizona. "It's great to have Andy (Pettitte) back and (Hiroki) Kuroda and Ichiro (Suzuki). (Kevin) Youkilis, I'm excited about. I've always liked him as a player.
"We've got some work to do, still," he added. "We need another bat. We're not done yet."
The Yankees have been linked to journeyman Scott Hairston, and were reportedly interested in a major deal to obtain Justin Upton and Michael Morse. According to sources, the Yankees have backed off a potential deal for both players.
© Copyright IBTimes 2023. All rights reserved.