12 12 12 Concert: Lineup, Where To Watch And Everything You Need To Know About The Robin Hood Relief Fund And The Concert For Sandy Relief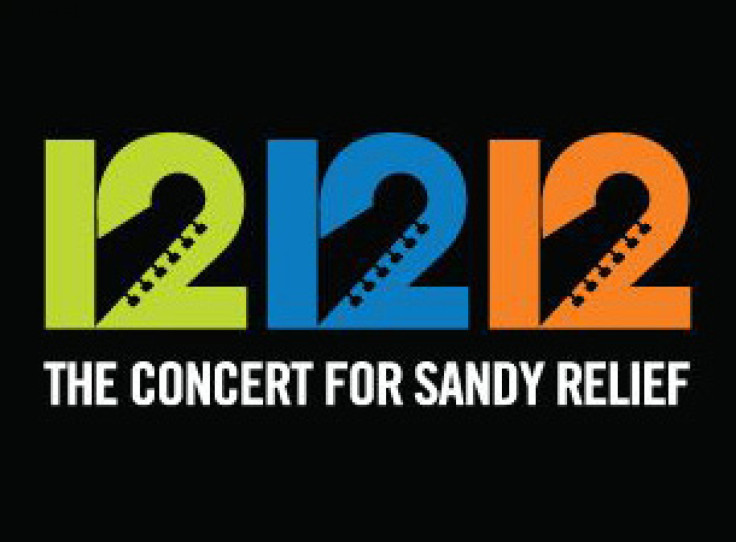 With Wednesday nights "12.12.12: The Concert for Sandy Relief" just hours away, some of the biggest names in music are set to come together in what people are anticipating to be the concert event of a lifetime.
12-12-12: The Concert for Sandy Relief will begin at 7:30 pm ET live from New York's famed Madison Square Garden. The show is set to feature performances by Bon Jovi, Billy Joel, Eric Clapton, Dave Grohl, Alicia Keys, Kanye West, The Rolling Stones, Bruce Springsteen & The E Street Band, Eddie Vedder, The Who, Roger Waters and Paul McCartney.
More than 2 billion people will have access to the concert through 34 TV broadcasts across the globe. The 12-12-12 concert will be streamed on nearly 30 websites, including YouTube, MTV.com, Hulu and Myspace. Several movie theaters in New York, New Jersey and Connecticut will screen the concert as well.
The four-hour show will benefit the Robin Hood Foundation – a fund that will aid disaster victims following this fall's super-storm which devastated the U.S. East Coast.
The live broadcast will also take advantage of social media in an effort to raise funds for the relief effort.
The location-based social network Foursquare will offer a single-day badge -- the Be Robin Hood badge -- which you can unlock by checking in anywhere in the world with the hashtag #121212concert. The first 25,000 checkins will trigger $10 donations from Samsung Galaxy, up to $250,000. It's the first time Foursquare has allowed badges to be unlocked solely by using a hashtag once (badges are usually tied to real-world actions or specific locations) and its the geo-location network's largest donation campaign tied to an event.
Facebook will also be offering new charitable Facebook Gifts, which you can give to 12-12-12 and the Robin Hood Relief Fund. Several of the performers, including Martin, Joel, Springsteen and Vedder, will stream the concert from their own Facebook pages.
In addition, there will be curated feeds of tweets with the hashtag #121212concert on display at Madison Square Garden during the performance, powered by Twubs.
"It's a really unique group of people working on this and leveraging social to make an impact," Harish Bhandari, Robin Hood digital media manager, told Mashable.
Every dollar made from ticket sales will go directly toward Sandy relief, due to the generosity of the sponsors, organizers and Robin Hood's board of directors. Robin Hood will distribute the funds to different community non-profits in New York, New Jersey and Connecticut. The anti-poverty non-profit, with the help of McKinsey analysts, have determined how to best use the funds raised to reach those most in need following the devastating storm.
© Copyright IBTimes 2023. All rights reserved.