3 Reasons Ray Rice Will Return To The NFL In 2015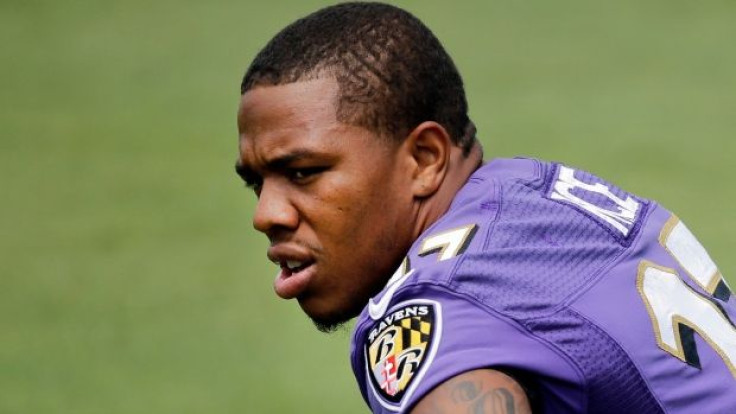 These days former Baltimore Ravens running back Ray Rice, who hasn't garnered so much as a sniff of interest from NFL teams for more than seven months, is being used as a yardstick for appropriate punishment for America's most powerful sports league.
NFL commissioner Roger Goodell suspended Rice for the first two games for the 2014 NFL season after he faced domestic violence charges that were later dropped, but Goodell then issued an indefinite suspension only hours after TMZ released a graphic video showing Rice striking his then-fiancee, now-wife Janay in the elevator of an Atlantic City hotel.
Rice was eventually reinstated to the NFL in December after he won an appeal in federal court. Four teams, including the Indianapolis Colts and New Orleans Saints, were reportedly interested in his services late last season.
However, Rice has yet to sign a new deal and no reports have linking him to any team have surfaced in recent months.
In fact the only attention Rice has received lately has more to do with the New England Patriots and quarterback Tom Brady. The 10-time Pro Bowler was suspended for the first four games of the 2015 season for his alleged role in "Deflategate," and the Patriots were fined $1 million and stripped of their 2016 first-round draft pick.
The punishment's been labeled as too harsh by many, with some going so far as to question why Brady received a stricter punishment than the one Rice initially did. It's a lazy and unfair comparison, especially to Brady, given the violent nature of Rice's actions and Brady's boiling down to the debate of gamesmanship vs. cheating.
Furthermore, Brady already knows he can rejoin the Patriots in Week 6 of next season and team owner Bob Kraft has stated numerous times that he fully supports his four-time Super Bowl champion quarterback.
Rice's future in the NFL is presently murky. Most teams likely prefer to avoid the potential public relations nightmare that might ensue if they sign him. But there are several reasons to believe Rice will eventually be on a roster next season.
Injuries Present Roster Openings
Many NFL teams are only one injury away from signing a troubled player. Defensive end Greg Hardy faced domestic violence charges as well, but as one of the best pass rushers in the NFL he signed a one-year deal with the Dallas Cowboys worth $11 million. Dallas didn't lose a player to injury, but its pass rush needed improving so it went and signed Hardy. The NFL did suspend Hardy for the first 10 games of next season, but he's still a valuable commodity in one of the thinnest job markets in the country.
As mini and training camps get underway, it's possible a running back gets injured and Rice will receive a call.
League Of Second Chances
The NFL is loaded with talented players who don't find their names splashed on the police blotter, but there's also plenty of examples of players who were given second chances and Rice could join that list.
Former Falcons, Eagles and Jets quarterback Michael Vick re-entered the league after serving 19 months in federal prison for dogfighting charges. Former Ravend linebacker Ray Lewis faced murder charges and then led Baltimore to the Super Bowl a year later. In 2009, then-Cleveland Browns wide receiver Donte' Stallworth reached a plea deal with prosecutors on DUI manslaughter charges and later signed with Baltimore in 2010. More recently, Minnesota Vikings running back Adrian Peterson was reinstated last month following child abuse charges.
Demand For Veteran Talent
Though he performed poorly in his last season, 2013, Rice is a proven talent with four 1,000-yard rushing seasons and one Super Bowl title on his resume. He even led the NFL with 2,068 total yards in 2011.
And unlike most running backs, Rice hasn't taken a hit in the NFL for more than a year. Perhaps no other offensive skill position in football takes more punishment than a running back, which is a big reason why most are considered finished once they turn 30.
Rice will also be a cheap option for teams. The Ravens terminated his $35 million contract in September, and he won't receive another deal of that size ever again. It's more likely Rice gets a one-year deal in the $1 million to $3 million range.
© Copyright IBTimes 2023. All rights reserved.