50 Cent Tweets That he Won't Pray for Rick Ross, But Doesn't Wish Death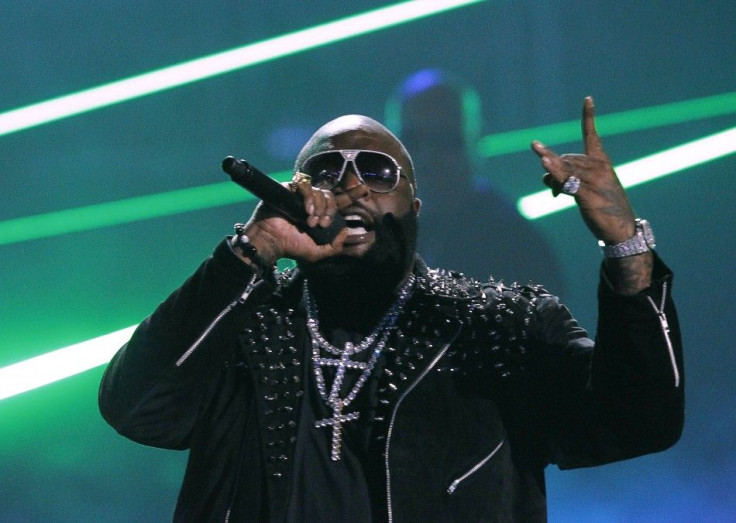 Hip Hop star Rick Ross reportedly suffered multiple seizures within six hours on Friday — forcing his planes to divert — and he was hospitalized in Alabama, according to media reports. The medical scare prompted many celebrities, including his hip hop fued 50 cent, to comment.
Fans tweeted to 50 Cent about Rick Ross' medical woes asking if he would pray for the man who calls himself The Boss. 50 Cent kept his answer short.
No but I don't wish DEATH on him my grand father had a seizure #SK RT@YoungDrCream: @50cent U gon' #prayForRickROss ? he tweeted on Friday.
Rick Ross and 50 cent have been feuding since 2009 and have both made diss tracks about each other. In the song In Cold Blood Rick Ross made references to 50 Cent. 50 Cent has also referenced Rick Ross whom he has targeted stating that the Maybach Music Group icon was a correctional officer before he became a hip hop star.
TMZ has reported that Rick Ross has said he is ready to rock the stage on Saturday, despite his double medical scare on Friday. TMZ first reported that Rick Ross was hospitalized twice for seizures.
Rick Ross' first scare took place Friday afternoon when he was on a Delta Air Lines flight from Fort Lauderdale, Fla., to Memphis, Tenn. He was scheduled for a show at a University of Memphis basketball event that night, but the had to return to Florida after the hip hop star had an unspecified medical problem.
The Boston Globe reported that Rick Ross was treated at a Fort Lauderdale hospital, after which he tweeted: Memphis here I come.
But as Rick Ross got a private jet that was Memphis-bound, the plane had to reportedly make an unscheduled landing in Birmingham, Ala., as the 34-year-old singer had another medical problem, Memphis basketball coach Josh Pastner told a crowd at the Friday night event where Ross was to perform, according to the Boston Globe.
Ross is scheduled to perform at the Greensboro Coliseum in North Carolina as part of the homecoming at North Carolina A&T State University.
An employee at the venue told TMZ that Rick Ross' group has confirmed that he is doing better and will take the stage as planned.
Rick Ross' new album God Forgives, I Don't, is due for release in December.
© Copyright IBTimes 2023. All rights reserved.