'90 Day Fiance' Season 2 Spoilers: Watch Justin Avoid Telling His Mother About His Fiancée Evelin In Bonus Clip From Episode 2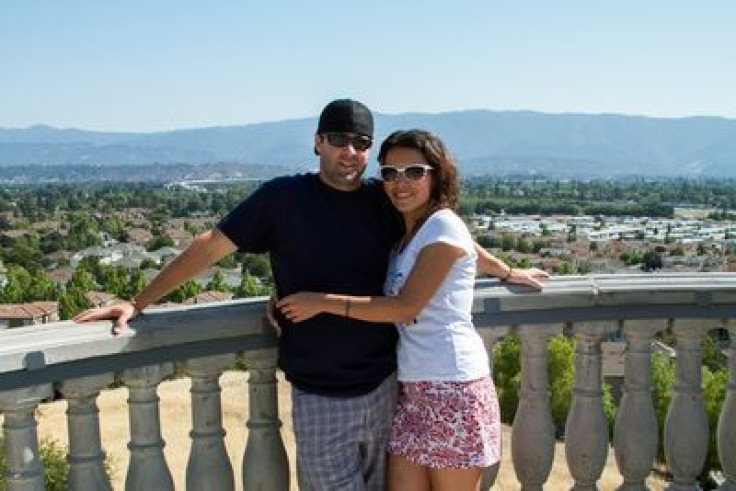 TLC's "90 Day Fiance" Season 2 episode 2 brought on the drama for Justin and Evelin, and all the juicy scenes couldn't even fit into the episode. The show follows several couples who were previously long distance. Some met online while others met traveling abroad, but they were all separated by international borders -- until now. The couples have special 90-day visas for fiancés, the K-1 visas. If they're not married at the end of the 90-day period, the exotic fiancé will have have to return to his or her home country. They obviously have a limited time frame, so Justin should probably tell his mom he is engaged. However, as viewers saw, he had quite a bit of trouble finding the right words. TLC released a bonus clip that shows just how much trouble Justin had when he tried to tell his mom about his 90-day engagement.
The bonus clip shows Justin and Evelin were clearly getting comfortable together. He was clipping his toenails on the couch while she brought him snacks. Evelin was a little uncomfortable with one thing, though: Justin still hadn't told his family about her.
Evelin told him telling his family was very important to her. "The most important person now is your mom," she said.
"I'll call her today and I'll try to meet with her so I can tell her about you, and then you can meet everybody," he said.
It seemed like he understood this was meaningful to her. Evelin said it was a relief to know he understood how important family was to her, but they might not be on the same page. Justin's mom didn't even know why her son was being filmed. He is extremely private and he wasn't very forthcoming when they had lunch together.
His mother immediately wanted to know about his love life. "Are you dating anyone?" she asked.
"Yeah, you know, from time to time," Justin said.
"Anyone special?" she asked.
"You know, the usual," Justin said. Apparently getting engaged for 90-days with a girl he met while visiting Colombia is "the usual" for Justin. He told the cameras he has always kept his love life private, but his mom seemed to be hoping he would get married soon.
"I want him to find someone and settle down," his mom said.
Justin changed the subject because he felt that it wasn't "the right time." He knew Evelin might be upset with him, but he wanted to tell his whole family at once in person. He didn't want to have to repeatedly explain their relationship.
Watch the sneak peak video below:
Justin and Evelin have a limited time frame, but they wouldn't be the first married couple who haven't met the parents. Jason and Cortney on "Married At First Sight" didn't meet each other's parents until after they finished filming. It doesn't seem like Justin even wants to get over his privacy issues. In the episode, he told the cameras he wanted to elope with Evelin, but he didn't tell her that. Do you think Justin will ever tell his family about his engagement? Take the poll:
"90 Day Fiance" airs Sundays at 9 p.m. EST on TLC.
© Copyright IBTimes 2023. All rights reserved.