'Dance Moms' Season 4 Finale Spoilers: Abby Lee Miller Insults Chloe Lukasiak, ALDC Girls Compete At Nationals [PART 2 RECAP]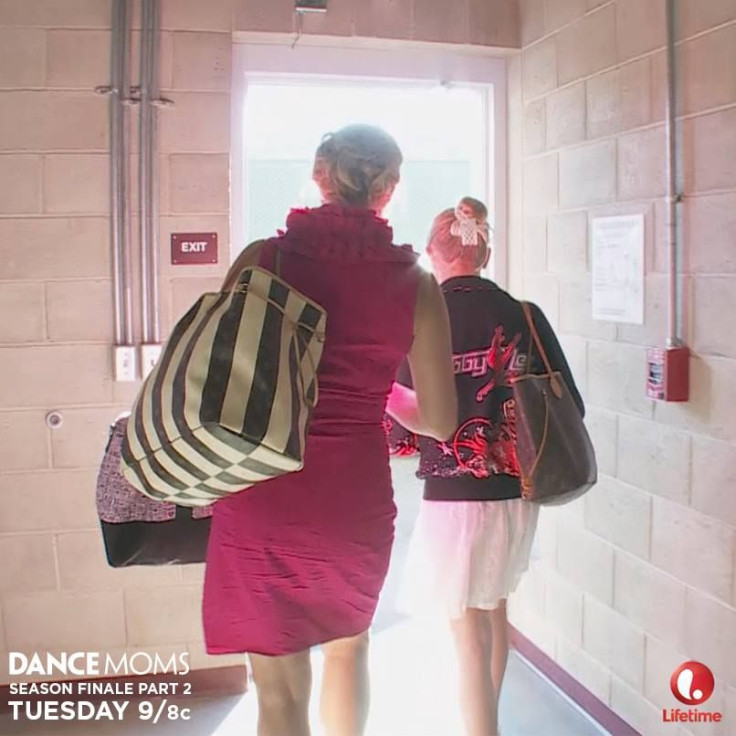 After attending dozens of competitions and countless rehearsals, the ALDC teams headed to nationals in Los Angeles with their coach, Abby Lee Miller, on the Season 4 finale of "Dance Moms" Tuesday. Ahead of the competition day, Abby put pressure on all of her dancers to win, specifically soloist Chloe Lukasiak, 13, in "Here We Come Hollywood, Part 2."
"Chloe is doing a beautiful contemporary piece entitled "Soaring." Will she soar or will she continue to spiral downwards and be mediocre?" Miller said. After a dismal rehearsal, Abby told Chloe she needed to "want it" in order to beat her competitor, 14-year-old ensemble member, Kamryn Beck.
"That wasn't looking like you wanted to dance," dance mom Christi Lukasiak told Chloe after the rehearsal. "It has to come from you Chloe. I can't make you want to dance." After Chloe remained silent during the confrontation, Christi stormed away from her daughter and found solace with fellow dance mom Holly Frazier. "Why does she not have that fight in her? She's beat down so much that she just gave up on herself," Christi said.
Chloe, a longtime punching bag of Abby's, said her passion was lacking due to her believe that her coach did not want her to beat Kamryn. "That's really hard to go into a dance competition with all this pressure on you and then everyone's working against you," she said.
After a dramatic last-minute rehearsal, Abby's teams arrived at the competition only to learn that their longtime rivals, the Candy Apples, had plans to compete against them using the Sia song "Chandelier," a music video made famous by Abby's lead dancer, Maddie Ziegler, 12. "Oh my God, I'm going to get sick to my stomach," Abby said before approaching the Candy Apple's coach, Cathy Nesbitt-Stein, about her betrayal. Cathy refused to apologize for her song choice claiming Sia was not a fan of Abby. "Sia can't stand you from what I hear," Cathy said.
Following Cathy's stunt, Abby gave Maddie the chance to perform the real "Chandelier" dance at nationals, an opportunity which she turned down in order to let Chloe, Kamryn and Kendall Vertes, 11, compete. While Maddie refused to show up the Candy Apples, she did show off her famous "Chandelier" choreography backstage after one of the rival studio's moms taunted her with Sia's music outside their dressing room.
"I got really mad because the song is like part of me. I just had to show that this is my dance and no one can really do it the same," Maddie said.
So who walked away a winner? Despite her lackluster rehearsal, Chloe managed to beat out the other ALDC stars, placing fifth for her contemporary solo "Soaring" in the teen division. Kamryn, who fell onstage during her routine "This is the Start," followed closely behind, placing sixth. Kendall took home ninth-place for her jazz routine, "My Name in Lights."
While none of the soloists managed to take home a first-place win for Abby, the dancers did walk away with a big win in the group category. For the fourth consecutive season the elite team placed first overall with their chilling contemporary number "Amber Alert." The ensemble placed second with their contemporary routine "Hollywood Stars," a loss which resulted in Abby dismissing the entire team of dancers. The Candy Apples, despite their best efforts to beat the ALDC, only placed fifth overall with their rendition of "Chandelier."
Unfortunately for Chloe, Abby's rage continued after dimissing the ensemble team. After voicing her upset over Chloe's win and accused Christi of being jealous of her daughter's competitor Kamryn, Abby went head-to-head with the dance mom backstage at nationals.
"Those five kids in there put your fat name on the map. You were no one before these kids!" Christi said to Abby after the coach insulted Chloe's alleged lack of technique. "She has more class in her little finger at 13 then you have in that big, fat body at 45."
Abby rebuffed Christi's comments by calling her longtime student a has-been. "Chloe is finished! She's washed up!" Abby said. "How dare you! Do you know anything about that kid? No!" Christi said.
After their feud, Chloe tearfully admitted to overhearing her mother's argument with Abby. "As a mom, I can't sit by and let her sit by and watch this woman destroy my child anymore," Christi said. "My line has been crossed. Dance isn't worth it."
While Chloe did not announce her rumored plans to leave the program and the ALDC, she did admit to be tired of learning under Abby's infamously tyrannical reign. "I just don't want to deal with her anymore," she said.
The "Dance Moms" Season 4 reunion airs Tuesday, Oct. 14 at 9 p.m. EDT on Lifetime.
© Copyright IBTimes 2023. All rights reserved.