Abortion Rights Activists Strip To Underwear In Protest During Joel Osteen's Megachurch Service [Video]
KEY POINTS
3 activists from Texas Rise Up 4 Abortion Rights interrupted Sunday's church service
"My body, my choice," chanted the women, wearing white bras with green hand prints
The women were escorted out by security and continued protesting outside the church
Houston, Texas -- Three abortion rights activists interrupted Pastor Joel Osteen's Texas megachurch by stripping down to their underwear and changing: "My body, my choice."
Osteen had just finished a prayer when the women stood up and took off their dresses Sunday.
"Overturn Roe, hell no!" one shouted.
The activists, from Texas Rise Up 4 Abortion Rights, waved green bandannas and wore white sports bras that had hand prints in green — the color representing the pro-choice movement, USA TODAY reported.
Video of the incident went viral on Twitter and showed security escorting the three women out of the Lakewood Church.
The trio then joined other activists outside the church and continued their protest.
"Christians are not afraid to bother us at health care clinics, at doctors' offices [where we're] trying to get essential health care, so why the f–k wouldn't we bother you in your own home where the laws are coming from," one protester said outside the church, according to the New York Post.
Protesters from Texas Rise Up 4 Abortion Rights said they targetted Lakewood Church, which is regularly visited by over 50,000 church-goers because they believe most churches are against abortion.
"I know it seems very outrageous to do it in a church in a private space," activist Julianne D'Eredita told KPRC 2. "However, the people who are enforcing these laws have no qualms coming up to women in private spaces such as doctors' offices and medical clinics to harass them and call them murderers."
The demonstrators were protesting the possibility of the Supreme Court overthrowing Roe v. Wade, which came to light after Politico obtained a leaked document. The ruling would remove the federal law protecting abortion rights in the U.S. and allow states to set their own policies and laws on abortion.
The final decision is expected this month or the next, ABC13 reported.
"These institutions, including this church, are way too silent right now about the ways in which the world has fallen apart, including the fact that half the United States is about to be ripped [off] a basic right," protester Victoria Mycue told the outlet.
Lakewood Church has not responded to media outlets' requests for comment on Sunday's protest. The church's livestream of the service was taken down.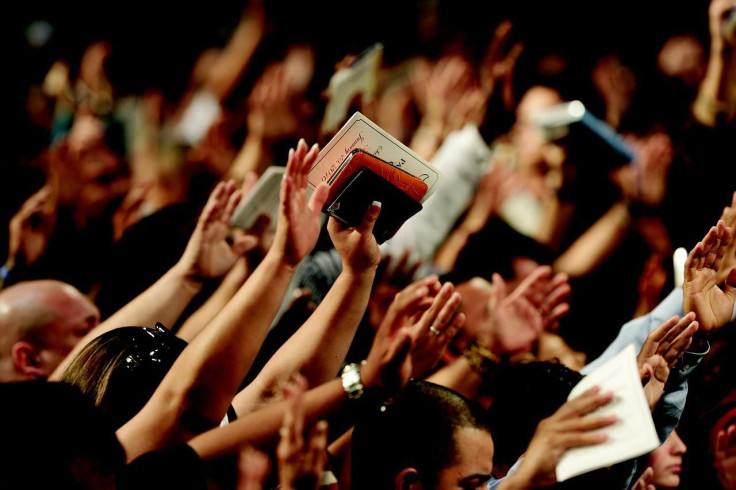 © Copyright IBTimes 2023. All rights reserved.
FOLLOW MORE IBT NEWS ON THE BELOW CHANNELS