Adobe CS6 Release 2012: Top Features That Make It Better Than CS5; Do You Need To Upgrade? (Launch Video)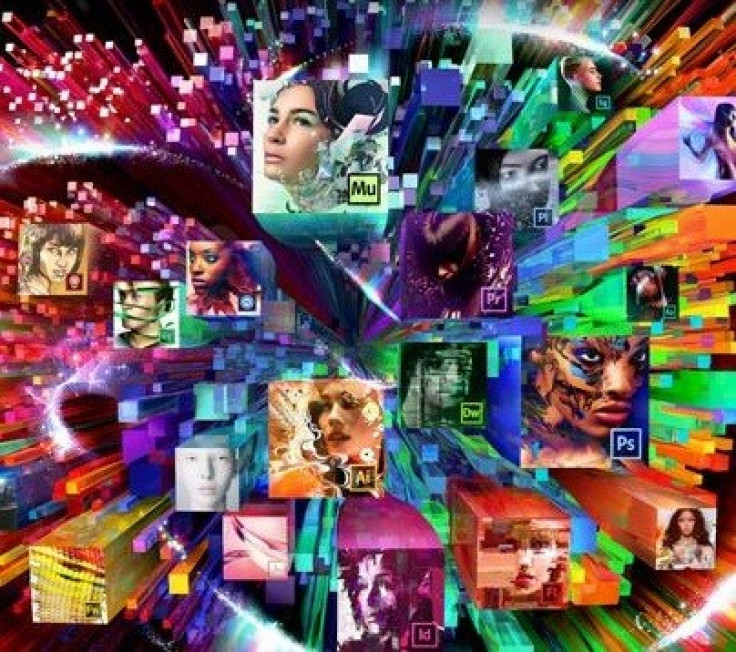 Finally a day to rejoice for the Adobe fans! The company unveiled Creative Suite 6 along with Adobe Creative Cloud on Monday at an event in San Francisco. Creative Cloud, which is a digital hub, is an optional membership-based program formed of three pillars: Creative Services, Creative Community and Creative Applications, explained Adobe CTO Kevin Lynch.
Adobe calls its new CS6 a killer release with hundreds of new capabilities rolling up four focus areas: application performance, enhanced user interface, efficient development for multiple devices, and making previously impossible things possible.
CS6 includes Photoshop, Photoshop Extended, Illustrator and 15 other programs. Muse and Edge, both new to the Creative Suite, are also downloadable apps for up to two machines, as the programs allow users to create deep mobile applications.
How 'killer' the software really is? Let's check out the features:
Top CS6 Products and Features That Make it Better than CS5
Improved Photoshop and Photoshop Extended CS6
Photoshop comes with a strong track record and this time it features the long-rumored darker and modern user interface, mercury graphics engine to give users near-instant results with textural photo tools, new Content-Aware Move, Extend and Patch Tools, Skin-Aware Masking with Face Detection, Blur Gallery for creating shallow depth of field, tilt-shift blur and graduated blur, completely redesigned crop tool, like lightroom, background save, creation and edit of video footage, auto-recovery and more.
Photoshop is available for individual purchase for $699 or as part of the Standard CS6 package for $1,299. Users who already own Photoshop can upgrade to the new version for $199.
Photoshop Extended is available for $999, but also comes with the the Premium ($1,899) and Master Collections ($2,599), and on Adobe's Creative Cloud ($49.99/month). Those who already own Photoshop can upgrade for $399.
And, compared to CS5, the new version has simplified 3D design by including features like On-canvas 3D controls at your fingertips, Reflections and drag-able shadows, Easy alignment and distribution of 3D objects, 3D performance boost, Enhanced 3D animation, 3D stereo viewing and printing, Adobe Flash® Professional 3D export and 3D Sketch and Cartoon presets.
Updated Illustrator CS6
The new version of Illustrator does not come with a baggage full of new features but introduces some interesting features. The new Illustrator is powered by the enhanced Mercury Performance System with native 64-bit support for large files. In addition to this performance boost, Adobe has updated its tracing engine to edit images for clean lines and packed in a new pattern creator tool, added variable-width strokes and the capability to apply gradients to strokes, Gaussian Blur effects and improved the interface.
Illustrator is available for $599, but also comes with the Standard ($1,299), Premium ($1,899) or Master Collections $2,599) and unlike Photoshop, it comes on the Creative Cloud ($49.99/month). Those who already own Illustrator can upgrade for $249.
When compared to CS5, the latest Suite has introduced more Creative tools such as Pattern creation, Image Trace and Gradients on Strokes. Its performance and productivity have also improved due to the introduction of features like Adobe Mercury Performance System, efficient, customizable interface, type selection improvements, enhanced Gaussian Blur, dockable hidden tools and improved transparency panel.
New Muse CS6
Adobe has introduced a brand new application Muse to enable website designers to create and publish HTML5 websites without writing code.
Muse also offers easy-to-use sitemaps, master pages with editable headers, footers, other tools that helps to make site fast and intuitive, smart guides, rich and compelling interactivity with slide shows, accordions, lightboxes and more. Muse is available for $15, and also comes on the Creative Cloud ($49.99/month).
New Acrobat X Pro CS6
Acrobat X Pro helps you to present your work in an engaging digital format. This software enriches your PDF documents with embedded video, audio, and widgets.
Acrobat X Pro is available for $449, but also comes with the Standard ($1,299), Premium ($1,899) or Master Collections ($2,599), and on the Creative Cloud ($49.99/month). Those who already own Acrobat X Pro can upgrade for $199.
Updated Dreamweaver CS6
Adobe's Dreamweaver is web designing software that provides an intuitive visual interface for making and editing HTML websites and mobile apps. Dreamweaver in CS6 features fluid grid layout system that helps creating cross-platform and cross-browser-compatible web designs. The new Dreamweaver also includes improved FTP functionality, integrated Business Catalyst panel, updated Multiscreen Preview panel and enhanced jQuery Mobile support, CSS3 transitions and more.
Dreamweaver is available for $399, but also comes with the Premium ($1,899) or Master Collections ($2,599), and on the Creative Cloud ($49.99/month). Those who already own Dreamweaver can upgrade for $125.
In short, the latest Suite introduces fluid grid layout, enhanced jQuery mobile support, updated Adobe PhoneGapTM mobile framework integration and CSS3 transitions to make difference from the CS5.
Flash Professional CS6
Flash Professional is a powerful authoring environment for creating animation and multimedia content. The tool helps creating interactive HTML5 content, Sprite sheet generation, prepackaged Adobe AIR captive runtimes, Android and iOS devices application interaction simulation, support for the latest runtimes.
The Flash Professional of CS6 provides extensive publishing support through prepackaged Adobe AIR® applications, platform- and device-specific access, Adobe AIR 3.2 support and Adobe Flash Player 11.2 support - all these were missing in the last version of Suite.
Edge Preview CS6
Edge Preview is a powerful, intuitive tool for creating interactive motion content for the web using HTML5, CSS3, and JavaScript.
Edge Preview, which comes with the Adobe Creative Cloud subscription plan, is an HTML-native tool that allows you to make interactive content for HTML5, CSS3 and JavaScript for browsers, tablets and smartphones.
Some other significant tools that have also been updated to make big difference than the last version of Creative Suite are Fireworks CS6, Fireworks CS6, After Effects CS6, Encore CS6 and Audition CS6.
Creative Cloud
According to Adobe, the Creative Cloud is a radical new way to make, share and deliver the creative work of its users. The Cloud system, which is centered around CS6, comes with innovation across its industry-defining design, Web, video and digital imaging tools.
The Creative Services of the Cloud includes a Font Service like Typekit to enable the use and delivery of a broad foundry of cloud fonts across all of your work, Digital Publishing for publishing rich media to tablets via the cloud and Business Catalyst for supporting designing and operating websites for small businesses, handling e-commerce, doing customer relationship management and integrating with social networks.
The Creative Community enables you to connect with all creative people around the world and enables them to share, communicate and collaborate.
The Creative Applications enables to create not only on your computer but also on mobile devices. A host of Adobe Touch Apps such as Proto, Kuler, Debut, Collage, Carousel, Ideas and Photoshop Touch will let you access your Adobe creative products like Photoshop, Illustrator, and Dreamweaver and Premiere and InDesign and more.
CS6 Pricing
Creative Suite 6 will be available on a monthly subscription basis as part of Adobe's Creative Cloud offering. As of now, the Adobe is now offering the most comprehensive master edition of that suite -- valued at $2,599 for a full license -- for $49.95 per month, with a one-year commitment.
Adobe's Cloud is undoubtedly expensive and for that huge amount of money, the user will only get 20 GB of storage. But that payment will also give you full access to Adobe's Creative Suite of products including Photoshop, Illustrator, Dreamweaver and more. While individually these software programs cost hundreds of dollars each, collectively, Adobe has given a $2,599 price tag on the Adobe Creative Suite 6 Master Collection.
CS6 Availability
TechCrunch has reported that the Adobe products are scheduled to be available within 30 days. That means, we can expect the release will take place in mid-May.
© Copyright IBTimes 2023. All rights reserved.
FOLLOW MORE IBT NEWS ON THE BELOW CHANNELS