Samsung Galaxy S3 Release Countdown: Teasers Reveal Nothing, Just A Marketing Ploy?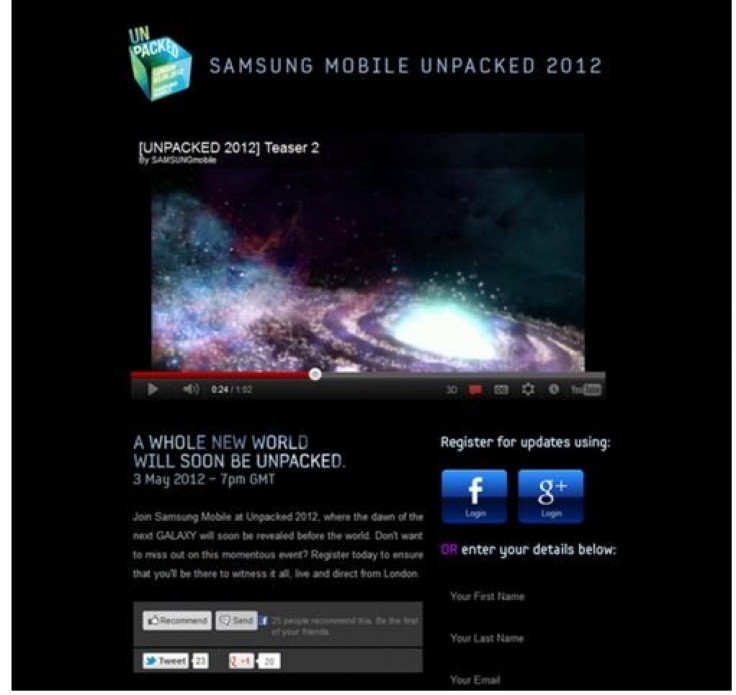 Are you one of those who waited with bated breath for the first sneak peek at Samsung's latest Galaxy S3 smartphone? All you get now is disappointment as the first Galaxy teaser, however, reveals nothing exciting. One wonders if it's rather a marketing gimmick from Samsung!
What The First Teaser Shows About Galaxy S3
Honestly, nothing!
The teaser combines two videos, of which one is 1.15-minutes long and the other is of only 15 seconds.
The web page makes some brief claims of technology that fits easily in your hand, and the rest appears to be just psychadelic colors and visual phantasmagoria.
The second trailer reveals more of the same, with Samsung promising the device will become a natural side of life, throwing in a quick jibe at those rival smartphone-carrying sheep.
Samsung's Latest Drama Over Galaxy S3 Release
On Sunday, Samsung Mobile's twitter account made a mysterious announcement at 9:52 a.m. ET: Destination: tgeltaayehxnx.
Tech maniacs discovered that the word tgeltaayehxnx is actually an anagram that, when rearranged, spells The Next Galaxy.
They even suggested to add a .com to the end of that anagram. And they were absolutely correct as that tgeltaayehxnx.com took us to visit a Samsung Mobile website showing a beautiful-looking countdown clock. The title of the page reads, A Whole New Universe.
Enthusiasts were perhaps at the peak of excitement to finally see something from Samsung, but now it seems that the company has made an extremely late April Fool Joke!
The company was expected to release the phone at the Mobile World Congress in Barcelona earlier this year.
Samsung's Press Event on May 3: Another Joke?
Now that we are getting acquainted with Samsung's funny side, we sincerely hope that the press event, which is scheduled to take place on May 3 in London, does not turn into another hoax.
Reportedly, the Korean electronics giant is expected to unveil the third-generation of its flagship Galaxy phone, popularly known as Galaxy S3.
Amazon Pricing Reveals Some Clues About the Galaxy S3 Features
Meanwhile, Galaxy S3 is available for pre-orders at the German retailer Amazon.de.
According to the listing, the latest Galaxy smartphone will sport a $786 price tag and will feature including a 4.7in Super AMOLED touchscreen, Android 4.0 Ice Cream Sandwich (ICS), a 12MP rear camera with autofocus, LED flash and face detection and 16GB of internal storage expandable to 32GB. And, will be available in black.
Rumored Features
Screen Size and Resolution
According to Tweakers.net, a Dutch website, Samsung Galaxy S3 will feature a 4.7-inch AMOLED screen with a display resolution of 1280 x 720 pixels. BGR, however, reported that the Galaxy S3 will feature a 4.8-inch full HD display with a 16:9 aspect ratio and 1080p resolution. Either way, the phone will reportedly be a monster, stretching from the 4.3-inch screen size of the S2 to a 4.6-4.8-inch display, which is almost tablet-sized.
Home button
Amdist all the rumors about Home button's presence and absence, the latest one suggests the Samsung Galaxy S3 would dump its physical home button like the Galaxy Nexus smartphone. Instead, it looks like the S3 will get a home button just like Galaxy S2 and Galaxy Note.
Processor Power
Tweakers expects the Galaxy S3 to feature Samsung's Exynos 4412, which is a quad-core system-on-a-chip made with four Cortex A9 processors running at 1.5 GHz. However, some other rumors also suggested that Samsung Galaxy S3 could be packing a quad-core A9-based Exynos 4212, which can clock a whopping 1.8 GHz.
Ceramic Casing
Outside, the Galaxy S3 smartphone will feature a much firmer ceramic made encasing, reports say.
Ice Cream Sandwich
The phone is expected to run on Android 4.0 Ice Cream Sandwich.
Eye Tracking
One Samsung source told CNET that the company was working on adding Human Interaction, a new eye-tracking technology using the phone's front-facing camera to detect when you're looking at the screen -- when you're writing a text for example -- and is able to lock when you look away.
Camera
Samsung is believed to have improved its 8-megapixel camera from the Galaxy S2 into a killer 12-megapixel camera for the S3. But besides taking up more space, the camera is also said to feature a 1/2.3-inch sensor, which is considerably bigger than the 1/3.2inch CMOS chip found in most smartphones -- iPhone 4S included. A camera with a similar chip, the Pentax Q system camera, costs more than $800 here in the U.S.
Galaxy S3 - Superlative or Minor?
Although CNET has reported that Samsung's upcoming flagship phone will be a relatively minor update from the Galaxy S2, with a speed boost and eye-tracking among the upgrades, the Verge assured its readers to Expect superlative benchmark performance.
Amazon's price list, if accurate, shows that the phone is just an upgraded version of Galaxy S2.
© Copyright IBTimes 2023. All rights reserved.
FOLLOW MORE IBT NEWS ON THE BELOW CHANNELS