Adrian Peterson Case: Long Suspension Coming For Vikings Running Back After Child Abuse Charges?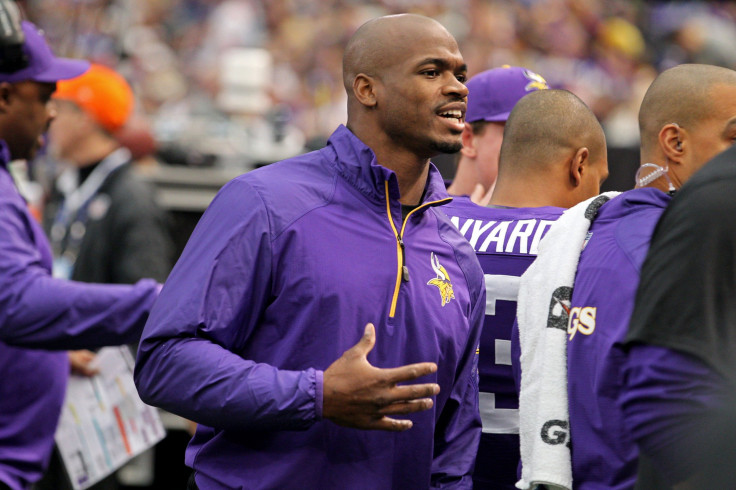 Right now, Adrian Peterson could be resting in his Eden Prairie, Minnesota home. He could be any number of places, but one place the 29-year-old running back isn't allowed or welcome is the Minnesota Vikings training facility. Or anywhere near the Vikings home field, TCF Bank Stadium.
A six-time Pro Bowler who's currently ranked second among active running backs with 10,190 yards and nearly broke the NFL's single season rushing record two years ago, Peterson isn't really allowed anywhere near the NFL.
Normally Peterson would be at practice preparing for the Vikings Week 4 matchup against the visiting Atlanta Falcons. Placed on the exempt/commissioner's list, Peterson is instead awaiting a court appearance for felony child abuse charges on Oct. 8 in Texas. Peterson is accused of allegedly abusing his 4-year-old son with a "switch," a tree branch plucked of its leaves and used like whip. The incident reportedly took place in May after his son pushed a boy off a motorcycle video game.
Since Peterson was indicted on Sept. 12, he has maintained the stance that he was disciplining his son and not abusing him. Graphic pictures taken a week after the incident, showing lacerations along the child's legs, quickly circulated around the Internet. Despite the shocking nature of the photos and his season likely over, Peterson continues to plead his innocence, even taking to Twitter to explain at least part of the case.
However, it's possible, no matter what avenue Peterson takes for his defense or even if he's acquited in court, that his NFL career is in jeopardy. Based on the superstar rusher's previously glowing reputation in the NFL, the incident occurring in the prime of his career and the severity of the injuries and graphic nature of the charges, Peterson's suspension might be unrivaled among the four major American sports. Citing sources, ESPN reported earlier this week that the Vikings aren't including Peterson in their long-term plans, and that Peterson is in "denial" that his 2014 season has likely ended after one game.
Reports of a plea agreement surfaced last week when Montgomery County, Texas assistant district attorney Phil Grant told CBS Sports that his office was open to discussing a deal. The case isn't expected to go to trial for another six months, and it could take up to 18 months before its conclusion. But, should Peterson avoid a prison sentence and a lengthy trial process, it's highly unlikely he would see an NFL field until next season at the very earliest.
The league is expected to give Peterson a heavy, lengthy suspension, especially in the wake of its handling of former Baltimore Ravens running back Ray Rice and his domestic abuse case earlier this year. Commissioner Roger Goodell issued a public apology during a press conference last week, saying he and the league made several mistakes when it handed Rice a two-game suspension after he plead guilty to a domestic violence charge. Rice punched his then-fiancée, now wife, Janay in an elevator of an Atlantic City casino in February. After TMZ released the video of Rice's punch inside the elevator, the Ravens cut him and Goodell suspended him indefinitely.
Former FBI Director Robert Mueller is now leading an investigation into how much Goodell, the Ravens, and other NFL officials knew before suspending Rice, specifically if the league possessed and viewed the video of Rice striking his fiancée in the elevator, and if the league participated in any sort of cover up with the Ravens.
Whether or not Goodell or NFL officials are found complicit in any sort of cover up, his and the league's fumbling of Rice's suspension eventually led to new mandatory penalties for any player involved in a domestic violence case. Players will now be suspended for six games for a first offense, and indefinitely for a second, though the parameters of what constitutes a first offense are still unclear.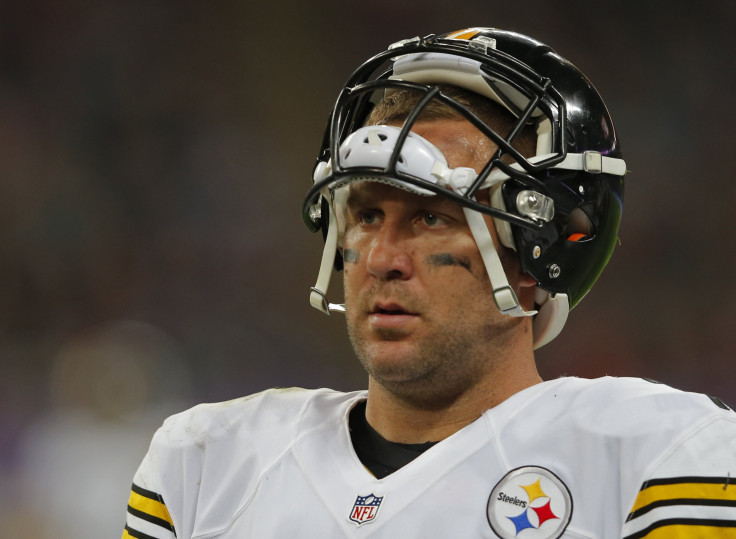 There are several examples of star players, like Peterson, who served long-term suspensions, and returned to their respective sports, but most did not involve violence.
Major League Baseball suspended Milwaukee Brewers outfielder Ryan Braun for 65 games in July of last year for violations of the league's basic agreement and its joint drug prevention and treatment program with the players union. Braun was one of more than 80 players linked to the investigation of Florida-based clinic Biogenesis, and he had previously avoided a suspension in 2012 after an arbitrator ruled that his urine sample wasn't properly handled. Named the National League MVP in 2011, Braun returned to the Brewers this season to little outcry or media interest.
New York Yankees slugger Alex Rodriguez was another player tied to Biogenesis, and was suspended for the entire 2014 season. Initially slapped with a 211-game ban, Rodriguez at first refused to accept the punishment, and it was later reduced to 162 games. Very few players have caught the ire of fans like Rodriguez has over the years, but once his suspension is lifted next year, he very well could return to the Yankees lineup.
Both of Braun and Rodriguez's suspensions involved performance enhancing drugs, and had nothing to do with violence off the field. However, the NFL has dealt before with star players who served prison time for violent crimes or were nearly charged with violence against women.
In the case of the latter, a 20-year-old college student accused Pittsburgh Steelers quarterback Ben Roethlisberger of sexually assaulting her in a Georgia nightclub in March 2010. Prosecutors eventually decided not to charge the Super Bowl winner, but Goodell responded with a six-game suspension and an order to seek behavioral counseling. Roethlisberger's ban was later reduced to four games.
Former Atlanta Falcons star and current New York Jets backup quarterback Michael Vick was sentenced to 23 months in prison in December 2007 for operating a six-year long dogfighting ring. Vick served 18 months and was released in May 2009. Goodell had originally suspended Vick indefinitely after he was indicted, but then reinstated him in July 2009 and said if Vick signed with a team he could play by Week 6 of that season at the latest. The Philadelphia Eagles later signed Vick to a two-year deal, and he made his return in Week 3. The NFL clearly took Vick's prison sentence into account, and at the time Goodell said that he needed Vick to show remorse and be a "positive role model for others."
If Peterson does continue his NFL career it will likely follow a punishment in between what Vick and Rice received. Images of Vick's treatment of dogs didn't bounce around the globe like those of Peterson's child, or like the elevator footage of Rice. There is no known footage of any kind of Roethlisberger's incident, and he wasn't charged. And whether Peterson viewed it as discipline and a jury rules it wasn't abuse, the images may still have a lasting effect that will force the NFL and Goodell to satisfy its fans and sponsors.
© Copyright IBTimes 2023. All rights reserved.
FOLLOW MORE IBT NEWS ON THE BELOW CHANNELS