All-You-Can-Fly Airline Surf Air To Launch In California This Summer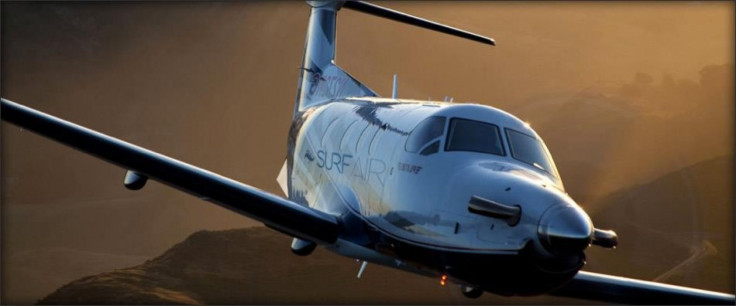 JetBlue and Sun Country Airlines have tested the waters before, but startup Surf Air plans to take the all-you-can-fly model to new heights.
The all-you-can-fly membership-based airline launched Thursday, announcing planned service down the California coast to Palo Alto, Monterey, Santa Barbara, and Los Angeles. It's currently accepting membership applications at SurfAir.com and signing on 500 Founding Members for its four-city launch this summer. It's also taking applications for its subsequent launch markets around the U.S., including Las Vegas and Lake Tahoe.
Surf Air says Founding Members, who must commit to three months, will receive unlimited complimentary guest passes and have access to exclusive events and offers.
For as low as $790 a month, Surf Air members are entitled to unlimited flight benefits, on-site concierge service, and first-class luxury on mid-sized executive aircraft. Flight schedules for the small eight-passenger aircraft will be established in the coming months depending on membership demand.
The airline startup claims that it eliminates the hassles, cost, and wasted time of current travel options by offering its members 30-second booking and cancellations, travel to and from uncongested regional airports, and an easy arrive-and-fly process with no hassles, lines, or extra fees.
We are fulfilling a real need in the marketplace, a professional and affordable service between very popular regions, said Wade Eyerly, CEO and Founder of Surf Air. Our service can be substantially cheaper than first-class tickets, and we offer a better and less crowded experience.
Wade, a former intelligence officer and aide to former Vice President Dick Cheney, founded Surf Air with his brother David. A licensed commercial pilot, David is a former manager of the Dallas-Fort Worth airport for Frontier Airlines.
The two proposed a similar operation last year for the U.S. East Coast called PlaneRed. They decided to relocate out west after working with MuckerLab, a technology incubator in Los Angeles.
The Eyerly brothers envision Surf Air as a way to simplify and enhance the flying experience, particularly for business travelers.
We foresee our members forming personal and business bonds on our flights as they experience the benefits of this exclusive travel club, Wade said. With Surf Air, you can arrive at your aircraft minutes before your flight, receive a warm welcome from the captain and concierge, and then be quickly on your way to your destination in the company of your fellow Surf Air members.
Surf Air will concentrate its efforts on frequent-flyers who they say represented 85 percent of the business travel industry in 2011. The company believes the all-you-can-fly membership model will fundamentally change the way people travel and revolutionize the airline industry.
The concept isn't exactly new. In 2010, Minnesota-based Sun Country Airlines had a 37-day fall free for all ticket for $499, while JetBlue had a one-month all-you-can-jet pass for $699. JetBlue's pass was so popular that it sold out in two-and-a-half days. Many credited the all-you-can-jet pass for boosting JetBlue's national exposure.
Unlike JetBlue and Sun Country, Surf Air will be the first airline to exclusively adapt the all-you-can-fly model.
© Copyright IBTimes 2023. All rights reserved.