Amanda Knox Verdict 2011: Murder Conviction Overturned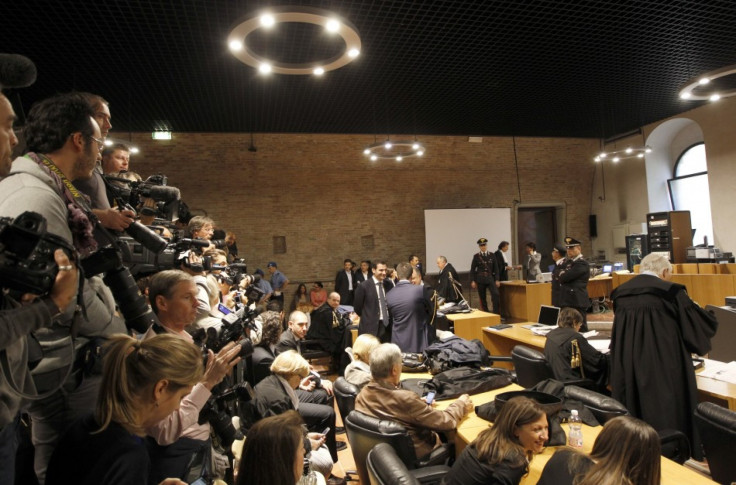 Four years after she was arrested for the murder of Meredith Kercher, Amanda Knox was finally freed and her murder conviction overturned.
Members of the Sollecito family and the Knox family shared hugs before the Kercher family representatives entered the court. As Knox took her seat, she appeared anxious and close to tears - awaiting the decision that would forever change the course of her life.
As the announcement was read, Knox appeared in shock, not quite able to comprehend what was happening.
Though she was acquitted of the murder, Knox was, however, found guilty of defamation and must pay 22,000 euros for slander against bar tender Patrick Lumumba.
The crowd outside the court in Perugia had grown so big before the announcement that roads in the area had to be blocked.
Over a dozen judicial police in plain clothes were put on call in court in case of public disorder. and the verdict was announced.
Earlier, Knox pleaded for her life in the Italian courtroom as she awaited the verdict of the appeal.
I am not what they say I am. I did not kill. I did not rape. I did not steal, Knox said, her voice trembling.
It took her a minute to regain her thoughts as her voice choked.
OK, she began, People always ask 'who is Amanda Knox?' I am the same person that I was four years ago, exactly the same person. The only thing that now separates me from four years ago is my suffering.
In what may have been the most important speech of her life, Knox added, I've lost a friend in the worst, most brutal, most inexplicable way possible.
I'm paying with my life for things that I didn't do.
It was in September 2007 that the then 20-year-old Seattle native traveled to Perugia, Italy -- a city with a reputation of welcoming foreigners. Just two months later, the body of her roommate, 21-year-old Kercher, was found behind a locked door in the pair's shared apartment.
Kercher's throat had been slashed.
Photos taken just outside of the murder scene of Knox and her then boyfriend Raffaele Sollecito (who is also appealing the conviction) were used to define and condemn the pair.
Over the span of four days, Knox was subjected to 50 hours of interrogation, including an all night session with 36 officers. Knox initially implicated herself, signing a statement saying that she was at her and Kercher's apartment when her boss at a local bar, Patrick Lumumba, killed Kercher.
Lumumba, Sollecito, and Knox were then arrested.
The case fell into the hands of Giuliano Mignini, a controversial prosecutor, known to have a penchant for sensationalism. Many claim that Mignini used the Knox case to redeem himself for the botched Monster of Florence case.
Mignini theorized that Kercher was killed in a ritualistic satanic sex orgy. This claim fueled the growing tabloid coverage of the case and solidified Knox's reputation as Foxy Knoxy, a former MySpace nickname that came to be used as proof of the American's promiscuity.
The tabloid press in Italy and the UK dug up damning photographs of Knox and Sollecito on the Internet that furthered solidified Knox's growing reputation as the devil with the face of an angel.
After Lumumba was found to have an airtight alibi, an international manhunt led to the arrest of Rudy Guede, whose fingerprint and DNA were found in Kercher's room.
Guede was tried and convicted of murder in 2008.
Knox's trail began in January 2009 and had a global following. The American's courtroom antics were highly scrutinized. Many in the tabloid press felt that she was smiling too much in the court, and her All You Need is Love T-shirt on Valentine's Day drew harsh criticism.
The prosecution presented DNA evidence that they claimed proved Knox was the killer. She and Sollecito were convicted of murder and Knox was sentenced to 26 years behind bars.
Her appeal trial, which began in the summer of 2011, exposed several flaws in the original case. A scientific panel appointed by the court found that the DNA used to convict Knox was unreliable. Key witnesses, including a homeless heroin addict, were also discredited.
The sister of the slain British student told the media that she was saddened that the 21-year-old had been all but forgotten in Knox's trial.
Stephanie Kercher spoke to reporters as the eight-member jury deliberated on Monday. Stephanie, her brother, and their mother were all present in Perugia for the verdict.
Stephanie claimed that her sister has been most forgotten in the circus surrounding the case.
I think what everyone needs to remember, Kercher said, was the brutality of what actually happened that night and everything that Meredith must have felt that night, everything she went through, the fear and the terror and not knowing why, and she didn't deserve that. No one deserves that, but she'd been here for two months, and, you know, she loved this place.
Kercher lamented that the tragedy happened while her sister was studying in such a striking location.
It's a beautiful city. Even being here now, it's nice to be here, but it's very difficult to understand what happened that night without knowing the truth, and that's what we need to find.
As long as they decide today based purely on the information available to them and they don't look into the media hype, I think justice will be found, she added.
Stephanie's brother Lyle added that he could understand the Knox family's nonstop media campaign.
They fully believe in her innocence, you can't blame them for that, Lyle said. But it's obviously hard for us.
Yet, the family's lawyer has confirmed that it is the Kercher family's wish that the original verdict is upheld.
The lower court found the defendants guilty. The Kercher family's interest is to have the verdict confirmed, he said in the statement.
It seems today that the Kerchers did not get what they had wished for.
READ ALSO: Amanda Knox Freed: What Now?
FOR FREE to continue reading
✔️ Unlock the full content of International Business Times UK for free
offer available for a limited time only
✔️ Easily manage your Newsletters subscriptions and save your favourite articles
✔️ No payment method required
Already have an account?
Log in
© Copyright IBTimes 2023. All rights reserved.