Ambani Brothers' Reunion Renews Hope of Business Ties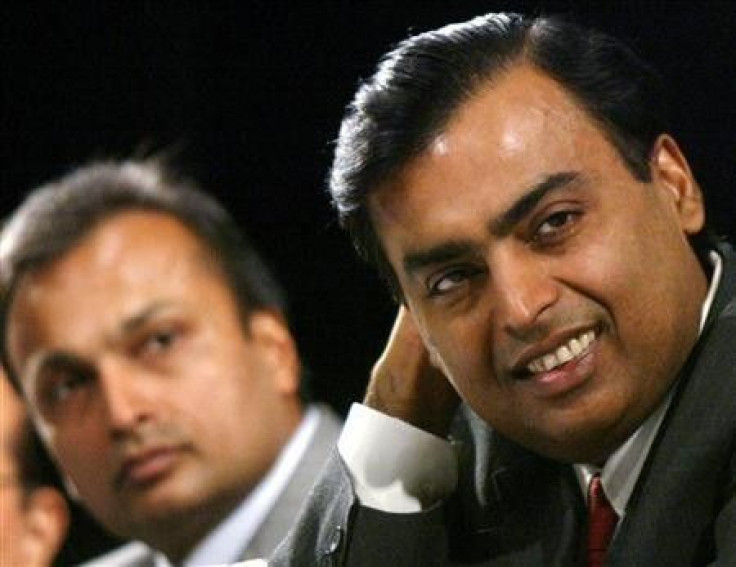 The spectacle of the long-feuding billionaire Ambani brothers dancing at a celebration of the 80th anniversary of the birth of their late father this week sent Indian media into frenzy and reignited speculation the two might again do business together.
The show of unity by India's richest family came more than a year after Mukesh and Anil Ambani buried the hatchet in a five-year battle that split the business empire inherited from their father, but family watchers were sceptical that the reunion would result in renewed business ties.
Any deal reached between the two groups will be a hard and ruthless business decision. There is no sentiment involved, said S.P Tulsian, an independent market analyst.
When they ended their feud last year, the brothers also dropped an agreement not to compete on each others' turf. Soon after, Mukesh's Reliance Industries (RELI.NS) made a dramatic return to telecoms by taking control of the only firm that won wireless broadband licences across India.
That deal makes him a potential rival or partner to Anil's Reliance Communications (RLCM.NS), which has a $925 million convertible bond due in March and has seen its share price tumble 52 percent this year in a ferocious cellular market.
Reliance Communications, with about $6 billion in debt, has failed in efforts to sell off its tower business but sources have said that U.S. private equity giants Carlyle Group CYL.UL and Blackstone Group (BX.N) are in talks about a possible $3.5 billion deal for the 95 percent-owned tower arm.
Market watchers have said Mukesh's nascent broadband business makes a natural tenant for Anil's towers business.
The only deal on the horizon could be one for Reliance Comm's towers. That is important for RIL's telecom rollout, and it could mean Reliance either becoming a long-term customer for leasing the infrastructure, or picking up a direct stake, said P. Phani Sekhar, a fund manager at Angel Broking.
Mukesh's Reliance Infotel is said to be in talks with firms including Reliance Comm for leasing telecoms towers as it prepares to launch services, but sources have said Mukesh is not looking to buy a stake in his younger brother's tower firm.
GAME CHANGER?
While both brothers have had a tough year, the 52-year-old Anil is widely seen to need his brother more than Mukesh, 54, needs Anil, at least as far as business is concerned.
Shares in Mukesh's energy-based Reliance conglomerate, which operates the world's largest refinery, are down 31 percent this year as gas output at its main offshore field declines. But the company is still India's largest by market cap.
Anil's largest listed companies -- Reliance Comm, Reliance Infrastructure (RLIN.NS), Reliance Power (RPOL.NS) and Reliance Capital (RLCP.NS), however, are down between 52 and 64 percent.
His often-volatile stocks got an upward bump this week on hopes of a deal between the brothers.
The rapprochement matters to investors only if it extends to commercial deals. If it happens, it will be a good thing for Mukesh, but it will be a game-changer for Anil, said Jagannadham Thunuguntla, research head at SMC Global Securities.
The Anil Ambani group doesn't have many choices. They have tried to raise funds, they have tried to sell stake. Market conditions don't appear feasible, investor confidence is not upbeat, he said.
Shares in Anil Ambani's companies have been weighed down by debt worries and by reputational knocks.
A unit of Reliance Communications and three executives of Anil Ambani's group were among those charged by India's federal police in their investigation into a multi-billion dollar telecoms licence scandal that came to light late last year. The three executives spent months in jail.
Anil Ambani himself was questioned by the federal investigative agency in February and also appeared in April before a parliamentary panel investigating the scandal. All the accused have denied any wrongdoing.
Last week, a British investigation into an investment fraud said a company controlled by Anil Ambani had used a Mauritius-based fund to make covert investments into one of the group companies, although he and his companies were not accused of wrongdoing, the Financial Times reported.
HONOUR THY FATHER
The two brothers, worth a combined $28.5 billion, according to Forbes, came together this week in their revered father Dhirubhai's home town in Gujarat in a reunion organised by their mother, Kokilaben.
There was no discussion regarding business between the brothers. Today was more of a sentimental day for the family, Parimal Nathwani, group president of Mukesh's Reliance Industries, was quoted as saying in the Business Standard.
Dhirubhai Ambani, a schoolteacher's son, rose from impoverished Chorwad village to build Reliance from a textile firm into an industrial colossus.
His rise inspired a Bollywood film, but his death in 2002 led to a power struggle between his two sons that saw them split the sprawling Reliance in a deal brokered by their mother, captivating India as a real-life soap opera.
The shy and conservative Mukesh ended up with the core energy business, and the flashier Anil ended up with the telecoms, financial services and power business.
Their feud, which raged even as they lived under the same roof, came to a head over terms of a gas contract. In 2009, Anil attacked his brother and the oil minister in newspaper advertisements, accusing the petroleum ministry of siding with Mukesh.
The Supreme Court ultimately intervened and decided in Mukesh's favour in a 2010 ruling that brought the brothers back to the negotiating table, where they agreed to scrap the non-competition pact that had been a source of conflict.
That prompted ongoing but still unfulfilled speculation that they will work together again.
In a market searching for catalysts, these kind of events provide good talking points for investors, but for seasoned investors, this is a non-event, said Angel Broking's Sekhar.
© Copyright Thomson Reuters 2023. All rights reserved.