Amtrak CEO Boardman Begs Congress For Billions In Funding But The Private Sector May Have To Right The Railroad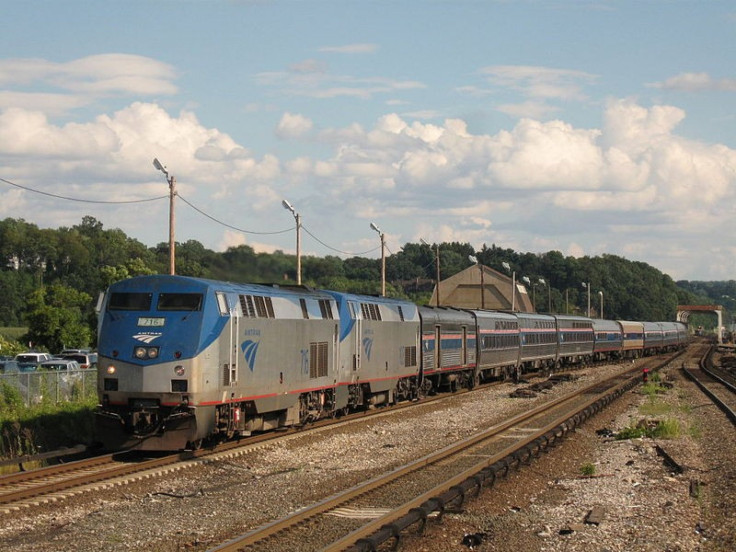 Joseph Boardman may be deluded -- or perhaps crazy like a fox -- but whatever it is, Amtrak's president and chief executive has big ambitions with big price tags for his decaying, money-challenged railroad.
For starters, he envisions a complete face-lift and overhaul of Washington's Union Station. This includes a new train shed, upgrading passenger concourses and street entrances and the addition of commercial, retail, and even residential spaces. Cost: $7 billion.
On top of that, Boardman hopes to revamp stations in New York and Boston and transform the relatively slow-moving locomotive fleet that cruises Amtrak's Northeast Corridor into bullet-like railroads that can travel at speeds of up to 220 miles-per-hour, like the sleek Train à Grande Vitesse (TGV) in France. Under this plan, a jaunt from New York to Washington would take only an hour, instead of three. Cost: $151 billion over thirty years.
That's a lot of money for a railroad that has to beg Congress every few years for upwards of $2 billion just to cover its losses and keep operating. In fact, Amtrak's fiscal 2013 federal subsidy of $1.4 billion, which runs through next September, is about half of what the Obama Administration asked Congress to earmark.
But Boardman insists that basing future funding on what legislators have provided in the past is the wrong way to look at the issue of Amtrak's prospects.
"We can worry about where the money is coming from, but we need to have a plan in place so when it does [come], we're ready," Boardman told reporters last month. "Look at the $400 million [from federal stimulus] we got last year. We already had a plan in place, so when it fell in our laps we were ready to go."
While his ability to obtain financing in the current tight-fisted federal budget environment remains an open question, Boardman does have a strong argument to make that Amtrak, a quasi-governmental agency with more 21,000 miles of track nationwide, will need a large infusion of cash now or, if not now, soon.
Ridership on Amtrak is climbing so fast that the whole system (tracks, stations, tunnels, etc.) will have to be improved or replaced at some point in order to cope with the additional passenger traffic.
Consider Amtrak's key Northeast Corridor – which runs through the heavily populated megalopolis from Boston to Washington DC. Amtrak expects ridership on this line to almost quadruple to 43.5 million by the year 2040. Currently, the Northeast Corridor carries about 11 million people annually, while the nationwide system serves 30 million passengers.
The Northeast Corridor (which includes high-speed Acela service) is Amtrak's only profitable segment with operating earnings of $82.5 million on revenue of about $440-million in 2010. But these gains have been used to subsidize other unprofitable routes around the nation. The Northeast Corridor's profitability is largely a function of the population density between Washington and Boston (this narrow piece of real estate is home to some 50 million people, a figure that is expected to climb to almost 60 million by 2025).
However, other parts of Amtrak's national grid are also showing rapid rates of passenger growth; for example, since 1996, ridership on the Cascades system between Vancouver, B.C. and Eugene, Ore., has tripled.
Still, despite the fact that railroads have a romantic hold on the American psyche, with their pivotal role in the expansion of the country from one ocean to the other and in providing economic and physical mobility well before the automobile, sympathy for Amtrak's struggles is at a premium in Washington.
Emily Goff, a research associate at the conservative Heritage Foundation, said that if Boardman's entreaties for money are heeded, federal dollars would be wasted on what is essentially a niche market.
"I don't think it's realistic to expect taxpayers to be willing to keep funding these programs, when Amtrak serves such a small sliver of the traveling public," she said.
Indeed, while Amtrak boasts about 30 million riders annually, that figure is dwarfed by the airlines, which carry 730 million U.S. passengers annually.
However, Amtrak supporters say that that point of view is narrow-minded and ignores fundamental market trends will only make railroads more and more attractive to travelers. As global oil prices continue to rise, electric-powered railroads increasingly become a much more cost-effective and energy efficient alternative.
According to the U.S. High Speed Rail Association (USHSR), a single high-speed rail line can carry the equivalent of a 10-lane freeway from point to point and it can be built for much less cost. Moreover, notes the International Union of Railways, high-speed trains are three times as energy-efficient as buses, four times as efficient as private cars and almost nine times as efficient airplanes.
Much of the America's transportation infrastructure was built when oil was only $10 per barrel. But with the price of oil predicted by some analysts to soar to as high as $300 per barrel by 2020, train travel will only become more and more attractive and a necessary alternative from an energy perspective.
"With the high price of fuel, driving cars and flying in airplanes makes little sense," said Andy Kunz, CEO of USHSR. "It's amazing we have ignored [railways] for decades while the rest of the world has been investing in them."
Still, despite the passion of lobbyists and think-tankers on both sides of this issue, Amtrak's survival may indeed be determined far from Washington's K Street. There is a growing possibility that private-sector investments may ultimately rescue Amtrak. Reportedly, a number of U.S. venture firms (including the Carlyle Group) and some foreign entities (including France, India and Chinese sovereign wealth funds) are eager to pour money into America's dilapidated tracks.
For example, the China Investment Corp. (CIC), a sovereign wealth fund, and China Construction America, a subsidiary of China's State Construction Engineering Corp., have expressed interest in putting money into U.S. infrastructure projects, including rail. CIC , with total assets in excess of $400 billion as of 2010, has talked to California politicians about investing in the $100 billion California High-Speed Rail project which is scheduled to link Los Angeles and San Francisco by 2033.
"[The Chinese] are extremely interested in the U.S.," Christopher Barkan, director of the Rail Transportation and Engineering Center at the University of Illinois at Urbana-Champaign, said. "We're the largest untapped market for high-speed rail in the world."
One reason that non-American private firms and sovereign wealth funds are keen on railroads is that in their countries profitability has not been an issue. Although margins are still slim, through cost cuts and efficiency gains driven by infrastructure improvements and the advent of high-speed rail, many European and Asian rail lines (most of them wholly- or majority-owned by central governments in extensive partnership with numerous private companies) are making money.
In 2011, Société Nationale des Chemins de Fer Français (SNCF), France's railway, which runs the vaunted TGV high-speed rail system, posted an operating profit of €581 million on revenues of €7.279 billion, up from €535 million in operating earnings the year before. Even more impressively, in the first half of 2012 earnings before interest and taxes at Germany's Deutsche Bahn AG's rail units rose by 16.6 percent.
In all of these cases, as well as the profitable Eurostar -- the British, French and Belgian consortium that owns the high speed lines carrying thousands of passengers a day among London, Paris and Brussels – the participation of private companies in critical aspects of the businesses has made the difference between earnings and losses. That model, wrote Gene Skoropowski, Director of Rail and Transit Services at engineering consultants HNTB Corp., would be perfect for Amtrak.
"The private sector need not replace Amtrak, but rather partner with it, to strengthen what Amtrak does best (operating trains), and incorporate what the private sector does best (manage and grow customer focused businesses, and generate profits from them)," he noted.
Moreover, a partially privatized Amtrak would be much more palatable politically to Congress in its current make-up and perhaps smooth the way for approval of funding requests. Norman Anderson, president & CEO of CG/LA Infrastructure, a Washington, DC-based consulting firm, says that the popular notion that Republicans in Congress are opposed to upgrading U.S. infrastructure projects is not accurate. They just don't want the government to have to foot the whole bill. "Republicans are quite willing to have private investors put money into improving transportation, including Amtrak," he said.
And Anderson adds that he believes Amtrak CEO Boardman also would welcome this influx of money from non-governmental entities. "[Boardman] simply wants to run a great train system, so any help he can get to make his vision a reality will be great," he said.
Which means that by asking for the moon, money-wise, there may be real method behind Boardman's madness. Rather than settling for budgetary dollops from Capitol Hill every few years, small change that does little to alter Amtrak's fortunes, Boardman may be trying to tempt the private sector to do what he knows Congress won't.
© Copyright IBTimes 2023. All rights reserved.