Amy Schumer Dodges Question About New Boyfriend Ben Hanisch While On Golden Globes Red Carpet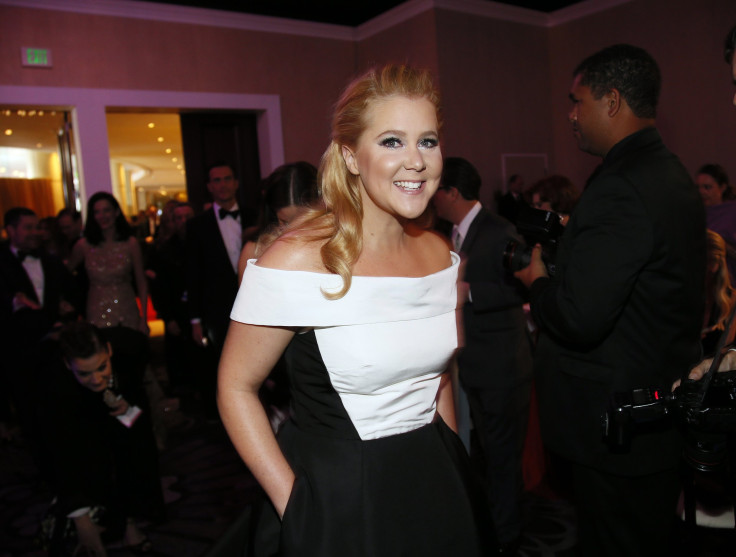 Amy Schumer may have come clean about having a boyfriend, but that doesn't mean she wants to talk about him on the Golden Globes red carpet. The "Trainwreck" actress successfully dodged questions about her love life while speaking with Ryan Seacrest on the E! red carpet Sunday.
Schumer, who was accompanied on the red carpet by her sister, Kim, was asked if she learned anything about herself from filming "Trainwreck." She has previously commented on how the movie was "pretty autobiographical."
"I wasn't in a good enough place mentally to be with anyone else," she admitted to Seacrest.
The E! red carpet host added that she seems to be doing pretty well in that department now, referring to the news that she's dating a designer named Ben Hanisch. But Schumer wasn't biting.
"I'm in a better place," was all she would say. To fully dodge the question, Kim asked for her sister to show off her bruised knuckles from boxing and do a little dance for the E! cameras.
The 34-year-old actress and comedian is nominated for a Golden Globe for Best Performance by an Actress in a Motion Picture – Musical or Comedy. Schumer is nominated alongside Jennifer Lawrence ("Joy"), Melissa McCarthy ("Spy"), Maggie Smith ("The Lady In The Van") and Lily Tomlin ("Grandma").
While Schumer kept quiet about her beau, he took to Instagram to share how excited he was for her.
Want to watch the Golden Globes online? Check out live stream information HERE. For a full list of nominees click HERE.
© Copyright IBTimes 2023. All rights reserved.