Andrew Wiggins Decision: Florida State Favored; Kentucky, North Carolina And Kansas Also Options For College Basketball Recruit [Prediction]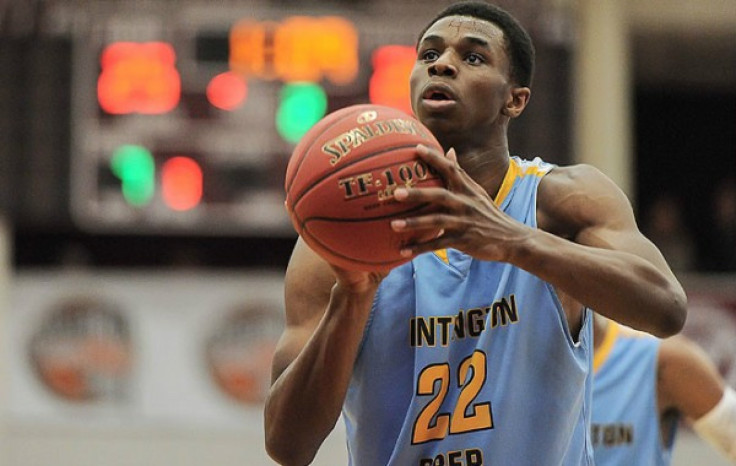 The 2013 college basketball season is six months away, but the nation's top recruit still hasn't announced where he will be playing.
Andrew Wiggins is ranked as the best incoming freshman by most recruiting experts, even ahead of Duke's Jabari Parker and Kentucky's Julius Randle, who are both highly touted high school stars. Rivals.com has him listed as the best of their 26 five-star recruits, and ESPN.com has given Wiggins a grade of 97, the highest of any high school senior.
At a press conference on Tuesday afternoon, Wiggins is set to announce what school he'll be playing for next season. He has narrowed his choice down to four programs.
Where will Wiggins decide to go?
Kentucky
If Wiggins's No.1 priority is to be a top pick in the NBA Draft, Kentucky might be the best place for him.
John Calipari has developed a reputation for recruiting players who become lottery picks, following their freshman seasons. Derrick Rose, Tyreke Evans, John Wall and DeMarcus Cousins have all been top five picks after spending one year under Calipari.
Kentucky would also give Wiggins the best chance to win a national title. The Wildcats already have four top 10 recruits for next season.
North Carolina
A few weeks ago, UNC seemed to be the favorites to land the 6'7 Wiggins. With both P.J. Hairston and James Michael McAdoo coming back next season, the Tar Heels will be one of the favorites to cut down the nets in April.
Replacing Reggie Bullock, who will try his luck in the NBA Draft, Wiggins would fit perfectly in Roy Williams's starting lineup. His combination of size and athleticism would make North Carolina very difficult to defend in a half-court set.
The Tar Heels have at least reached the Elite Eight in six of the last nine seasons, and Wiggins would have a great opportunity to win games if he chooses North Carolina.
Kansas
Of all Wiggins suitors, Kansas may make the most sense.
Despite just one national title, the Jayhawks might be the most successful college basketball team in the past decade. KU has won the Big 12 regular season or tournament championship in each of the past nine years.
At Kansas, Wiggins would almost be guaranteed to play for one of the best teams in college basketball. He would also come in as the clear-cut star with Ben McLemore declaring for the draft.
Bill Self's failure to produce many NBA stars, though, could hurt the school's chances.
Florida State
FSU is unlike any school on Wiggins's list.
By most measures, Kentucky, North Carolina and Kansas are top five programs in college basketball. Florida State is far from being a perennial winner.
The Seminoles have reached the Sweet 16 just once in the past 20 years. They have improved under Leonard Hamilton, making the NCAA Tournament from 2008-2012, but regressed last year with an 18-16 season.
Florida State, though, has the advantage of being the alma mater of both Wiggins's mother and father. Many experts have called Wiggins the best prospect since LeBron James, and he wouldn't be forced to share the ball with other top players at FSU. The family connection might be enough for the 18-year-old to try to make FSU a national contender.
Prediction: Florida State
© Copyright IBTimes 2023. All rights reserved.