Anonymous Offers To Help Get Iranians Back Online After Government's Internet Shutdown
KEY POINTS
Iran shut down internet access in some regions following widespread protests triggered by the death of Mahsa Amini
Anonymous has declared war against Iran
The hacktivist collective has hacked, defaced and disrupted government sites, institutions and operations in the Islamic Republic
International hacktivist collective Anonymous has offered to help Iranians restore the internet, and access several sites shut down by authorities.
Following the widespread protests triggered by the death of 22-year-old Mahsa Amini, the Islamic Republic of Iran shut down internet access in some key areas and banned several sites, denying its citizens access to the global information superhighway.
The internet blackout interrupted the activities of Anonymous, which monitors the internet activities in Iran aside from hacking CCTVs, banks and government websites in the country.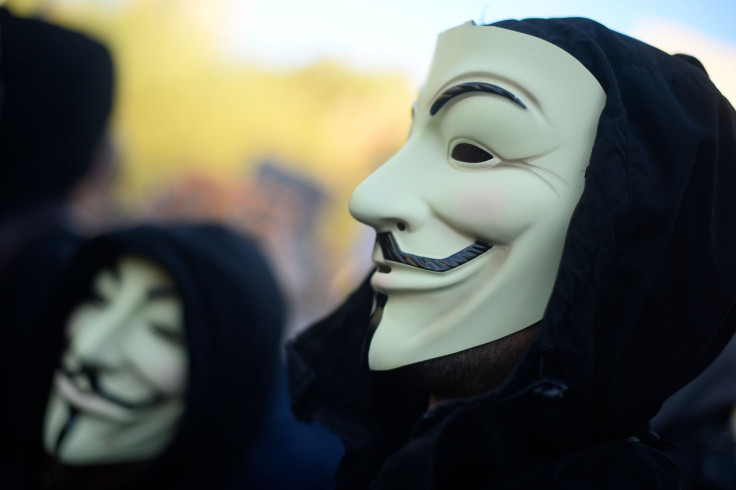 "One of the first techniques of all oppressive regimes is to keep the world in the dark and keep their people ignorant," one of the Anonymous operatives who goes by the Twitter handle PuckArksReturns told International Business Times in an exclusive interview.
The operative said shutting down the internet or restricting access to various sites has become a common practice among governments and regimes to suppress free media, control the flow of information and hide their human rights abuses.
"Shutting down the internet has become an increasingly common tactic of governments and regimes looking to prevent civil society and free media from operating, to hide human rights abuses, or to control the flow of information," the operative explained.
"These blackouts can take many forms, from censoring individual websites and throttling social media and messaging apps to entirely turning off the internet."
Internet watchdog Netblocks shared Monday that internet connection in parts of Kurdistan province in west Iran was "near-total disruption" while Tehran suffers from "partial disruption" of the internet service.
"The network disruptions are likely to severely limit the public's ability to express political discontent and communicate freely," the group said.
The U.S. Treasury Department issued a General License on Sept. 23, allowing them to offer services to Iran; and while this move enabled Elon Musk and his company SpaceX to activate Starlink's satellite internet access in the Islamic Republic of Iran, it would take some time and a lot of funds to bring the terminals to the country.
Iran uses Toosheh, a satellite file-casting technology, which "uses common satellite equipment to deliver digital content without relying on access to the Internet." The Anonymous operative explained that this technology allows users to access, record and download news reports, YouTube videos and other content.
However, they said that while the technology is helpful, it "does not allow users to communicate with each other despite that the "content can be downloaded onto a USB drive and shared manually."
The Anonymous operative also shared several sites and apps citizens can use to connect to banned sites and blocked services, complete with links and instructions, which they shared with International Business Times.
How to connect to blocked services
Unblock YouTube grants you access to any blocked web page - https://m.proxfree.com
Web Proxy — is an intermediate point between your computer and the needed website. - https://hidemy.name/en/
Use ProxMate . This is an add-on for the web browser Mozilla Firefox or Chrome. - https://proxmate.me
DNS provider that is open and democratic - https://opennic.org
Android: Circumvent Internet restrictions with Tor -https://cyberguerrilla.org/android-circumvent-net-blocking-with-tor.htm
Android users:
https://play.google.com/store/apps/details?id=com.psiphon3
Apple users - http://download.cnet.com/Free-VPN-Onavo-Protect/3000-2064_4-75893697.html
Google browser - https://chrome.google.com/webstore/detail/zenmate-vpn-best-cyber-se/fdcgdnkidjaadafnichfpabhfomcebme
Firefox users - https://addons.mozilla.org/en-US/firefox/addon/anonymox/
List of DNS servers that can be used to avoid censorship
https://lifewire.com/free-and-public-dns-servers-2626062
How To Change DNS Servers
https://lifewire.com/how-to-change-dns-server-settings-2617979
Tor Browser - https://torproject.org/download/download-easy.html.en
In case it is needed:
Dial-up internet access VPN Jabber http://cisco.com/c/dam/en/us/products/collateral/security/asa-5500-series-next-generation-firewalls/guide_c07-717020.pdf
Alternate DNS - https://wikileaks.org/wiki/Alternative_DNS/de
How To Stay Anonymous
https://whonix.org
General router DNS setup(recommended) - http://support.smartdnsproxy.com/customer/portal/articles/1558303-general-router-dns-setup-smart-dns-proxy
Express VPN https://expressvpn.com/support/vpn-setup/manual-config-for-dd-wrt-router-with-openvpn/
Anonymity Script- https://github.com/HiroshiManRise/anonym8
Secure your wifi- https://pcmag.com/article2/0,2817,2409751,00.asp
Stop your internet provider from tracking you - http://pcworld.com/article/3184767/security/three-privacy-tools-that-block-your-internet-provider-from-tracking-you.html
VPN GATE client for Linux - https://github.com/Dragon2fly/vpngate-with-proxy
TOR Bridges- https://bridges.torproject.org
Virtual Machine for Linux- Oracle Virtual Box
https://virtualbox.org/wiki/Linux_Downloads
For windows and Mac- https://virtualbox.org
QEMU-https://qemu.org/download/
Sandbox- https://apkmodule.com/sand-box-mod-apk/
COMMUNICATION APPS
Threema (Not FREE) - Android, iOS, WEB - https://threema.ch
end-to-end encryption can be operated completely anonymously; no need to disclose phone numbers, and communications are not stored in any cloud storage
Signal (FREE) - Android, iOS, PC, Mac, Linux - https://signal.org/download/
end-to-end encryption, cannot operate anonymously, requires a phone number
Telegram (FREE) - Android, iOS, PC, Mac, Linux - https://telegram.org
does not have end-to-end encryption by default, requires a phone number, stores conversations in the cloud
Element (FREE) Android, iOS, PC, Mac
https://element.io
Element lets you choose where your messages are stored, putting you in control of your data.
Anonymous operatives developed and put together these helpful tips during Operation Arab Spring. The tips are up-to-date since PucksArksReturns personally updated them with "new methods" to make sure "citizens around the world have the right to news, getting information out and keeping the public informed as the people are the only true media."
© Copyright IBTimes 2022. All rights reserved.
FOLLOW MORE IBT NEWS ON THE BELOW CHANNELS