Apple iPad 3 Release Date in March; High-Definition Screen Among Features, Report Says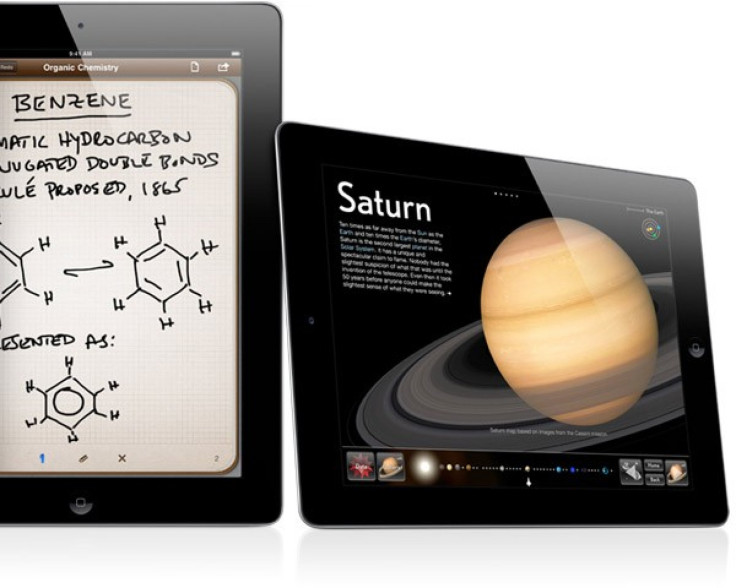 The Apple iPad 3 release date is just two months away or less and the new tablet will have a high-definition screen among other enhanced features, according to a new report.
Rumors and speculation have been rampant in recent weeks about the highly-anticipated iPad 3 release date and features, with some coming from questionable sources and others from news organizations that stand by their sources. The latest report is from Bloomberg, which cited three people familiar with the product, who said Apple's third-generation iPad will go on sale in March, have a high-definition screen and a faster processor, and be LTE compatible.
Apple's iPad tablet, first launched in 2010 (the iPad 2 launched in 2011), is the world's bestselling tablet. The iPad has dominated the global tablet market the past two years, selling more than 40 million units, though Amazon's lower-priced Kindle Fire tablet has been a solid competitor, selling more than four million units since launch on Nov. 15.
Apple is also expected to cut pricing on its earlier iPad models, perhaps to as low as $299 or $399, to keep up with intensifying competition. Currently, iPad pricing starts at $499, while the Kindle Fire tablet starts at $199, though reviewers consistently label the iPad as a premium product.
Bloomberg reported that Apple's manufacturing partners in Asia started ramping up production of the iPad 3 this month and plan to reach full volumes by February. The news agency cited one of its three sources for that information, saying they asked not to be named because the details aren't public.
Bloomberg also reported that the new iPad 3 tablet will use a quad-core chip, an enhancement that lets users jump more quickly between applications. Two sources who asked not to be named were cited for that information, the news agency reported.
Furthermore, the new iPad will be LTE compatible, allowing it to run on advanced networks being deployed by the likes of Verizon and AT&T, Bloomberg reported. Both the March release date and the new features, including a high-definition screen; a faster, quad-core processor; and LTE compatibility, have been widely speculated, but Bloomberg is the first to claim multiple credible sources verifying each.
Apple's new iPad will be manufactured in China by Foxconn, which already makes Apple's popular iPhone and other products. Bloomberg reported that mass production of the iPad 3 began in early January in anticipation of the March release date. Foxconn factories are running 24 hours a day making the iPad, according to the news agency.
If the report is correct, the biggest remaining question is when Apple will unveil the iPad 3. A report in December from a digital news source known to be hit-and-miss with information accuracy said Apple will unveil the iPad 3 in January. The news source also said the product will have new features including a battery that doubles use time.
According to the DigiTimes, Apple will unveil the iPad 3 at iWorld, scheduled for Jan. 26. While many industry observers have questioned that assertion, most don't debate that the iPad 3 release date is near.
DigiTimes also reported that Apple's new iPad model will complete the company's bestselling tablet lineup with the iPad and iPad 2 offering entry-level and mid-level price-point products, and with the new iPad 3 filling the high-end market for Apple.
The iPad 2 will be competing directly with Amazon's Kindle Fire in the price-sensitive market segment, while the new models will focus on the mid-range and high-end segments respectively, the sources said, according to DigiTimes.
Apple declined to comment, saying it does not comment on rumors and speculation.
Yet the DigiTimes story in December was unusually detailed, said Dieter Bohn of The Verge. And many of the reported features match with the Bloomberg story, which was confirmed by three people familiar with the product. Among the featuresthat DigiTimes said will be in the iPad 3 are: a 1536 x 2048 high-resolution screen, an A6 quad-core processor, an eight-megapixel camera and a 14,000mAh battery. The battery would double the capacity life of the iPad 2, according to reports.
Incidentally, Apple's original iPad was announced in February 2010, while the iPad 2 was unveiled in March 2011, suggesting that the reports of the iPad 3 arrival in March would keep with Apple's tablet release history.
© Copyright IBTimes 2023. All rights reserved.