Apple Kills the Textbook with iBooks 2, iBooks Author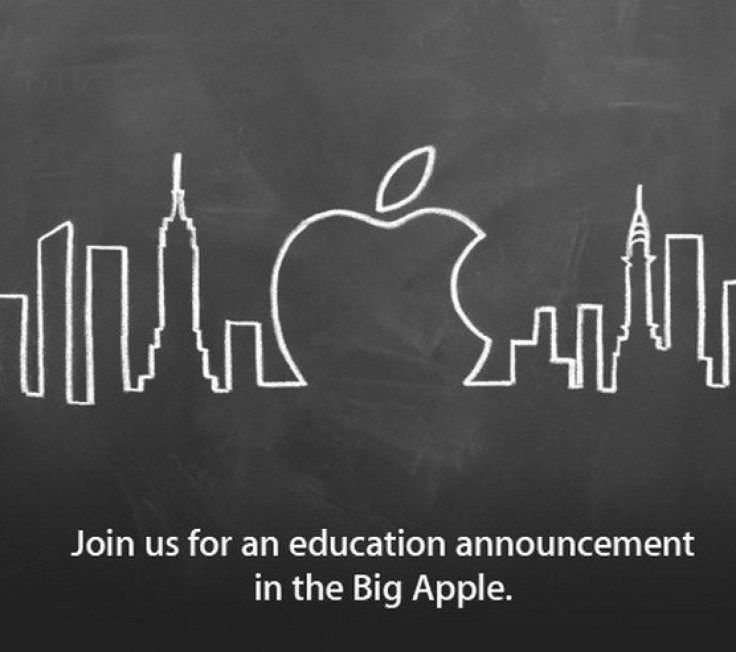 At the Guggenheim Museum in New York Thursday, Apple announced it would update its iBooks platform to include textbook capabilities, such as indexing and highlighting text. It also added a new platform called iBooks Author, which lets anyone easily create and publish their own e-books. Apple's late co-founder and chairman Steve Jobs had hoped to bring relief to the higher education masses in the late 80s and early 90s, but 20 years later, Jobs's legacy lives on in Apple, which hopes to make yet another dent in the education industry.
At the start of Thursday's presentation, Apple's senior VP of marketing Phil Schiller told the audience several pitiful statistics about U.S. education. For one, 70 percent of freshmen graduate in four years, but the country is ranked 17th in reading, 23rd in science and 31st in math. Assuming the human race isn't getting stupider, the statistics show that there is clearly a disconnect between students and their education.
Yet, the iPad offers a big opportunity for students to get excited about learning again. The iPad has already demonstrated it can help children with learning disabilities make leaps and bounds in their development, and schools have already invested heavily in Apple's tablet. Roughly 1.5 million iPads are currently in use in educational institutions.
Schiller said that the problem with textbooks is not the content, which is amazing, but the weight of the physical book. They need to last five or six years when they're written, and they're not very durable or interactive. Searching is also difficult.
At that point, Schiller introduced iBooks 2, which has a new textbook experience for the iPad. The first demonstration showed what it's like to open a biology textbook, and see an intro movie playing right before you even get to the book's contents. When you get to the book itself, images are large and beautiful, and thumbnails accompany the text. To make searching easier, all users need to do is tap on a word and they go straight to the glossary or index sections in the back of the book.Navigating pages and searching is easy and fluid.
Most textbooks include review guides at the end of each chapter, and in iBooks 2, taking a review test is with questions and pictures. If you want the answers to the questions, instead of searching for a page toward the back of the book, all you need to do is tap the answer to get immediate feedback.
Need to take notes? Apple now lets anyone highlight any text on the page using your finger. iBooks 2 immediately and automatically takes your highlighted notes and turns them into flash cards for later studying.
The book is theirs, Schiller said. [Students] can mark it up and not worry.
In addition to the iBooks app itself, the iBookstore also added a textbook category, where you can buy any books you need through Apple's one-click purchasing system. If you don't have enough room for all your books, or if you buy a new iPad in the future, you can always download any and all purchased books from iCloud.
As expected, Apple also launched a new Mac app to write and publish books, called iBooks Author. You don't have to just be a textbook writer, however; you could write cookbooks or children's books. Any kind of interactive textbook you can think of, you can build with iBooks Author. With a simple drag-and-drop interface, text is easy to place and alter, and it automatically wraps around media like pictures and movies, which you can resize on the fly. If you wrote your original document in Microsoft Word, iBooks Author quickly scans the pages for style and automatically lays out sections and headers for the book.
Apple also opened up its platform for most developers, by allowing authors to write their books in JavaScript or HTML if they wish. It's also easy to add term definitions to your own book.
Not sure how your book looks? The incredible preview feature in iBooks Author allows the user to build the book in real-time and see it right on the iPad. They can also publish the book directly to the iBookstore directly from the app.
It is the most advanced, most powerful, yet most fun e-book authoring tool ever created, Schiller said. Every subject, every grade level, for every student.
Schiller added that in order to get this into the hands of every author, iBooks 2 and iBooks Author are both free apps on the Mac App Store starting Thursday. Apple has also partnered with Pearson Education, McGraw-Hill and Houghton Mifflin Harcourt. Pearson Education will be selling textbooks for algebra, biology, environmental science and geometry, two of which will be available immediately. McGraw-Hill has books for algebra, biology, chemistry, geometry and physics, all of which are available today, too. Dorling Kindersley (DK) Publishing also launched books for kids, including Dinosaurs and Prehistoric Life and My First ABC. The E.O. Wilson Biodiversity Foundation also is offering its biology textbook Life on Earth today.
The K-12 sector of education is a difficult nut to crack, since schools need to buy and approve books. In higher education, on the other hand, professors and students have more control over their course textbooks. With iBooks 2 and iBooks Author, e-books and e-textbooks are now made more accessible for every age group and appeals to visual learners, to boot.
Jobs had long hoped to bring sweeping changes to higher education for much of his life. When he left Apple and launched NeXT in 1986, Jobs wanted the company's first computer -- a distinctive all-black magnesium cube -- to be designed specifically for higher education establishments and what Jobs called aggressive end users.
What we realized was that higher ed wants a personal mainframe, Jobs said at the NeXT Computer launch in October 1988. There has not been an advancement in the state of the art of printed book technology since Gutenberg.
Jobs's NeXT Computer was one of the very first computers to include Shakespeare's works, a dictionary, thesaurus, and the Oxford Dictionary of Quotations, and the first to make all of these books searchable. It was this same NeXT platform that Tim Berners-Lee created the world's first server for the World Wide Web in 1991.
Before Jobs died on Oct. 5, 2011, he told his biographer Walter Isaacson that he still had desires to transform the textbook market.
[Jobs] believed it was an $8 billion a year industry ripe for digital destruction, Isaacson wrote. He was also struck by the fact that many schools, for security reasons, don't have lockers, so kids have to lug a heavy backpack around.
'The iPad would solve that,' he said. His idea was to hire great textbook writers to create digital versions, and make them a feature of the iPad. In addition, he held meetings with the major publishers, such as Pearson Education, about partnering with Apple.
'The process by which states certify textbooks is corrupt,' he said. 'But if we can make the textbooks free, and they come with the iPad, then they don't have to be certified. The crappy economy at the state level will last for a decade, and we can give them an opportunity to circumvent the whole process and save money.'
Reports earlier this week said Apple would be unveiling a new software toolkit to build and develop e-books and handouts for the iPad, which is said to be as easy as recording and producing songs in Garageband, another Apple product.
Also Read: Apple iBooks Author - Good But Not Good Enough (Top 10 Limitations)
Must Read - iPad 3 Rumors Roundup: From Specs to Release Date and Everything Else In Between
© Copyright IBTimes 2023. All rights reserved.
FOLLOW MORE IBT NEWS ON THE BELOW CHANNELS