Apple's Biggest Launch May Not Be The Watch, Or The iPhone, But Apple Pay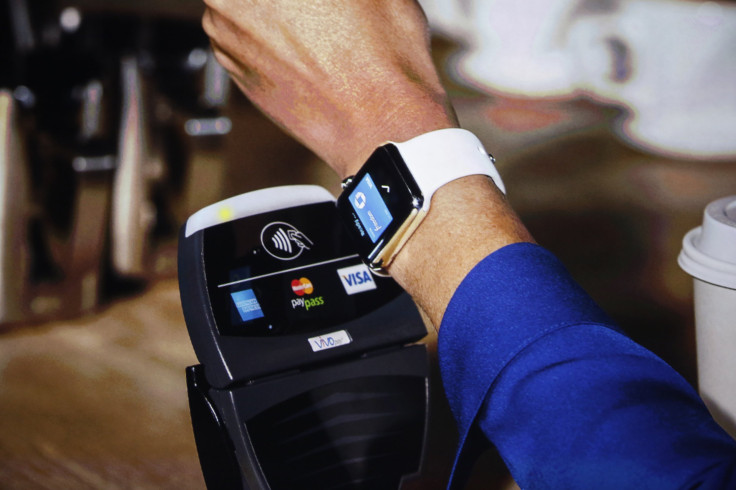 Correction: The story had earlier incorrectly stated Apple's stock price movement during the launch event Tuesday. That mistake has been corrected and more details have been added.
Apple Inc.'s (NASDAQ: AAPL) latest big launch happened at last, complete with bigger phones, a smartwatch, free U2 songs on iTunes, as well as some streaming glitches. However, what has got technology experts and investors most excited is not the hardware.
The new iPhone 6 models are snazzy, they pack millions of pixels, and the Apple Watch lives up to Cupertino's reputation for design and sophisticated simplicity, but the showstopper could well be a software service. It's called Apple Pay.
"Of all three launches yesterday, the most exciting and the most promising one is Apple Pay ... not the devices," said Jayanth Kolla, a partner at telecom consultancy Convergence Catalyst.
While the new iPhones are a solid improvement, primarily in the hardware department, "Apple Pay could revolutionize mobile and digital payments, which is ripe for disruption," Kolla told International Business Times in an interview on Wednesday.
Other industry experts agree. Eden Zoller, a principal analyst for consumer industry at Ovum, a technology and research advisory, said in an emailed statement on Wednesday: "If anyone can help make this happen then it is probably Apple, although it will need strong partnerships."
"Apple will prove effective at marketing mobile payments to consumers, not as a technology but as something that will make paying for goods and services with your phone fast, easy and even fun," Zoller said.
NFC AND NOT IBEACON
The reason that Kolla and Zoller think Apple just might succeed when other proximity systems -- that allow payments to go through by merely waving a smart gadget at a point-of-sale device -- haven't quite taken off is that Apple's entry is likely to accelerate the growth of the Near Field Communication, or NFC, ecosystem.
"The good thing is they didn't integrate Apple Pay with iBeacon, their own low-energy bluetooth solution, but with NFC," Kolla said. NFC is based on open standards for radio communication between mobile devices that several players in the industry have worked on.
This ecosystem already exists and even with point-of-sale terminals, and NFC-enabled card readers are available and not unheard of even in large emerging markets such as India. NFC vendors have been pushing the technology for more than a decade, but Apple probably added the missing link Tuesday.
"Apple's entry essentially expedites the ecosystem's development, which was ripe for disruption," Kolla said.
Apple has already partnered with American Express Company (NYSE:AXP), Visa Inc (NYSE:V) and Mastercard Inc (NYSE:MA), and with an extremely easy-to-use interface, the company would now be able to "establish a strong value chain for the mobile payments industry," according to Kolla.
Ovum's Zoller said: "When Apple introduces cool features on the iPhone, people tend to use them ... if consumers start using NFC then merchants will be more prepared to invest in it, a key factor that has held NFC back."
PASSBOOK AND SECURITY
Zoller pointed out that "TouchID biometrics are also in the equation for authentication" and Apple Pay looks set to be integrated with Passbook, the iPhone and iPod Touch app that allow scanning for check-ins with airline tickets, movie-ticket coupons and so on.
With Apple Pay, consumers won't have to enter their credit card details at all, Apple said on Tuesday. However, more details of how the technology will ensure security are needed.
"We would have liked to have seen more concrete details on this front," Ovum's Zoller said.
Emphasizing that he still needs to study the mechanisms at a more granular level, Convergence Catalyst's Kolla said that Apple Pay generates a unique ID that has to be mapped to the user's credit card "at some level." With the recent celebrities' nude pictures debacle still on everyone's mind, security is a top concern, he said.
Apple Pay, according to the company, sends a one-time payment number and security code. Credit cards can be added by taking a picture of one with an iPhone to add it to Passbook. However, "even if a hacker can't get to your card details, if they can get to your ID created by Apple Pay, I would still say there would be some security issues," Kolla said.
BEST WAIT FOR APPLE WATCH 3
Still, investors seemed to agree with industry analysts that Apple Pay is the real deal. In the minutes after Apple announced Apple Pay, its stock price, which had been climbing after the announcement of the iPhone 6 models, went up further. Apple rose as much as 4.8 percent to $103.08 from the previous day's close, in intraday trading, before ending lower at $97.99.
"By the time Apple Watch was announced and introduced, the stock fell and lost all its gains," he said.
Apple Watch, which won't be out until sometime next year, and whose battery life is still one of the unknowns, is a classic first-generation device, with emphasis on design. What is worth waiting and watching for is how the third-party developer ecosystem takes up the Apple Watch. True to Apple's credo, the first generation device is all about design and usability.
"They've also managed to invent a couple of input methods such as the 'digital crown' and the 'force touch,'" he said.
A couple of generations down the line, an Apple Watch 3 would be the one to watch out for, and by that time the ecosystem too will have evolved, he said.
"This one is more of an accessory to your iPhone as opposed to a full-fledged smartphone on your wrist, which are available in the Android ecosystem ... some of them."
© Copyright IBTimes 2023. All rights reserved.
FOLLOW MORE IBT NEWS ON THE BELOW CHANNELS