'Bates Motel' Season 3 Spoilers: Norman Unravels In Episode 6; 'Norma Louise' Gives New Look At 'Psycho' [RECAP]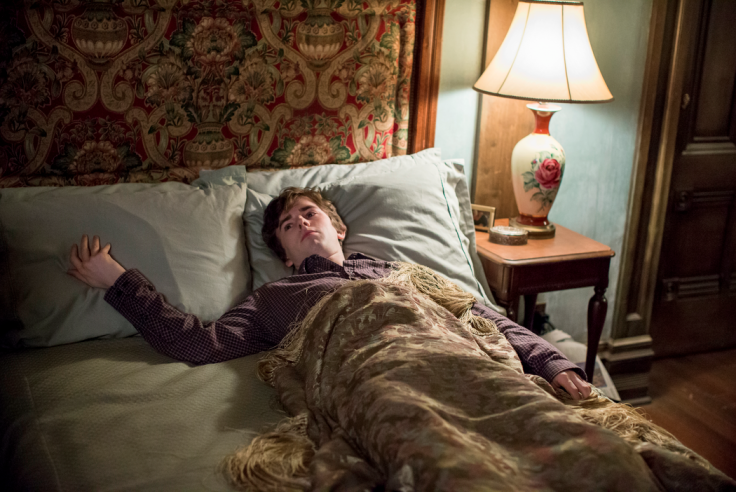 Season 3 of "Bates Motel" has definitely been a slow burn so far, however the storyline sparked in episode 6. After Norma's (Vera Farmiga) breakdown at the end of last week, things continued to unravel – and the bodies piled up.
Episode 6, titled "Norma Louise," paid homage to Alfred Hitchock's "Psycho." When Norma fled the motel, she drove to the city to begin a new life. She bought new clothes, rented a motel room and traded in her car – similar to that of Marion (Janet Leigh) in the 1960 movie. However when a bar hookup turned ugly, Norma realized that she couldn't run away from her problems. Slightly intoxicated, Norma gave a call to her new therapist/ love interest James (Joshua Leonard) and pleaded for him to allow her to come over.
While Norma had her meltdown, Norman (Freddie Highmore) was at the motel FREAKING OUT. The twisted mother's boy had some pretty ugly blackouts and severe hallucinations. When Dylan (Max Thieriot) couldn't get in touch with his mother, he asked Emma (Olivia Cooke) to stay with his brother while he went to talk to Caleb (Kenny Johnson) about what happened. After explaining the situation with Norma, Dylan was forced to ask his father to leave. Caleb was visibly hurt, but he didn't put up a fight. With nothing left to lose, Caleb accepted Chick's (Ryan Hurst) position as a "driver." But the catch was that Chick wouldn't explain anything about the gig.
"Don't need to worry about that now," he told Caleb. "When you need to know I'll tell you."
As if that wasn't enough drama on "Bates Motel," episode 6 also found Sheriff Romero (Nestor Carbonell) hospitalized after getting shot in the parking lot of a supermarket. The wound wasn't deadly, but the threat was still looming. When he woke up his immediate reaction was to call Norma and warn her about a potential attack. Unfortunately for Romero though, he appeared to be Bob Paris' (Kevin Rahm) main target. While he was hooked up in the hospital, he received a visit from his competition, Marcus (Adetomiwa Edun).
Marcus, who is running against Romero for White Pine Bay Sheriff, basically confirmed that the gunshot was an assassination attempt from the Arcanum Club. "They're going to kill you," he promised Romero. However, Marcus had a proposition for him. He claimed that he had the sheriff position in the bag, but told Romero that he'd protect him from Bob and his people if he agreed to work for him. Romero didn't give his answer in the hospital room … instead he surprised Marcus by following him out to his car. Smashing the window in, Romero managed to briefly struggle with the new guy before getting his hands on his gun. Without a second thought, Romero shot Marcus. He pushed the body into the passengers seat, wiped blood from the window and peeled out of the parking garage – all while wearing his hospital gown.
Believe it or not that wasn't the big jaw dropper in the latest episode of "Bates Motel." Norma finally came clean about Norman's issues and confessed to her therapist that her husband didn't die from an accident – Norman blacked out and killed him while protecting her. Surprisingly James wasn't turned off by her craziness, and risked his career to sleep with her. While Norma hooked up with her therapist, Norman woke from his comatose like state. But he wasn't Norman … he was his mother.
Since "Bates Motel" is a prequel to "Psycho," fans finally got a peak at how Norman "turned into" Norma. Dylan walked into the kitchen to find his younger brother dressed in Norma's robe and cooking breakfast. When he questioned his brother about what he was doing, Norman creepily replied, "Norman's sleeping."
Episode 6 ended with Norma returning home and forcing her sons to accompany her to the farm to talk to Caleb. Norma couldn't find the words to say to her brother when she came face-to-face with him and started crying. Caleb immediately fell to his knees and repeatedly apologized for his past actions. The brother and sister were hugging and crying … while Norman watched with a frightening look on his face.
© Copyright IBTimes 2023. All rights reserved.