Ben Carson Compares His Black Experience To Obama's, Says President Was 'Raised White'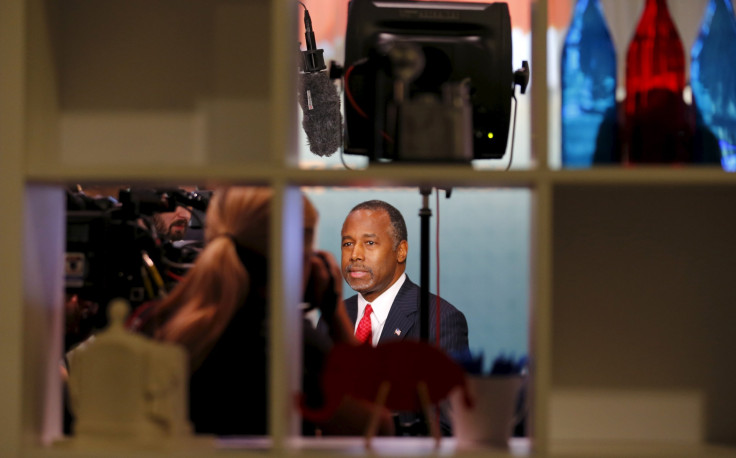 Retired neurosurgeon and Republican presidential hopeful Dr. Ben Carson said in an interview published Tuesday that his upbringing as a poor black child in 1960s Detroit is more representative of the African-American experience than the upbringing of President Barack Obama, Politico reported. Citing Obama's time spent in Indonesia as a child, Carson said it is "a stretch" for Obama to say he identifies with the experience of African-Americans growing up in the United States.
"He's an 'African' American. He was, you know, raised white," Carson said to Politico.
"I mean, like most Americans, I was proud that we broke the color barrier when he was elected, but … he didn't grow up like I grew up," Carson went on to say.
Carson, who finished last in the South Carolina primary Saturday, hasn't incorporated race much into his campaign, but as his popularity has dropped throughout the race to the White House he has begun to talk about the issue more. In South Carolina, he campaigned at African-American colleges and in black neighborhoods as well.
Instances of people suggesting Obama is not "black enough" have popped up since before Obama became president. Last year, media mogul Rupert Murdoch suggested in a tweet that, if elected, Ben Carson would be the first "real black president," something he later apologized for, the BBC reported.
U.S. Rep. Darrell Issa, R-Calif., backed up Carson on Tuesday, saying that the presidential candidate was "technically" correct in his assertion that Obama was raised white.
Once a role model for black Americans because of his achievements in the field of medicine, Carson's indifference to Obama's ascendency to the highest office in U.S. government has caused some to question his stature. Carson has been highly critical of Obama, once calling him a psychopath, CNN reported.
Carson's views on Obama have drawn criticism.
"Carson's callous denigration of Obama appears designed primarily to expand his platform. It comes across as opportunistic and polarizing, unbecoming of a widely respected figure who has positioned himself for so long as a humble voice of reason," Damon Tweedy, a professor of psychiatry, wrote for the Washington Post. "As a black man who has looked up to Carson for so many years, I hope that he can figure out how to take his conservative beliefs and aim them at helping to heal the nation's racial wounds."
© Copyright IBTimes 2022. All rights reserved.
FOLLOW MORE IBT NEWS ON THE BELOW CHANNELS