BlackBerry Z10 Release Date Set For AT&T In US; Price May Reach $599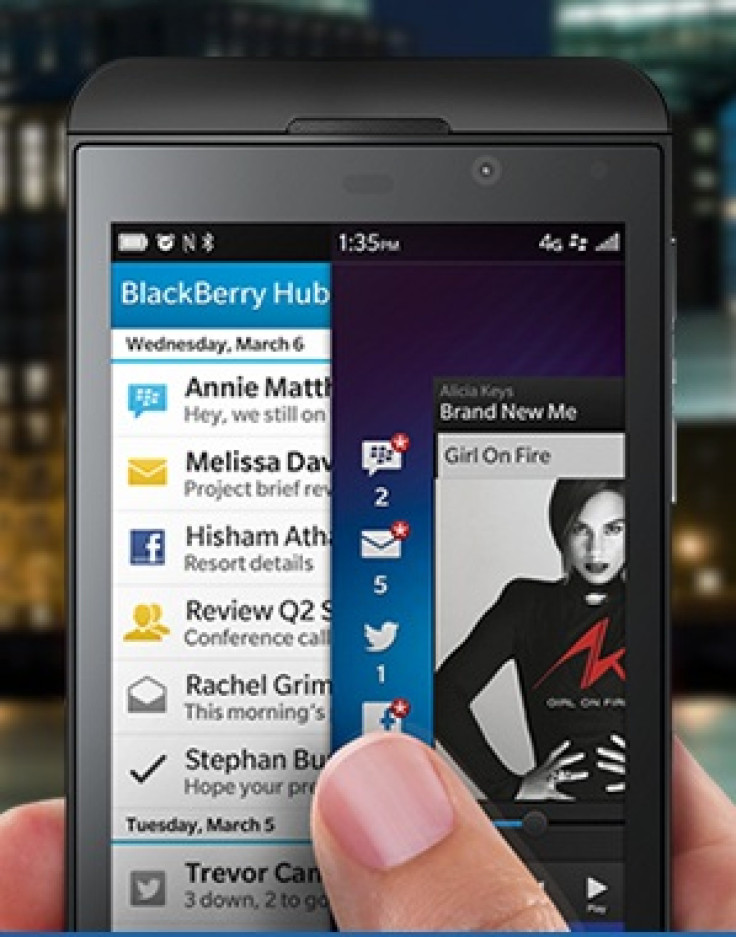 BlackBerry's reinvention is almost complete. After debuting its all-new touch-based operating system in late January, the company formerly known as RIM will reportedly release its flagship smartphone in 2013 -- the keyboard-less, button-less BlackBerry Z10 -- on March 22 in the U.S. via AT&T.
BlackBerry said it will eventually launch the Z10 on Verizon Wireless and T-Mobile's networks, but offered no specific release date for the handset on those particular carriers.
The March 22 release date for BlackBerry Z10 was first reported by Bloomberg, which cited two people familiar with BlackBerry's launch plans "who asked not to be named because no release date has been announced."
BlackBerry debuted its Z10 device and BB10 operating system on Jan. 30. But while BlackBerry showed off the features of the OS and specs of the phone that day, the company only said the Z10 would "release in March," but gave no official date. However, one thing was clear: This effort was aimed directly at the all-popular iPhone from Apple, which has bowled over most of its competitors since its introduction in 2007. That said, BlackBerry, BB10 and the Z10 might have the best chance to fight back in 2013.
The iPhone 5 and BlackBerry Z10 have the same $199 starting price, but according to a promotion on BlackBerry's own site, the approximate retail value of the BlackBerry Z10 is listed at $599, which means the company might release a high-end model of the Z10 at that steep price point. The most expensive iPhone 5 -- with 64 GB -- is listed at $399.
Besides the price, both the iPhone 5 and BlackBerry Z10 are comparable in connectivity speed -- both handsets run on the high-speed Long-Term Evolution (LTE) networks, which means lightning fast upload and download speeds -- and processor speed: Compared to Apple's dual-core 1.4 GHz A6 system-on-a-chip (SoC), the BlackBerry Z10 is powered by Qualcomm's latest dual-core Snapdragon processor that clocks in at 1.5 GHz.
The BlackBerry Z10 is longer, wider and slightly thicker than the iPhone 5 (exact dimensions are 5.12" x 2.58" x 0.35"), but the BlackBerry Z10 is nowhere near as gargantuan as the Android-based smartphones available on the market, including Samsung's bestselling Galaxy Note 2. That said, the BlackBerry Z10 has a brilliant 4.2-inch 1280 x 768 display, which actually has a higher pixel density than the iPhone 5's Retina display, and only weighs 4.78 ounces.
As far as "smart" features go, the BlackBerry Z10 boasts an 8-megapixel rear camera with 1080p HD video recording, a 2-megapixel front-facing camera, but within its operating system lies an even more powerful camera feature called "TimeShift," which allows users to adjust individual faces within a group shot to get different views of them by capturing multiple shots of their face before and after the actual snapshot is taken. Users will find it easy to scroll back and replace any individual's face with a different shot, taken either seconds before or after the group shot was taken.
BlackBerry says its 1800mAH removable battery within its Z10 handset can achieve 10 hours of 3G talk time and 305 hours of standby time; comparatively, the iPhone 5 can only muster eight hours of talk time and 225 hours of standby time.
That said, some critics have said the BlackBerry Z 10 battery didn't perform as well as expected. For example, AllThingsD's Walt Mossberg said he spent more than a week with the Z10, but found the battery life of his phone wasn't exactly as advertised.
"I didn't do a formal battery test, but in my moderate to heavy use of the phone, I found it didn't last as long on a charge as the iPhone 5, and began to get pretty low by late afternoon," Mossberg said. "It would last some people an entire day, but not everyone."
Phone features are great, but what most people want to know is about the operating system. The BlackBerry Z10 will be the first device to run BlackBerry's touch-based BB10 OS, which heavily relies on swiping and gestures to navigate through the phone.
Users can unlock the Z10 by swiping up from the bottom border of the display, which will show the last screen you were on before you locked your phone. To get to the "Home" screen, just swipe up from the bottom again -- this screen shows minimized versions of all your running applications -- up to eight at once -- that BlackBerry calls "Action Frames."
Swipe to the left and you'll sift through screens of all your open applications; swipe from the bottom on any of these apps and they'll minimize into an Active Frame.
Swipe to the right to reach the BlackBerry Hub, which contains emails from all your various accounts you've set up on your phone. Z10 users will also find their text messages, BBM messages, as well as social network updates from Twitter, Facebook, LinkedIn and others in the Hub.
Of course, no phone experience is complete without third-party applications. BlackBerry boasted at its January event that it will have roughly 70,000 apps available to download at launch, with more promised to release shortly thereafter. It isn't much compared to the 700,000 apps available on Google Play or the 800,000 apps on the iOS App Store, but it's a start.
BlackBerry's marketplace, called "BlackBerry World," will feature some of the most popular apps as soon as it's released, including Facebook, Google Maps, Angry Birds and Netflix.
BlackBerry hopes the Z10 will reassert the company's presence in the enterprise space, but with the inability to connect to a centralized cloud service (like Google Drive or iCloud), many are anxious to see how the Z10 will perform upon its initial release. This flagship device from BlackBerry is perhaps the best barometer for how well the company reinvented itself earlier this year; that said, U.S. sales aren't everything: BlackBerry only gets about one-fifth of its total revenue from the U.S., and the Z10 has already launched in 21 other countries as of today.
The U.S. launch of the BlackBerry Z10 will first occur on AT&T, which will reportedly release the handset via its retail stores on Friday, March 22. Next up will be Verizon Wireless, which said it will release the an exclusive white version of the BlackBerry Z10 sometime later this year.
© Copyright IBTimes 2023. All rights reserved.