'The Blacklist' Season 3 Spoilers: Tom Learns A Major Secret About His Past In Episode 22; 'Alexander Kirk' Recap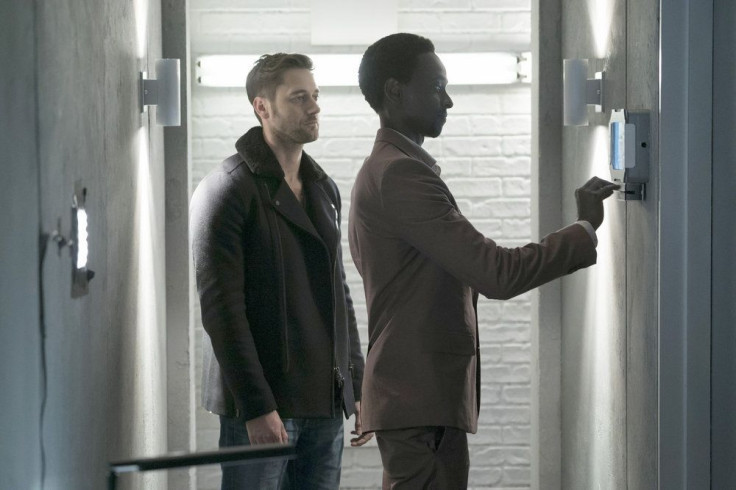 Tom and Red have been searching for the man responsible for Liz's death and they are now closer than ever to getting their revenge on NBC's "The Blacklist" Season 3. While Tom teamed up with Halcyon to go after Alexander Kirk, he ended up learning a secret about where he came from in episode 22, titled "Alexander Kirk."
Episode 22 begins with Susan "Scottie" Hargrave (Famke Janssen) in action in Indonesia. She uses Halcyon to free eight hostages when the government refused to negotiate with terrorists, which shows she might not be a villain after all.
Tom (Ryan Eggold) gets home and finds Red (James Spader) waiting for him. Red still wants to be a part of Liz's (Megan Boone) baby's life and promises all his resources are available to Tom and Agnes. Tom says he'll allow that but only if Red lets him get back at whoever is responsible for the death of Liz. Red then tells him about Alexander Kirk (Ulrich Thomsen) and that Hargrave isn't the one behind it.
The task force gets briefed by Red about Kirk and Red tells them they're going to have to team up with Hargrave and Halcyon to bring him down. Although the FBI is reluctant at first, Red tells them about what she did in Indonesia and they agree to listen.
Hargrave recruits Tom to work alongside her team after she visits his baby in the hospital. Mr. Solomon (Edi Gathegi) picks up Tom in a helicopter and brings him to the Halcyon facility where the task force is waiting. Solomon tells Tom that Halcyon does the work that might not coincide with the law, but is the morally right thing to do.
Nez Rowan (Tawny Cypress) reveals Halcyon's plan to steal money from Senator Diaz's (Benito Martinez) digital account and it involves a bank heist as a distraction. Cooper (Harry Lennix) and Ressler (Diego Klattenhoff) are against it, but Tom believes it's a smart plan because it would draw authorities to the bank and the task force can hack into Senator Diaz's account.
Tom joins Solomon and Rowan on the bank robbery and at first it all goes to plan. An off-duty police officer happens to be in the bank at the time they're in there and he pulls his gun on Tom. Solomon then points his gun at the cop and the two shoot at each other. The cop is wounded by the gunshot and Solomon accidentally shoots a little girl in the process. Tom then gets the girl to an ambulance and the team escapes the bank before the police arrive.
Ressler and Samar (Mozhan Marnò) show up at the bank to "investigate" the robbery. Instead, Samar goes to access the digital funds of the senator for Halcyon. When Aram (Amir Arison) tries to get to the funds, he realizes it needs a retinal scan of a man named Peter Pruit (Sherman Howard).
Kirk tries to take Tom's baby from the hospital, but Hargrave catches wind of it and is able to get to the baby first. Tom goes to Hargrave's angrily because he believes she kidnapped his daughter. Hargrave then gives Tom back his child and tells him that she took her to avoid Kirk from getting her.
To get access to the scan, Tom comes up with a plan to get into the Turkish Embassy using an old fake identity that's wanted by Turkish authorities. He's able to fight his way out of their custody and disguises himself as a waiter. He then creates a diversion inside after finding Pruitt. Tom drugs him after switching out Pruitt's cigarette.
When Pruitt passes out, Solomon and Rowan show up in an ambulance disguised as EMTs. Tom ends up using too much drugs and they're not able to get a good scan on Pruitt's eye. They make a quick stop and break into a store to get eye drops. Solomon and Tom get into an argument as Tom blames Solomon for Liz's death and Solomon says she's in a better place now. Tom doesn't take kindly to that and he shoots Solomon in the stomach then leaves him to die in the store.
Tom is finally able to get a scan of Pruitt's eye, just before the president of the bank locks the account they're hacking into. Diaz is now freaking out and when he gets home he finds Hargrave waiting for him. She tells him that she now has his money and if he wants it back he'll have to turn over Kirk.
Red appears from behind Diaz and has him call Kirk. Kirk tells Red he should've killed him years ago and that he may have his money, but he doesn't have him. Red then has Diaz subpoena Kirk to force him to come to Washington D.C.
The episode comes to an end with Agnes' Christening. The entire task force goes and Tom tells them that they're the only family Liz ever knew and he picks all of them to be the baby's godparents. After the Christening, Tom drives over to Hargrave's to kill her because he believes they have no use for her anymore.
Red then drops the bombshell that Hargrave is actually Tom's mother, but Hargrave has no idea that he's her long lost son. She believes her son is dead and Red tells him he can't kill her because she hold answers he's been looking for all his life. If he wants the answers he'll have to hide who he really is. When Hargrave finds Tom in her office, Tom goes to leave without killing her. She tells him that he's hired, but Tom doesn't take the job, at least for now.
© Copyright IBTimes 2023. All rights reserved.
FOLLOW MORE IBT NEWS ON THE BELOW CHANNELS