Blackpink Gets A Short Break From Concerts As Touring Seemingly Takes A Toll On Members' Health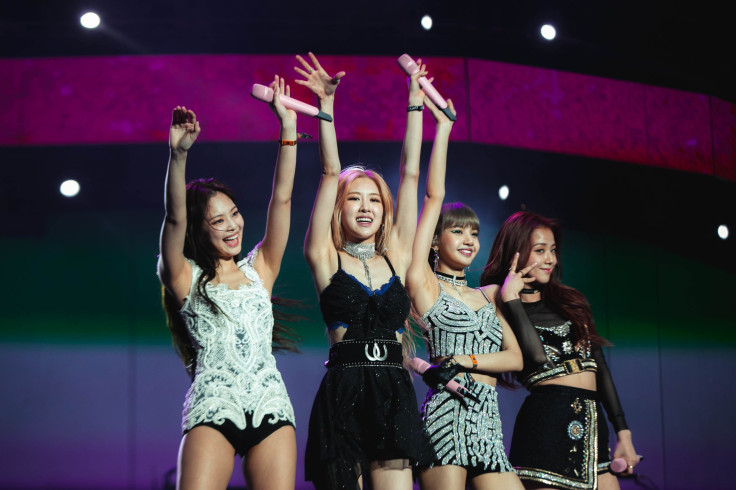 KEY POINTS
Blackpink will take a short break before continuing the "Born Pink World Tour"
Jennie left their Melbourne concert halfway due to health issues
Jisoo previously tested positive for COVID-19 but already recovered
Blackpink members will go on a short break after their successful "Born Pink World Tour" stop in Sydney to rest and recover.
Following the Australia leg of the "Born Pink World Tour" on Friday, Blackpink members will get a two-week break before they resume their activities.
"After the Australia tour, there is a break period. I know that the members are also preparing harder to finish the final Sydney performance on the Australian tour as well," said a representative of YG Entertainment in a report.
Blackpink will headline the BST Hyde Park festival in London on July 2 and continue the next leg of its world tour in Paris, France, on July 15.
Just recently, Blackpink member Jennie was unable to complete their Melbourne concert on Sunday due to health issues. The group's rapper and vocalist showed signs of struggling due to poor physical condition and had to leave the stage and the rest of the group — Jisoo, Lisa and Rosé —mid-performance.
On the same day, Blackpink's agency YG Entertainment announced through Weverse, a community platform for both fans and artists, an update on Jennie's health.
According to the statement, the 27-year-old Blackpink member regretted not being able to stay with the fans until the end and assured fans of her immediate recovery.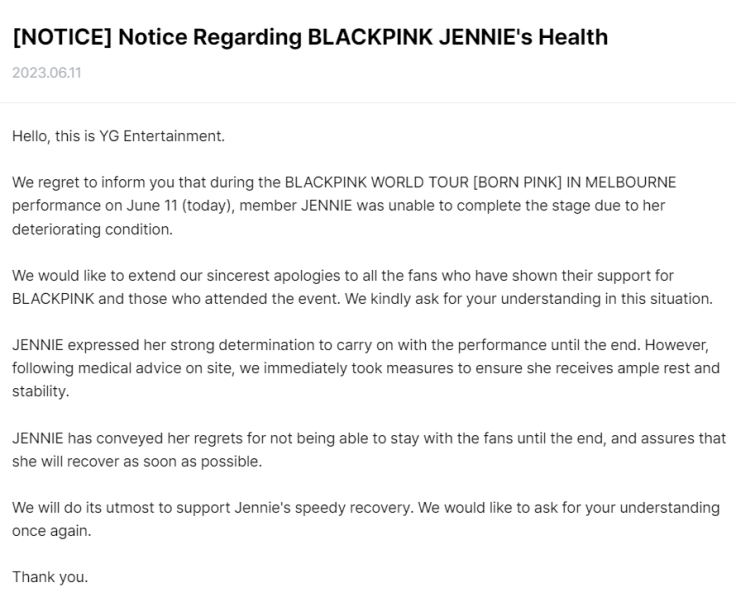 Despite Jennie's strong determination to carry on with the second day of their concert in Melbourne, she had to rest per medical advice.
Jennie also posted a message on her Instagram Stories to sincerely apologize to fans for leaving the performance halfway.
The South Korean idol will be back and participate in the Sydney stops of the group's Australian tour this weekend.
On June 1, Jisoo tested positive for COVID-19 and had to miss performing for their tour stops in Osaka.
Following the Blackpink member's week-long bout with COVID-19, she was spotted at the airport in Gimpo, fully recovered and ready to continue the rest of the tour.
The group's visual also assured fans of her return by responding to a fan on Weverse, adding that she missed Blinks – Blackpink's official fandom – so much.
As touring seemingly took a toll on the members' health, fans shared their reactions to the announcement and wished the members well on their well-deserved break.
"Their health is paramount," one fan tweeted, while another said, "[I] love you, Nini. [T]ake all the rest you need."
Blackpink's "Born Pink World Tour" will resume in July, visiting Paris, New Jersey, Las Vegas, San Francisco and Los Angeles.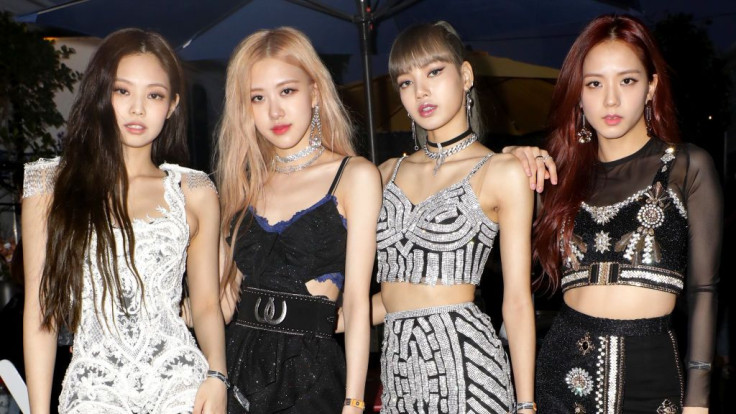 © Copyright IBTimes 2023. All rights reserved.