Bob Woodward Sideshow Distracts Us From The Sequester: Is That Exactly What Obama Wants?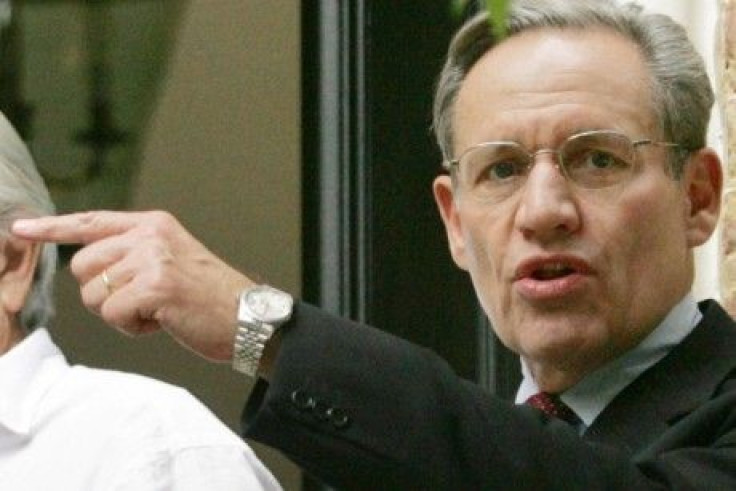 Do you follow politics? Maybe you only think you do.
If we can learn anything from Bob Woodward's strangely compelling kerfuffle with the White House this week, it's that we may not be as politically well-versed as we think we are.
The legendary journalist and Washington Post reporter created what he now refers to as a "sideshow" after implying that he'd been threatened by a senior White House aide. Politico first reported the quarrel in an interview in which Woodward revealed part of an email he'd received from a then-unnamed senior White House official. According to Woodward, the email followed a heated phone conversation with the aide over a Washington Post op-ed in which Woodward accused President Obama of "moving the goal posts" on negotiations for the sequester.
"I apologize for raising my voice in our conversation today," the aide's email read. "You're focusing on a few specific trees that give a very wrong impression of the forest. But perhaps we will just not see eye to eye here. … I think you will regret staking out that claim."
Politico's Mike Allen and Jim Vandehei surmised that Woodward had seen the comment as a "veiled threat," and later on CNN, Woodard seemed to continue along that line: "I mean, it makes me very uncomfortable to have the White House telling reporters, 'you're going to regret doing something that you believe in,'" he told Wolf Blitzer.
When the full email exchange was revealed (also by Politico), it suddenly seemed a lot less threatening. The White House aide in question is Gene Sperling, national economic council director, whose tone was undeniably cordial throughout the missive. "I know you may not believe this, but as a friend, I think you will regret staking out that claim," Sperling wrote.
It turns out, Woodward was equally cordial in his response. "Gene: You do not ever have to apologize to me," he replied.
In light of the apparent civility of the exchange, it didn't take long for many prominent journalists to hurl a few Twitter-born jabs at the expense of the patron saint of their profession.
Others came to Woodward's defense, including BuzzFeed's Michael Hastings in a post on Friday morning. "True, Woodward might be wrong about the facts on this one, but that doesn't mean that one of the most experienced investigative reporters around doesn't recognize a threat," Hastings wrote.
Recognize a threat he might, but it turns out, that's not how Woodward perceived Sperling's email at all -- or at least that's what he's saying now. "Threat," he said, was Politico's word. In a Thursday interview, Woodward told Fox News' Sean Hannity, "I haven't used that language."
Appearing on NBC's "Today" show Friday morning, Woodward maintained that stance. "It's been pointed out that this is a sideshow, which it is," he told Matt Lauer. "This is the old trick in the book of making the press, or some confrontation with the press, the issue, rather than what the White House has done here."
In that sentence, Woodward uttered what might be the only true bit of logic one can extract from this entire weird exchange. Throughout the week, hordes of political and media junkies were no doubt glued to their Twitter feeds, eagerly awaiting the latest tidbit to emerge from the Woodward-White House drama. And who can blame them? It's hard to resist a classic showdown between politics and the press. But the impetus of the drama -- the sequester, its complexities and its implications for the country -- was pushed aside in lieu of a behind-the-scenes soap opera that did little to enhance our understanding of what is truly at stake if the sequester goes into effect at midnight, as is widely expected per President Obama's Friday announcement that he had been unable to broker a deal.
How many of us, having wolfed down the Woodward drama all week long, can say we have even a rudimentary understanding of what will happen if the sequester takes effect? Heck, how many of us can even define sequester? Maybe Woodward has a point about the "sideshow" nature of the modern press. Whether it's Marco Rubio's water-guzzling moment, or the recent finger-wagging volley between BuzzFeed and Michael Moore, media-fueled dramas, captivating as they may be, do tend to distract us from what's important. Most of us know, for instance, that Rubio lunged awkwardly for a bottle of Poland Springs during his rebuttal to Obama's State of the Union address earlier this month, but three weeks later, few among us could name even a single talking point from that speech -- in which a rising-star member of a major political party laid out an alternative vision for the country that many would deem downright dangerous.
Still think you follow politics?
© Copyright IBTimes 2023. All rights reserved.
FOLLOW MORE IBT NEWS ON THE BELOW CHANNELS