Bobby Brown Wants Bobbi Kristina in a Treatment Facility: Report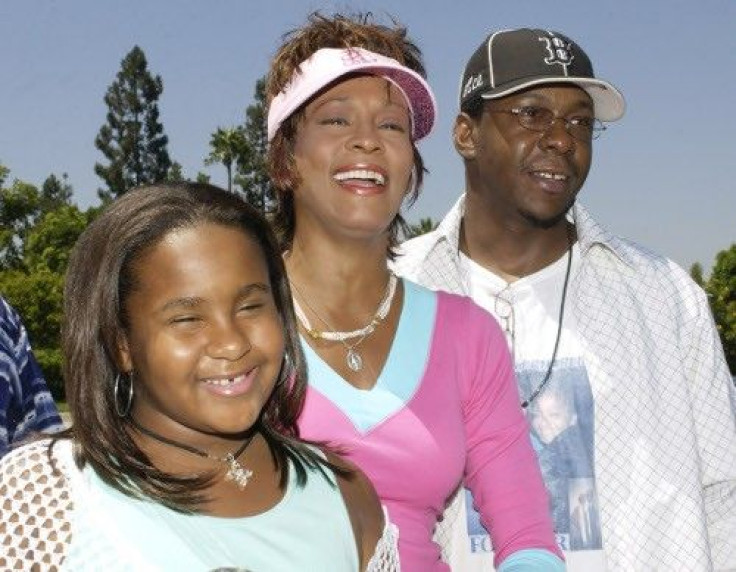 Bobby Brown is said to be worried about his daughter Bobbi Kristina and wants her to get professional help and get into a treatment facility.
Whitney Houston died at age 48 in a bathtub at the Beverly Hilton hotel in California on Feb. 11. There are no official reports as to the cause of death. Following her mother's death, Bobbi Kristina was hospitalized and treated for stress and anxiety. Moreover, the 18 year old reported caused a panic on the day of her mother's burial because the family could not locate her.
The Daily Beast reported that sources close to the family said that Bobbi Kristina was found getting high.
Bobby told family friends that he's really worried about Bobbi Kristina, a source close to the singer reportedly told RadarOnline.com. He knows that she is devastated about her mother dying and he doesn't think that she is handling the situation well at all. Bobby is afraid of what is going to happen to Krissy if she doesn't get some help - the last thing he wants is for another tragedy.
Krissy has taken her mother's death really hard, not surprisingly, and Bobby is terrified she's going to do something stupid, the source added. He wants her in a treatment center, getting professional help to get her through the grieving process without falling back on alcohol or drugs to mask her pain.
Bobbi Kristina is the only child between Houston and her ex-husband Bobby Brown. There have been reports that the teen was using drugs. A photograph of Bobbi Kristina surfaced online last year showing the teen allegedly doing cocaine. Bobbi Kristina has admitted that she is in the photo but said that she was set.
Houston and Brown Struggled With Drug Use
Both Houston and Brown have publicly struggled with drug use for years. Reports are that drug use is what caused their marriage to end in 2007.
Bobby wants to be there to help his daughter, to guide her through this time, but with all of the family bad blood and drama he isn't able to comfort her or really give her any help at all. He is telling people that he is worried sick that his daughter is going to turn to drugs, the source told RadarOnline. Let's face it, both her parents struggled with dependency issues and Bobby knows that addiction often runs in the genes so he's terrified his daughter is going to follow in his and Whitney's footsteps - he wants to stop that by all means possible.
Cissy Houston Takes Over
The New York Daily News reported that Bobbi Kristina is now under the watchful eyes of her grandmother Cissy Houston, who is determined to not lose her grandbaby to drugs. Sources to the Daily News that Bobbi Kristina spent a good portion of Monday with Cissy, 78.
In the aftermath of Whitney's death, she's running the show, another second source told the paper.
The second source told the Daily News that Cissy was unable to do anything with Whitney and the hangers-on, moochers and enablers that sucked the life out of her.
She has the reins of this now, the source added, noting that Cissy's attitude is I'll be damned if I'm burying my grandbaby.
Related Article: Bobby Brown Broke Agreement, Spoke to Bobbi Kristina at Whitney Houston's Funeral: Report
© Copyright IBTimes 2022. All rights reserved.
FOLLOW MORE IBT NEWS ON THE BELOW CHANNELS