Boston Marathon Explosions: Knee-Jerk Twitter Rumors Run The Gamut From North Korea To The Tea Party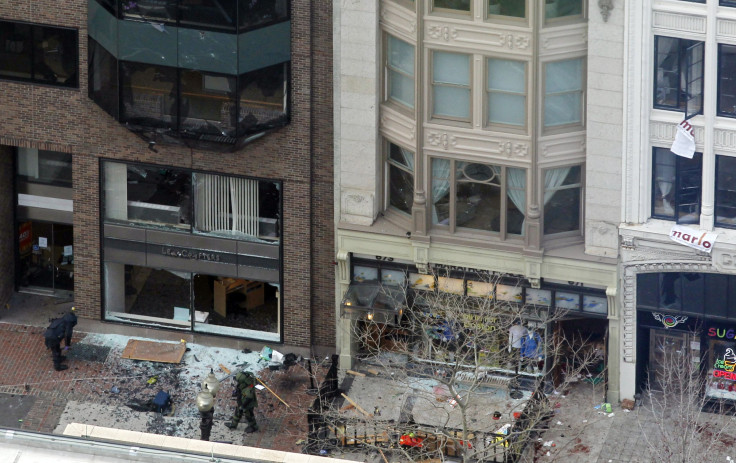 More is unknown than known around the two explosions that rocked the Boston Marathon on Monday afternoon, but the lack of information hasn't prevented imaginations from running wild on Twitter and other social media websites. Much as we saw in the hours that followed the Sandy Hook school massacre, keyboard commentators on Monday were quick to make up their own minds regarding the origins of the devastation.
Tweets related to "marathon" and "North Korea" were pouring in at about 30 per minute by late afternoon, with many of the tweeters ready, absent any evidence, to blame Kim Jong-un and his unruly regime.
Fortunately, an equal number of Twitter users found such a possibility without merit, with many berating the rumormongers for jumping to such far-flung conclusions. Nevertheless, at least one blogger for Philip Anschutz's mega-aggregator Examiner.com thought the idea was credible enough to post a "report" dispelling the rumor.
North Korea isn't the only subject of speculation. Some tweeters made the connection between the Boston Tea Party and the fact that the explosions took place on April 15 -- tax day -- which led some to conclude that the tea party itself must be the mastermind behind the tragedy.
In a blog post on Monday, conservative website FireAndreaMitchell fanned those flames, sparking the ire of several right-leaning tweeters by suggesting that CNN's Wolf Blitzer had also blamed the tea party for the incident. The Daily Caller's Jeff Poor, meanwhile, wrote that Blitzer had speculated on a potential link between the explosions and Patriots Day.
Here's what Blitzer actually said during CNN's breaking coverage of the explosions: "It is a state holiday in Massachusetts today called Patriots Day, and who knows if that has anything at all to deal -- to do with these, these twin explosions."
There is, of course, widespread speculation that the explosions were the result of a terrorist attack, but nothing has been confirmed. Although the New York Post initially reported that a suspect was identified, the Associated Press later reported that the Boston police commissioner said no suspect is in custody.
Despite the lack of information, Erik Rush, a conservative columnist for WND, took the opportunity to joke about retaliating toward Muslims, tweeting, "Yes, they're evil. Let's kill them all." Rush later deleted the tweet, but he continued to goad his critics, posting, "Hey, I'm not denying I said it."
In the meantime, the White House is treating the incident as a deliberate act; while President Barack Obama avoids referring to the perpetrator(s) as terrorists in a briefing Monday evening, he vowed to "find out who did this."
For updates on the explosions, visit IBtimes' live blog here.
Got a news tip? Send me an email. Follow me on Twitter: @christopherzara
© Copyright IBTimes 2023. All rights reserved.