Bradley Manning Trial: Accused WikiLeaks Army Private Declines to Enter Plea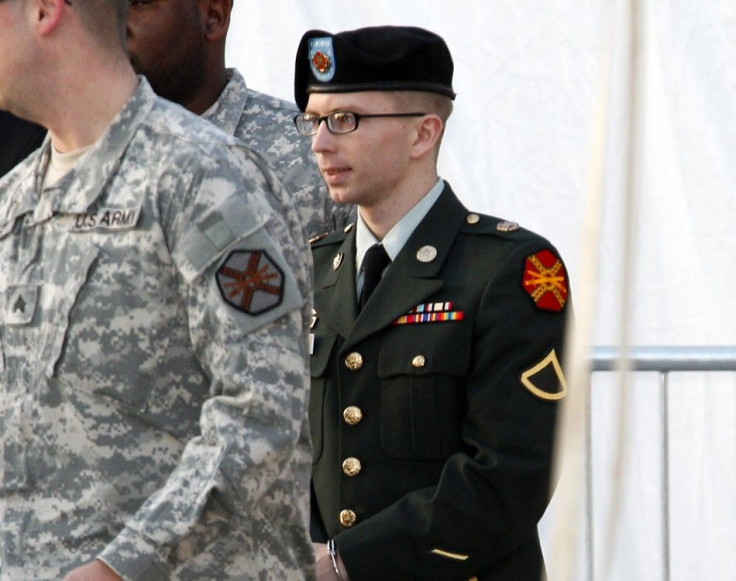 The Army private accused of leaking hundreds of thousands of documents to WikiLeaks, arguably the largest document-leak in U.S. history, declined to enter a plea at the start of his court-martial on Thursday.
Manning sat in the courtroom before the military judge as his defense team spoke to the judge.
PFC Manning would like to defer both on his plea and on motions, said David Coombs, his civilian counsel, according to ABC. This legal defense is designed to allow Manning and his lawyers to determine how the prosecution will utilize the evidence and witnesses at the trial.
Manning, however, barely spoke throughout the proceeding. He only said yes your honor when the judge asked if he understood the charges against him.
Manning is accused of aiding the enemy, causing intelligence to be published, stealing public property and records and transmitting defense information. Prosecutors allege that he willfully and knowingly supplied the online publisher WikiLeaks, specializing in revealing information, with military-action reports from a Iraq and Afghanistan, as well as 260,000 classified State Department cables, while he served as an Army intelligence analyst, reported ABC.
Aiding the enemy is a capital offense that could bring Manning the death penalty. Army prosecutors, however, will be seeking life in prison, if the 24-year-old is convicted. He could also face a reduction in rank and pay-grade, as well as a dishonorable discharge.
Manning declined to answer in why type of forum he wishes to be tried. Under the law, he as the option to be tried before a military judge alone, or a panel of military officers, similar to a jury, or a member-panel consisting of one-third enlisted soldiers, reported ABC.
The trial date will be determined by the military judge. But the defense objected to dealing with the date until June, saying it would violate Manning's due process, reported ABC.
As of today, PFC Manning has been in pretrial confinement of 635 days, Coombs said. He added that, if the trial is delayed, Manning could have served 800 days in pre-trial confinement.
Manning's next court date is expected to be March 15. It will address the court-room procedures and motions that must be submitted by the prosecution and defense.
© Copyright IBTimes 2023. All rights reserved.