British Open 2013: Tiger Woods, Steve Williams Handshake At Muirfield Signals End To Long-Running Feud [PHOTO]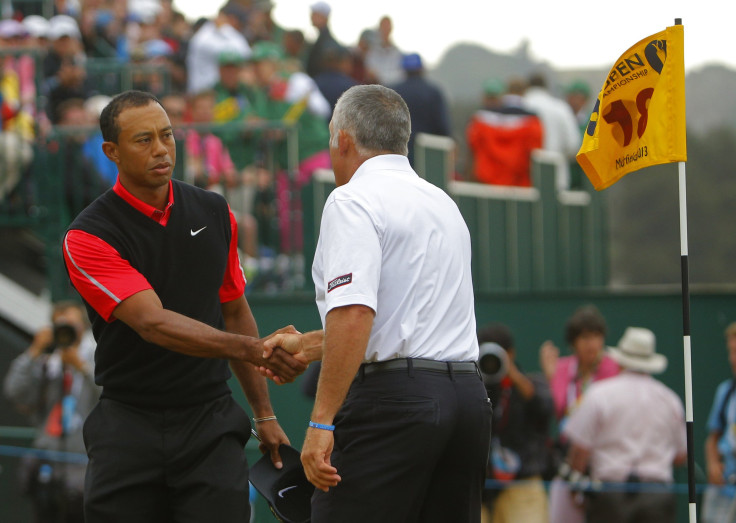 While Sunday's 2013 British Open Championship played out to provide Phil Mickelson with the fifth major title win of his career, it also apparently served as neutral ground for Tiger Woods and his former caddie Steve Williams, whose 13- year relationship soured in 2011.
Woods and Williams shook hands after the conclusion of the Open Championship on Sunday at Muirfield, where they also shared a brief discussion that on-air commentators described as "longer than usual." Williams also provided Woods a pat on the back after the world's No. 1 ranked golfer finished in a sixth-place tie.
In a post-round press conference, Woods acknowledged the significance of the moment between him and the man with whom he had won 13 of his 14 major championships.
"It was," Woods said. "He was saying it was a good fight out there today."
In July 2011 Woods, who was in the midst of an injury that kept him out of action for most of four months, fired Williams – a move that surprised everyone including Williams himself. "Needless to say, this came as a shock," Williams said in a statement posted on his own website.
Several controversial comments came in the months following Williams' departure from Woods' side, including one made by the caddy that was perceived by some as being racist towards Woods.
During a caddies awards dinner in Shanghai in June 2011 after having won the WGC Bridgestone Invitational with his new golfer Adam Scott, Williams said it was the most satisfying of his career, despite being on Woods' bag for so long. In reference to Woods, Williams later added that it was his aim "to shove it right up that black arsehole." Williams apologized soon after.
Woods' current caddie, Joe LaCava, told ESPN on Sunday that he did not want to eavesdrop but confirmed that Woods and Williams first chatted on the eighth fairway. "I think it's great if that's the case if it's getting better," LaCava said, who began working for Woods in October 2011. "I think it's great for both of them. You know, life's too short. It's nice that Steve is making the effort, and I think Tiger to me is accepting the effort and I think he's happy he's making the effort."
© Copyright IBTimes 2023. All rights reserved.