BTS Jungkook Unintentionally Sells Out Product During Livestream: 7 Other K-pop Idols Dubbed As 'Sold-Out Stars'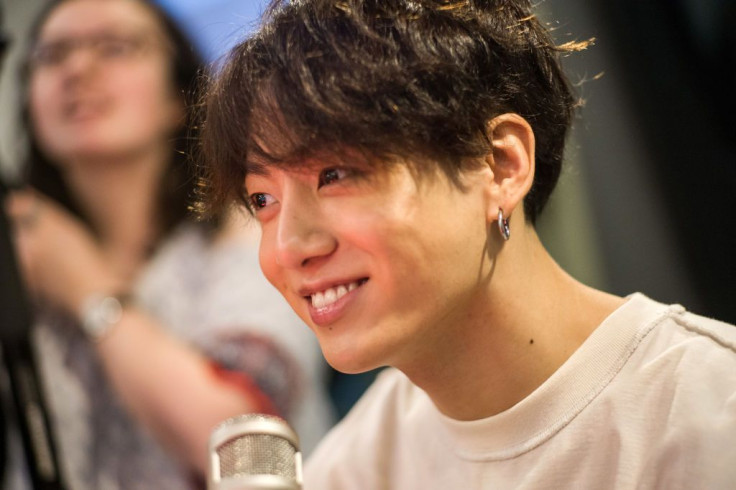 KEY POINTS
BTS member Jungkook went live on Weverse last week
During the live, Jungkook drank from a blue mug as fans tuned in
Other "sold-out stars" include Blackpink's Jennie and Rose, G-Dragon and more
BTS member Jungkook's pulling power is like no other after another item he was spotted using quickly sold out on e-commerce platforms.
The 25-year-old South Korean artist went live on Weverse — a fan community app where Hybe K-pop idols could interact with their fans — last week to catch up with his supporters and serenade them with their requested songs.
During the live stream, however, Jungkook was seen drinking from a light blue-colored mug. Soon enough, fans flocked to the e-commerce sites, especially Amazon, to scout for the exact mug — later identified as the "Metro Mug" from the brand LocknLock, according to Koreaboo.
The "Metro Mug" became an instant best-seller on Amazon and temporarily went out of stock.
Luckily, the brand appeared to have re-stocked the product in its blue variation but only in the 22-ounce size. It costs about $17.90 at a discounted price, compared to the original price of $21.99. The smallest size, 16 ounces, is still unavailable on the site. Other colors for the mug include black, dark green, lavender, mint, and navy, among others.
This isn't the first time Jungkook unintentionally sold out an item in the past years. Previously, the clothes he wore during his advertisement for Calvin Klein sold out across several stores worldwide, including in the U.S., South Korea, China, Japan, and Canada.
The phenomenon of selling out items is not new in the K-pop industry. Most brands are gearing toward appointing K-pop idols as global ambassadors because of their impressive pulling power, which immediately increases their sales, per South China Morning Post.
Below is the list of 7 other K-pop idols also known as "sold-out stars" in the industry:
1. Blackpink's Jennie
Blackpink member Jennie has an impressive influence in the fashion industry and social media, with a jaw-dropping 79.4 million followers on Instagram. So, it's no wonder why products by the "Solo" singer would instantly sell out.
Though she was named a global ambassador for the luxury fashion house Chanel, she has also helped Adidas' sales skyrocket following a post of her wearing the classic Adidas Samba. Soon, fans lined up outside their local Adidas stores, hoping to get a pair.
2. Blackpink's Rosé
In January 2021, the 26-year-old vocalist of Blackpink donned an oversized Yves Saint Laurent (YSL) feather jacket during the group's first-ever online concert called "The Show." This was after Rosé was named an ambassador for the French fashion house.
Following her appearance, the fashion piece, which was priced at $15,000 quickly, sold out in stores in February of the same year, according to Koreaboo.
3. G-Dragon
Dubbed "The King Of K-pop," G-Dragon is one of the industry's most influential artists. Hence, any item or collaboration of the 34-year-old South Korean rapper would become an instant hit.
In 2019, G-Dragon collaborated with Nike called "Para-Noise," which starred the brand's iconic Air Force 1 sneaker. When the collaboration dropped online, it only took about 30 minutes for the item to sell out completely worldwide.
The following year, the Big Bang leader released "Para-Noise 2.0," and it beat his personal record, as the item sold out in 20 minutes across 42 countries.
4. BTS' Jimin
BTS member Jimin has also proved his massive influence among fans and caused an expensive Louis Vuitton pullover to quickly sell out in the U.S. and South Korea within 24 hours, even without officially promoting the brand.
The "Like Crazy" hitmaker was seen wearing the $1,000 fashion item in a video uploaded on BTS' official Twitter account back in 2021, per Allkpop.
5. Jackson Wang
Jackson Wang — a member of K-pop boy band GOT7 — was named as a brand ambassador for Fendi in 2019 and even released a limited-edition collection with the brand where he participated in personally designing most of the clothes, shoes, and accessories.
When it made its initial launch in China back on July 20, 2019, the collection sold out instantly. Afterward, Wang and his team held an event to celebrate the success of the launch.
6. BTS' V
Dubbed the "sold-out fairy," BTS member V is among the first few members of the group to sell out any item. Back in 2020, the 27-year-old "Christmas Tree" singer stunned fans by wearing a Tom Ford gray suit when the internationally renowned group starred in Variety magazine's cover shoot.
Soon enough, fans — known as ARMY — were able to find the suit V wore, which was part of designer Kim Seoryong's Fall/Winter 2020 collection and cost about $4,860.
In just hours, the Tom Ford suit was no longer available on the site.
7. EXO's Kai
As a brand ambassador for Gucci, Kai was often spotted wearing clothes and accessories from the band everywhere he goes. In 2019, the EXO main dancer caught the attention of fans when he appeared at the airport wearing a silver Gucci ring.
Fans started to purchase the ring, priced at $250 and called it a "friendship ring" with Kai, and it completely sold out in South Korea's market.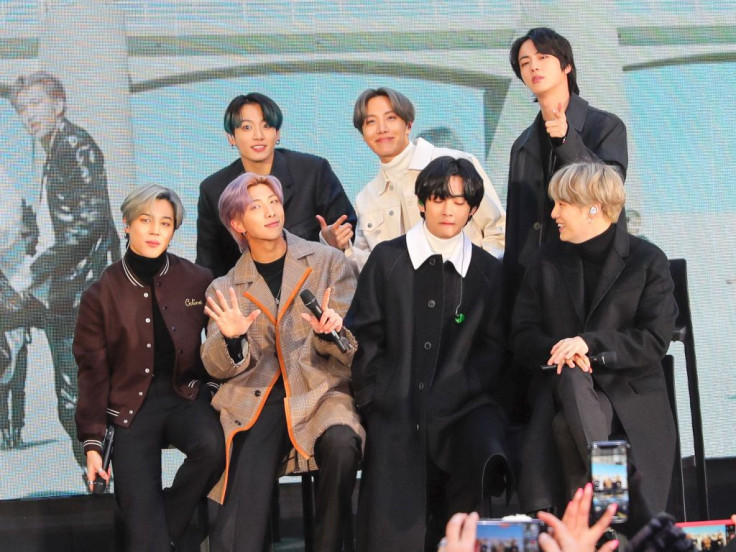 © Copyright IBTimes 2023. All rights reserved.