California Road Rage Victim, Jerry Patterson, Says He Wishes He Never Left His Vehicle [VIDEO]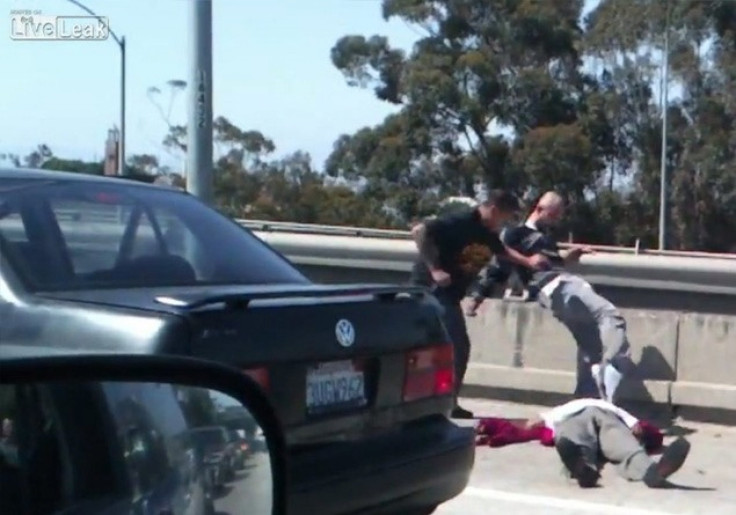 A driver involved in a Southern California freeway brawl that was captured on video and went viral on the internet, said he regrets getting out of his and should have called the police.
Jerry Patterson, a mortgage consultant and father of three said he suffered a concussion from the incident when three brutes had attacked him on the freeway, repeatedly punching and kicking him in the head.
In 20/20 hindsight, I probably should have called the police, said Patterson told NBC4 I'm just not that kind of person. I didn't think in my wildest dreams it would escalate to where it went to. ... It was just a fight. You win some, you lose some. ... I don't remember much of that.
Patterson was driving on the 710 Freeway approximately 3:30 p.m. on June 12. He said he accidently cut off three men driving a Jetta.
I told them, 'Sorry, my bad,' Patterson said, according to NBC.
For approximately five miles, the occupants tailed him. They began throwing garbage at him, escalating the situation.
As I remember it, I'm trying to get away, they followed me, it got to a point where they blocked me on the freeway, said Patterson, reported ABC.
The men from both vehicles pulled to the side of the highway and got out of their cars. On the video captured by the bystander, they begin exchanging words until one of them and Patterson entered into a fighting stance.
Two other men quickly became involved in the fight. They tossed him to the ground and began violently assaulting him.
B the time the authroities arrived, the scene was completely empty, but the video drew the attention of the California Highway Patrol. Investigators are currently looking into the incident.
At this point in time, we are seeking the public's assistance in not only identifying and speaking with the individuals involved in the incident, but we would also like to speak to any witnesses who may have seen this incident, videotaped this incident and/or have any information that would assist us in furthering our investigation, Sgt. Denise Joslin said, according to the L.A. Times. We are in the early stages of this investigation.
Emeal Age captured the incident on his cell phone and posted it to Youtube. He said he wishes he did more to help Patterson.
I didn't want to jeopardize what I have going on in my life for something like that, so I just made the best decision and all I could do what get it on camera for him, Age said according to the NBC.
After the fight was over, Age and another unidentified man walked over to Paterson to tend to him.
Police said that the suspects were driving a Volkswagen Jetta with California license plate number 3UGW962. Police ask the public to call the Central Los Angeles CHP office with information at (213) 744-2331.
© Copyright IBTimes 2023. All rights reserved.
FOLLOW MORE IBT NEWS ON THE BELOW CHANNELS