Campbell's To Remove BPA from Cans; FDA to Decide on Ban by March 31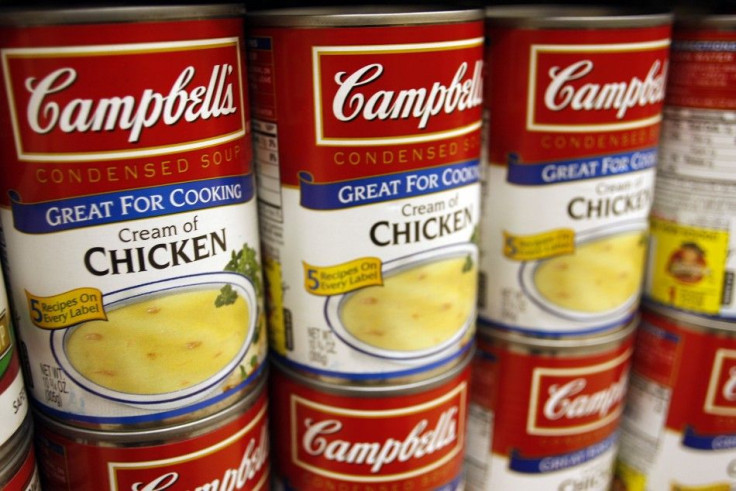 The Campbell Soup Company will remove the controversial plastic hardener bisphenol A (BPA) from all of its soup can liners, the company announced Monday. The announcement comes during a time when Food and Drug Administration officials continue to debate a potential widespread ban on BPA in all food and drink packages. FDA officials plan to announce its decision on a potential ban by March 31.
Plastics manufacturers use BPA to harden plastics, but the chemical mimics estrogen in the human body, first reported in the journal Environmental Health Perspectives. Studies have linked the chemical to a host of health issues such as cancer, reproductive problems, heart disease and neurological issues, though so far FDA officials consider BPA to be safe.
People become exposed to BPA from eating or drinking anything that's been stored in containers that use BPA, according to the Centers for Disease Control and Prevention. Researchers from the Centers for Disease Control and Prevention found BPA-laced urine in 93 percent of residents tested between 2003 and 2004.
The announcement from Campbell's Soup is a reversal from the company's previous stance on BPA. In September, the Breast Cancer Fund, an organization that examines links between chemical exposure and breast cancer, released a report detailing the levels of BPA in canned foods. Though Campbell's had the highest level, the company maintained that its products were safe.
The overwhelming weight of scientific evidence shows that the use of BPA in can lining poses no threat to human health, Anthony Sanzio, Campbell Soup Company spokesman, told ABC News in September.
The Breast Cancer Fund applauded Campbell's on Wednesday for beginning to phase out BPA.
Campbell's decision to move away from BPA is a victory for consumers, who have been demanding this change, Gretchen Lee Salter, policy manager at the Breast Cancer Fund, told the Milwaukee-Wisconsin Journal Sentinel. To truly be an industry leader, the company now needs to fully disclose the timeline for the phase-out and the alternatives that will be used.
Officials with the Campbell Soup Company did not announce when the phase-out would begin.
The soup company could be ahead of the curve if the FDA decides in favor of a BPA ban.
In October, France passed a ban on the chemical that takes effect Jan. 1, 2014. The ban applies to imports and could affect U.S. sales to France.
The French BPA ban would chiefly affect beverages, notably the Florida orange and grapefruit juice using plastic container; France is the second largest market for Florida juices with 21 million dollars sales, according to a U.S. Department of Agriculture report. Imported beer will also be targeted by this action. In addition, any product that contains a plastic packaging or a plastic component may be affected by this law. Frozen seafood and meat products are most likely using BPA in their packaging, as well as packers for bulk dried fruit and dried legume. That means to say that it affects the majority of the manufactured, frozen and fresh products, the report stated.
Various countries already banned BPA including Canada, the European Union and Turkey. Japan banned the chemical in can liners only. In the U.S., 10 states banned BPA from baby bottles.
© Copyright IBTimes 2023. All rights reserved.