From 'Carmageddon' to 'Carma-Heaven': I-405 Will Reopen Early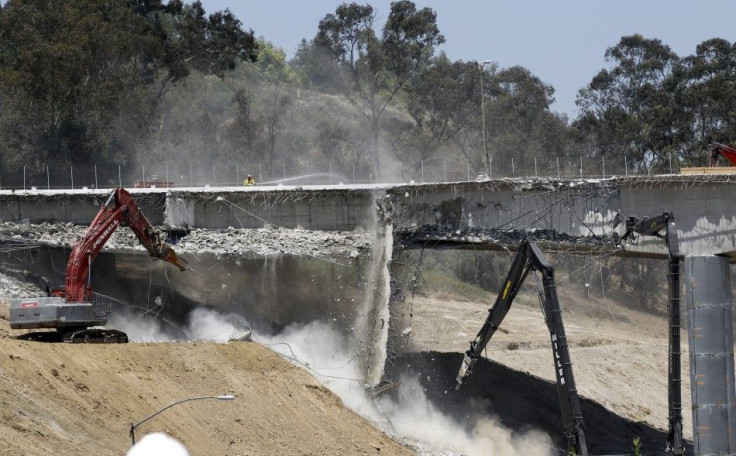 The once 53-hour halt will end early, officials say. Police and transportation officials warned Los Angeles residents of the Carmageddon traffic jam - a 10-mile stretch of the I-405 Freeway - last week and announced that the freeway that has been closed since Friday evening will reopen earlier than the scheduled 5 a.m. tomorrow, Monday, July 18.
Cars will be able to travel along the 405 freeway as early as this afternoon, according to the California Department of Transportation, or Caltrans, District 7 Director Mike Miles. The demo is complete. Just a matter of doing the clean-up, Miles told the LA Times from the emergency operations center set up to handle the project. We're looking at somewhere between 11 a.m. and 3 p.m. this afternoon, we should have the road opened up, Miles added.
Construction on the major Los Angeles freeway has been ahead of schedule, according to transportation officials who on Sunday considered reopening the road early. Crews finished their demolition work on the bridge Sunday morning, toppling two massive pillars hours ahead of schedule. Now they're starting cleanup efforts, The Associated Press reports.
According to LA Times, the reason for the closing is because of a planned demolition project of the Mulholland Bridge. The so-called I-405 Sepulveda Pass Improvements Project, will amount to a $1 billion and clog up about 281,000 cars, which pass through the area each day, according to the project site. It will close the 405 from its intersection with the 10 freeway stretching north to the San Fernando Valley. The road construction entails the demolition of the Mulholland Drive Bridge in order to accommodate the widening of the freeway and the addition of a northbound commuter lane.
© Copyright IBTimes 2023. All rights reserved.