CES 2012: LG Gets Smart, Brings Its A-Game to Vegas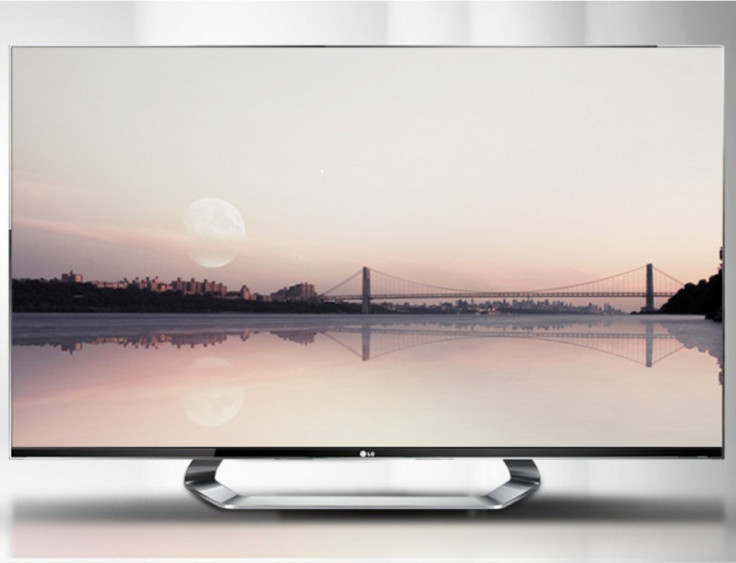 (LAS VEGAS) - LG wants to make your life easier. For the first big presentation at the International Consumer Electronics Show (CES) 2012 on Monday, the South Korean tech giant kicked off the event by debuting a slew of smart products, including an 84-inch television you can talk to, and a refrigerator that manages your food and synchronizes with other kitchen appliances.
LG Talks TV
At 8 a.m. Monday, LG woke up drowsy media attendees with its gigantic, stunning new 84-inch HD television with a ultra-sharp display resolution of 3,840 x 2,160 pixels and an astoundingly small 1mm bezel. The company also said it will also sell 55-inch and 60-inch televisions, with rims slimmer than 5mm. If the sizes weren't enough to impress, LG revealed that its line of cinema-style televisions can recognize voices and accommodates gesture controls to make the TV watching experience more personable and fun.
So how does it work? The company said the TVs will come with magic remotes, which give audiences three different ways to interact with their televisions. The remotes feature voice recognition, a scroll wheel and 3D gestures for searching the TV and even playing games. The TVs can even mirror its images directly and accurately onto smartphones via Wi-Fi, which LG calls Smart Share Plus.
Half of LG's televisions will also feature 3D viewing. Sets will come with six pairs of 3D glasses, but the company said it is working on passive 3D viewing to watch 3D on televisions without wearing glasses. This would be a first for televisions, although the technology is currently found on Nintendo's 3DS. It's not yet known whether this technology can do damage to eyes during extended viewing, especially for children whose eyes are still developing, but LG's TVs will copy Nintendo in giving audiences the chance to alter the 3D depth on the screen.
LG did not say how much the TVs will cost or when it plans to make these babies available. The company briefly mentioned its plans to release the highly-anticipated Google TV, but that's a story for another day. While the unveiling was a strong move for LG, CES 2012 is just beginning, and Samsung and Vizio will respond with their own futuristic TVs later this week.
LG Gets Cooking
While its official name is the Smart Refrigerator, the name really doesn't do this machine justice. It's best to think of LG's new appliance as a food manager.
Of course it keeps food cool, but it does so much more. It does just about everything but slice and dice.
Making a grocery list? LG's fridge keeps track of the food inside, and users can program grocery lists to automatically send to their smartphones. When you return home from shopping, the fridge recognizes your receipts and keeps an organized budget.
Watching your figure? The fridge tells you the calories and nutrients in each ingredient, and even tells you what you should and shouldn't eat. It even knows when food is going bad. Best of all, users can program in multiple family members, so the fridge can keep that chocolate cake away from Dad, but not from Mom. It'll even remember food allergies for individual people, keeping family members safe as well as healthy.
LG's fridge also goes where no other fridges have gone before: The rest of the kitchen. The Smart Refrigerator works with other LG appliances in the house, including its LG Smart Oven, so you can pre-heat the oven directly from the Smart Refrigerator's shiny LCD display located above the water and ice dispensers.
It also improved the refrigerator in its one key area: cooling. With its enhanced Blast Chiller, warm cans get very chilly in less than five minutes.
With its French doors, sleek exterior and smart interior, LG's Smart Refrigerator is a big achievement and an equally important innovation for the next-generation kitchen.
LG's Big Picture
LG also debuted several other products at its CES event on Monday, including a smartphone-controlled robotic vacuum cleaner that automatically cleans the house as you watch the big game on your shiny new LG TV, and a Smart Washing Machine that adds new spin cycles for baby clothes and clothes that need a super rinse. But despite the individual achievements of each product, it's much more impressive when they all come together to form one big, beautiful, intelligent LG ecosystem. LG has dreamed up and realized the future home, and its profound introduction Monday raised the bar for rival tech companies to impress this week at CES.
© Copyright IBTimes 2023. All rights reserved.
FOLLOW MORE IBT NEWS ON THE BELOW CHANNELS