CES 2013: Turtle Beach Dives Into Mobile Gaming With New High-End Headsets
"Core" Gaming Turns to Handheld Devices at CES 2013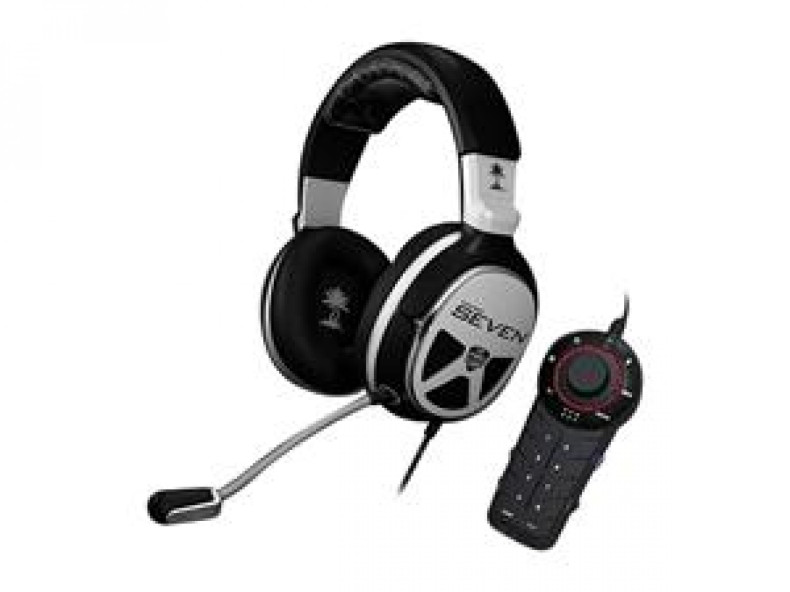 LAS VEGAS -- The 2013 Consumer Electronics Show is more of a hardware convention than a software one, which usually leaves big gaming announcements to industry-specific events like the Electronic Entertainment Expo and the Game Developers Conference. But this year's CES has already shown that the game sector, much like the rest of the tech industry, is diving headfirst into mobile.
Nvidia announced on Sunday a number of changes to its legendary graphics hardware that will put high-end video games into handheld devices. On Tuesday, gaming headset developer Turtle Beach unveiled a set of mobile-friendly devices to kick off its presence at CES.
Traditionally the maker of the highest of high-end gaming peripherals, Turtle Beach announced two headphone lines (the new SEVEN Series and updated models of its Ear Force XP/PX line) specifically built for cross-platform gameplay compatible with tablets, smartphones and handheld gaming consoles. All of the new headsets combine Turtle Beach's proprietary digital signal processor, Dolby Digital surround sound with dual-band Wi-Fi, a rechargeable lithium polymer battery and Bluetooth technology. The new features allow for cable-free use of the headset that can be connected to smartphones or tablets, bringing Turtle Beach's acclaimed audio equipment to "Angry Birds" and "Temple Run" players for the first time. A representative from Turtle Beach said the addition of Bluetooth would even allow users to take calls and stream music with the headset and continue playing a game at the same time.
The Ear Force SEVEN Series (pictured here), is Turtle Beach's flagship series for its new line of mobile-friendly headsets. Described as "tournament grade" headsets, they range from $150 to $280 and feature the most impressive list of Turtle Beach's signature audio features -- uncompressed surround sound and programmable audio settings that let users tweak different sound levels depending on personal preference or the type of game they're playing. Despite the high price, however, the SEVEN models are not entirely wireless; the headsets were produced in partnership with the e-sports organization Major League Gaming, which requires all tournament headsets to be wired in order to discourage cheating. Instead, the SEVEN comes with an external audio control unit that can be connected to different mobile devices.
The Ear Force PX51 and XP510 models, meanwhile, are where the brunt of the new wireless features have arrived. The two headsets cost $269 and $289 respectively and boast battery life of up to 15 hours, according to a statement from the company. But what's always set these headsets apart from its competitors, giving Turtle Beach more than 50 percent of the gaming headset market, is the quality and customizability of its sound -- made possible by the 50mm drivers in the cans themselves and the device's programmable features.
Much like Nvidia's move to mobile, Turtle Beach's new features seem like an inevitable outcome of a changing marketplace for console gaming. And its shift couldn't be more timely -- the Valhalla, N.Y.-based company recently appointed Juregen Stark, who most recently was chief operating officer for Motorola's (NYSE:MSI ) wireless division.
Stark insists that the added wireless features won't undermine the high quality standard that is expected from Turtle Beach headsets, saying that the company will "never take away from the utility of the high end."
But is the company worried at all about looming competition from mainstream audio brands like Monster, which just Monday announced a partnership with Electronic Arts (Nasdaq: EA) to produce its first gaming headset? Not really.
"They're in a completely different business than we're in," Stark said in an interview at the Turtle Beach booth at CES, echoing many criticisms that Monster headphones are more about clever branding than high-end audio production.
The new Turtle Beach headsets will be released throughout Q1.