Chris Christie 'Knew Nothing About' Jerry Jones Deal, He Says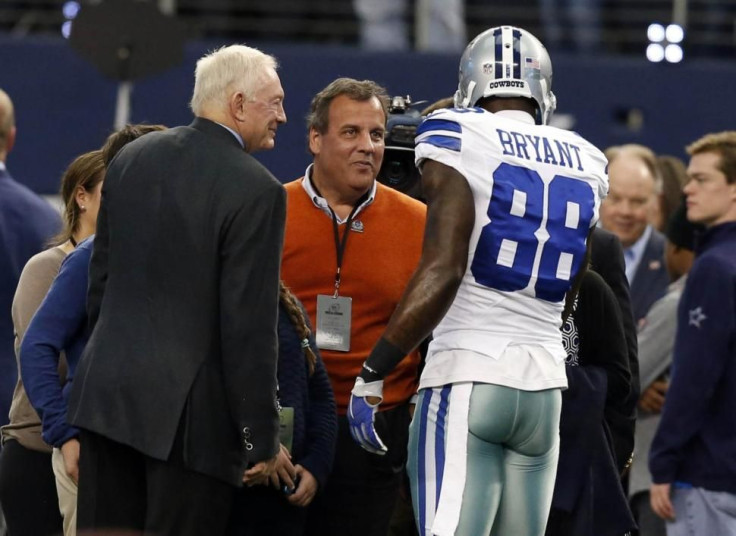 In a radio interview on Thursday, Gov. Chris Christie asserted that he "knew nothing about" a Port Authority contract given to a firm part-owned by Cowboys owner Jerry Jones. But Christie, along with New York Gov. Andrew Cuomo, issued a joint press release calling on the Port Authority to give the contract to Jones' firm. News of that press release was first reported by International Business Times last week.
The deal for Jones' firm became the subject of controversy after Christie accepted free travel and Cowboys game tickets from Jones, despite state ethics rules barring gifts to public officials from people or entities that those officials "deal with, contact, or regulate in the course of official business."
"When [Jones' firm] got the contract, I knew nothing about it. I didn't know him. I had no relationship with him. Nor did I have any influence or knowledge of who was going to run the concessions at World Trade Center 1, nor quite frankly, do I care. That was a New York issue. That's a building in New York. I don't deal with those issues," Christie said in the "Ask the Governor" interview on New Jersey's 101.5 FM.
Yet on March 19, 2013, Christie and Cuomo issued a press release announcing their selection of Legends Hospitality LLC to operate the observation deck on the top floor of One World Trade Center. "The governors are calling on the Port Authority Board of Commissioners to approve the agreement" with Jones' firm, the statement said.
The day after that press release, the Port Authority board -- which is appointed by Christie and Cuomo -- specifically cited the governors' announcement in voting to approve the contract for the company, which is jointly owned by the Dallas Cowboys, the New York Yankees and Checketts Partners Investment Fund.
In the radio interview Thursday, Christie asserted that he first "met Jerry Jones on the field in September of '13." That contradicted an earlier PBS interview in which Christie said, "I've become friends with Jerry over the last five years."
State lawmakers who led the investigation into George Washington Bridge lane closures have said they are considering a probe into Christie accepting gifts from Jones at the same time New Jersey has been doing business with the Cowboys owner and the National Football League. IBTimes reported that the gifts may run afoul of New Jersey's strict ethics rules. The Wall Street Journal subsequently broke the news that the gifts came after New Jersey gave tax subsidies to the NFL, but also after the Port Authority awarded a contract to Jones' firm.
Christie officials have argued that the gifts are permissible under an executive order signed by the governor that allows him to accept gifts from "personal friends." Earlier this week, nonpartisan ethics watchdog groups called on the state ethics commission to investigate into the gifts.
© Copyright IBTimes 2023. All rights reserved.