Cleveland Volcano: Alaska Eruption Raises Alert, Could Impact Flights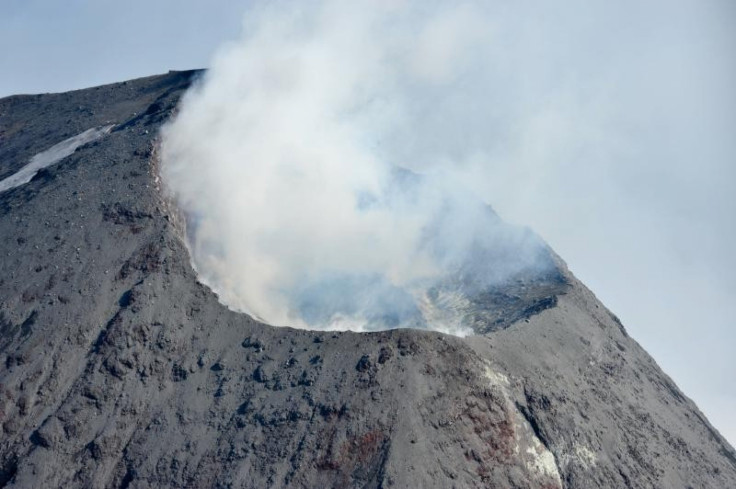 Authorities are monitoring a restless Alaska volcano for ash emissions and explosive activity. The Alaska Volcano Observatory has observed renewed eruptive activity of the Cleveland Volcano this week and a new lava dome has developed.
There have been no observations of ash emissions or explosive activity during this current lava eruption, the Observatory reported Tuesday.
However, the Observatory has raised the alert level to orange for Mount Cleveland, indicating that the volcano is exhibiting heightened unrest with an increased potential for eruption. Sudden eruptions could occur at any time and the amount of ash emitted is uncertain at this time.
The volcano has been watched closely for further explosions and ash emission since the fall, after a lava dome was destroyed on Mount Cleveland by an eruption at the end of December 2011.
It remains possible for intermittent, sudden explosions of blocks and ash to occur at any time, and ash clouds exceeding 20,000 feet above sea level may develop, the Alaska Volcano Observatory reported Tuesday.
An eruption followed by heavy ash emissions could threaten intercontinental flights, Steve McNutt, a scientist at the University of Alaska Fairbanks, told CNN. 90 percent of freight flights as well as hundreds of passenger flights from Asia to Europe and North America fly over Alaska.
If there is an explosion and (ash) reaches high altitudes, it will cause flights to be rerouted and ultimately canceled, McNutt told CNN.
Cleveland Volcano's most recent significant eruption occurred in 2001. The eruption produced three explosive events, producing ash clouds as high as 39,000 feet above sea level.
The 2001 eruption also produced a rubbly lava flow and hot avalanche that reached the sea, the Observatory said.
The remote Cleveland Volcano forms the western half of Chuginadak Island, a remote and uninhabited island in the east central Aleutian Islands, located in southwest of mainland Alaska, over 900 miles from Anchorage.
Related Article: Virginia Aftershocks From 2011 Earthquake Continue to Rattle State
© Copyright IBTimes 2023. All rights reserved.