Coinbase Down: As Bitcoin Price Falls, Exchange Temporarily Halts Buying, Selling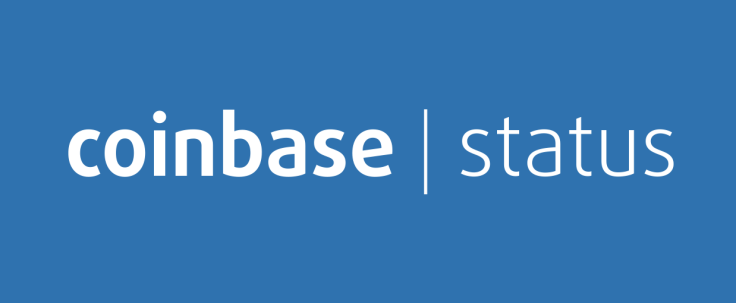 Friday's sudden plummeting of bitcoin prices has people asking if the cryptocurrency bubble is popping and now a major player in the space is temporarily halting all buying and selling on its exchange.
Coinbase announced the news on its site Friday morning. "All buys and sells have been temporarily disabled. We are working on a fix and apologize for any inconvenience." While it would be easy to infer that the price fluctuation of bitcoin is the reason for the trading stoppage on the popular digital currency exchange, but Coinbase said it has to do with "today's high traffic."
As of 1:30 p.m. EST Coinbase is still down for most users. "We're working on restoring full availability as soon as possible," the site said.
Update, 1:44 p.m., according to Coinbase buys and sells have been re-enabled. "We are monitoring for stability."
Coinbase users took to Twitter Friday to voice their displeasure.
It has been an interesting few weeks for Coinbase. The exchange has been at the center of the news after insider trading allegations surfaced. Users were convinced this week that Coinbase was involved in insider trading. They allege that employees bought bitcoin cash (BCH) from other digital currency exchanges before the public knew Coinbase would soon support BCH.
Brian Armstrong, Coinbase CEO, said he does't believe there was any "wrongdoing," but the company will investigate the Coinbase insider trading claims. "All Coinbase employees and contractors were explicitly prohibited from trading Bitcoin Cash and from disclosing our launch plans over a month ago. This was communicated multiple times via multiple channels to employees," Armstrong wrote in a blog post. "Given the price increase in the hours leading up the announcement, we will be conducting an investigation into this matter. If we find evidence of any employee or contractor violating our policies — directly or indirectly — I will not hesitate to terminate the employee immediately and take appropriate legal action."
This story has been updated to include new information and the status of the Coinbase website.
© Copyright IBTimes 2023. All rights reserved.
FOLLOW MORE IBT NEWS ON THE BELOW CHANNELS