Comcast Merger Bad For Specialty Cable Networks? Univision CEO Comments Underscore Anxiety Of NBCUniversal Competitors
Merged company has an incentive not to carry competing specialty networks, one broadcaster said.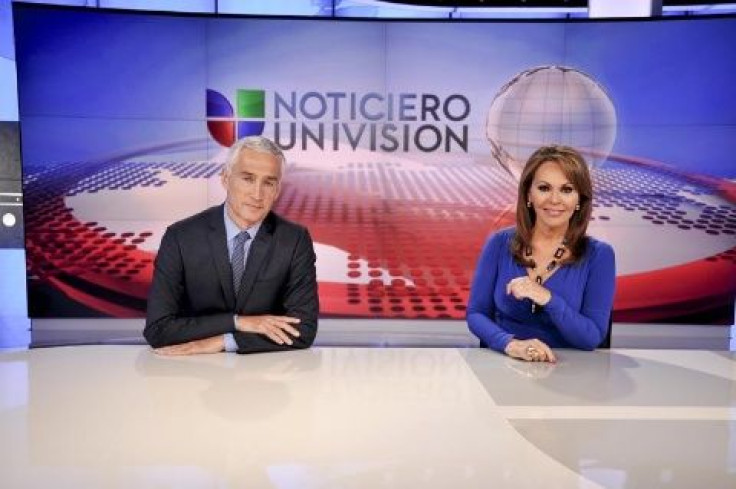 As Comcast Corp. seeks to win regulatory approval for its pending purchase of Time Warner Cable, some are warning that the combined behemoth would limit programming choices for minority communities and hurt broadcasters that offer niche programming.
"[T]he new Comcast will serve markets with 91 percent of all Hispanic households and be the top TV distributor in 19 out of the top 20 Hispanic markets," Richard Falco, president and chief executive officer of the nation's largest Spanish-language broadcaster, said during a company call with analysts following the release of its latest quarterly earnings. "That gives this new company staggering influence over Hispanic consumers."
Falco is hardly a dispassionate observer: Univision competes directly with another major Spanish-language broadcaster, Telemundo, which is part of NBCUniversal -- a television empire now owned by Comcast. But Falco's remarks injected the issue of ethnic diversity into a broader conversation about the potential pitfalls of placing so much of the plumbing for the Internet and video programing into the hands of one corporate entity.
In the cable-TV industry, conglomerates are getting bigger as audiences grow more and more fragmented. And the friction between those two trends was underscored by Falco's comments, which echoed the oft-repeated concern that the merged Comcast-TWC would be in a stronger position to discriminate against nonaffiliated programming in favor of its own content.
During the conference call, Falco, while not outright objecting to the merger, said combining the country's largest and second largest cable companies could be bad for competition and "bad for Hispanic audiences." He told investors that he hopes "the right questions are asked" during the ongoing regulatory process in which government officials are weighing the merger's potential impact on marketplace competition.
Comcast quickly shot back, saying in a statement Monday that it is "proud to be the nation's largest provider of Latino and multicultural television" offerings. "We have a proven track record with Hispanic customers offering the greatest programming choices in linear, digital, and on-demand platforms."
Falco's comments are unusual in that many larger purveyors of specialty television have so far chosen not to express their views on the proposed merger. International Business Times reached out to others, including AMC Networks Inc. (NASDAQ:AMCX), Viacom Inc. (NASDAQ:VIAB) and A+E Networks, a unit of the Walt Disney Company (NYSE:DIS). Together, the three entities own more than two dozen cable networks. None have spoken out publicly on the merger so far. Viacom declined to comment and the others have not responded.
While the sentiment Falco expressed was unusually forceful, he isn't the first specialty broadcaster to voice fear over the possibility of suffocating in Comcast-NBCUniversal's expansive pipes-and-content ecosphere. NBCUniversal is a major media conglomerate even without Comcast, with ownership of more than two dozen broadcast and cable networks, serving virtually every sub-segment of the viewing population. It's a consequence of the television industry's 20-year trend toward narrowcasting, in which networks targeting specific viewers -- whether it's foodies, sports fans or history buffs -- have siphoned off large numbers of eyeballs once aimed at the Big Four broadcasters.
The trend is a positive one from the perspective of smaller broadcasters who might seek to take advantage of unfilled niches among the plethora of assorted offerings already crowding cable-channel lineups. But those niche broadcasters are likely to go head-to-head with one of the dozens of Comcast-owned specialty channels, which broadcasters fear would be given even greater preference if the Comcast-TWC merger is approved.
It's an issue that James Bosworth, chief executive of Back9Network Inc., a fledgling network that will focus on golf lifestyles, said he experienced firsthand. Testifying before the Senate Judiciary Committee earlier this month, Bosworth said his network had been seeking a carriage deal with Time Warner Cable, but that negotiations "sputtered" after the merger announcement. He said he doesn't think it's a coincidence that Comcast also happens to own the Golf Channel, a potential competitor for both viewers and advertising dollars.
"[T]he incentive is for the merged company not to carry us," Bosworth told the committee. "I hope Comcast will remain true to its commitments and not discriminate based on its ownership of the Golf Channel, and I hope Comcast will judge us on the merits of our business plan. But, so far, that has not been our experience."
And those networks that might seek to challenge Comcast's methods should be prepared for a formidable battle, as the owners of the privately held Tennis Channel Inc. can attest. For years, the Tennis Channel has fought for better placement on Comcast's channel lineup, arguing that Comcast-owned sports networks such as the Golf Channel and NBC Sports are being placed on a more desirable tier, one that doesn't require an extra fee from subscribers. The FCC agreed with the Tennis Channel, but an appellate court overturned its ruling. "The U.S. Court of Appeals for the District of Columbia found that there was no evidence of discrimination by Comcast against the Tennis Channel," a Comcast spokeswoman told International Business Times earlier this month.
An attempt by the Tennis Channel to bring the case before the Supreme Court failed, but the dispute continues to be cited by critics of the proposed merger as a stark example of how Comcast already has both the incentive and ability to behave in an anticompetitive manner.
Got a news tip? Email me. Follow me on Twitter @christopherzara.
© Copyright IBTimes 2023. All rights reserved.