Corey Lewandowski's 6 Most Memorable Moments Before Trump Fired Controversial Campaign Manager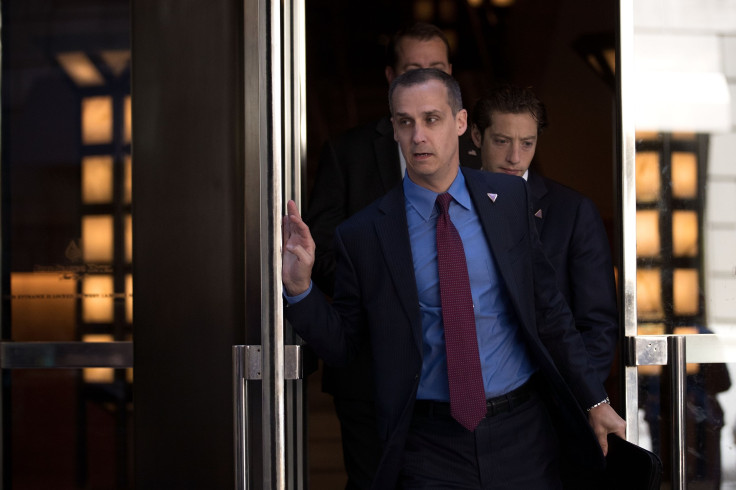 Corey Lewandowski will no longer pose a threat to any campaign reporters or protestors at Donald Trump rallies. After a yearlong tenure with the presumptive GOP presidential nominee's campaign that included more than its fair share of controversy, Lewandowski was dismissed as Trump's campaign manager Monday.
Trump's decision to ditch Lewandowski comes in the wake of increased scrutiny from Republican leaders and donors as Trump's campaign pivots to the general election, according to the New York Times.
"The Donald J. Trump Campaign for President, which has set a historic record in the Republican primary, having received almost 14 million votes, has today announced that Corey Lewandowski will no longer be working with the campaign," Hope Hicks, Trump's spokesperson, said in a statement. "The campaign is grateful to Corey for his hard work and dedication, and we wish him the best in the future."
Thanks to a penchant for controversy and a disregard for the press, Lewandowski's time with Trump garnered more attention than that of most campaigns' managers. Here is a list of his most memorable moments with the campaign:
1. The Michelle Fields Feud
Lewandowski's most infamous moment on her campaign trail came in March, when the campaign manager allegedly forcibly grabbed Michelle Fields, a reporter for Breitbart News, when she tried to ask Trump a question after a news conference at Trump National Golf Club in Jupiter, Florida. Fields later tweeted about the incident, sharing photos of bruises she claimed to have received from the encounter, bringing national attention to the story. Lewandowski was charged by the police with a single count of misdemeanor battery, but the Palm Beach, Florida, state attorney's office later declined to prosecute.
Lewandowski and Fields sparred over social media following the incident as Lewandowski refused to apologize or even admit culpability for grabbing Fields. Fields got the last laugh Monday.
2. Lewandowski Has 'Spirit'
Soon after the Fields incident, Lewandowski again made headlines for reportedly getting overly physical with a protestor at a rally while trying to remove the protestor's sign. Stranger still was his boss' explanation for why Lewandowski was in the crowd dealing with protestors personally.
"They had signs up in that area that were horrendous, that I cannot say what they said on the sign," said Trump. "But the ultimate word — and it was all over the camera — and, frankly, the television cameras can't take it and they can't do anything about it. And I will give him credit, spirited."
3. Lewandowski vs. His Employees
As rough as Lewandowski can be with press people and protestors, some reports suggest he is even harsher behind the scenes with his own employees. In April, The Daily Beast reported that while he was the director of the Americans for Prosperity super PAC, Lewandowski regularly berated staffers with some not-so-appropriate language, once calling a female co-worker a "f------ b----." Another time, Lewandowski reportedly reprimanded a staffer for taking off to visit a dying relative.
Perhaps that's why at least one Trump staffer was happy to see Lewandowski go Monday, with a Twitter post comparing the campaign manager to the Wicked Witch from "The Wizard of Oz."
4. The 'Body Man'
In March, Trump hired noted campaign strategist Paul Manafort to help in the effort to secure the GOP nomination, which immediately raised questions about Lewandowski's standing in Trump's campaign. The rumors persisted and in April two staffers told CBS News that after a campaign restructuring, Lewandowski's new role amounted to that of a "body man and a scheduler." Harsh.
Manafort later told CNN that he works "directly for the boss," making it clear he was not working directly with Lewandowski.
5. Street Fight
In May, Page Six reported that Lewandowski got into a screaming match with another staffer on the street in Manhattan. The other staffer, campaign spokesperson Hope Hicks, was reported to have been yelling at Lewandowski that she was "done with [him]." The incident further fueled rumors of strife within the Trump campaign.
6. Lewandowski Has Left the Building
On Monday, Lewandowski was reportedly escorted out of Trump Tower in New York City by security after being dismissed from the Trump campaign in a morning meeting. The sight will surely be a source of some ironic satisfaction for protestors who'd tussled with him in the past.
© Copyright IBTimes 2023. All rights reserved.
FOLLOW MORE IBT NEWS ON THE BELOW CHANNELS