Cowboys vs. Panthers: Preview, TV Channel, Live Stream Info, Kickoff For Thanksgiving Game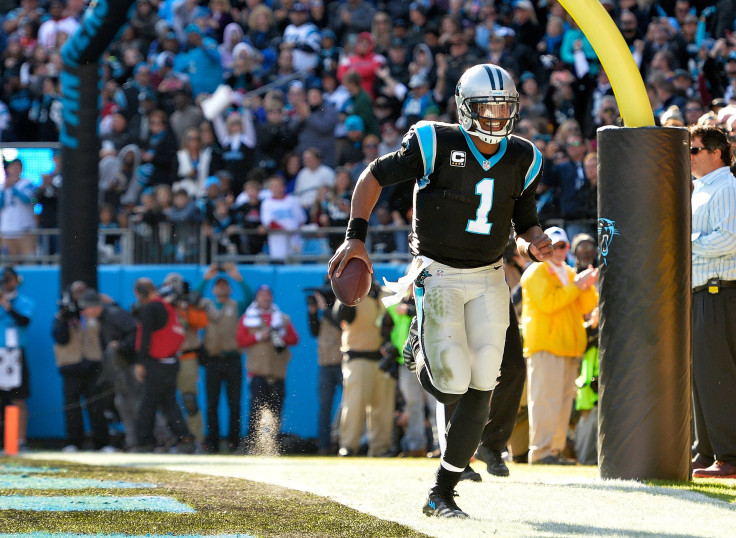 Already part of an elite group of teams to win their first 10 games since the NFL's 1970 merger, the Carolina Panthers can join an even rarer club as they make their Thanksgiving Day debut against the Dallas Cowboys (3-7) Thursday afternoon at AT&T Stadium.
Quarterback Cam Newton and the Panthers trounced Washington, 44-16, in Week 11 to not only continue the best start in franchise history, but also became the 15th team to go 10-0 to start the season. The New England Patriots became the 16th team to do so one day after the Panthers.
Now Carolina could be the 11th team to start the season at 11-0 and first since 2011, but despite its torrid start and Newton's MVP-level play odds makers aren't giving Carolina much of a shot against quarterback Tony Romo and the Cowboys. The Panthers opened as one-point favorites over the Cowboys, but it's quickly shuttled to the middle as a pick.
That might be more of a reflection of Romo's return from injury in Week 11 to help Dallas snap its seven-game slide in his absence than questions about Carolina's dominance this season.
After suffering a broken collarbone in Week 2, Romo completed 18 of 28 passes for 227 yards and two touchdowns to two interceptions in Dallas' 24-14 road win over Miami to keep the squad in the hunt for the NFC East title
The Cowboys are only two games back of the first-place New York Giants and will essentially need to run the table for a shot at the division and the postseason. Dallas is currently last in the NFC and the conference's wild card race technically involves as many as eight other teams.
But Romo's chances of leading Dallas back to the postseason for the second straight year have received a major boost from running back Darren McFadden. The former Raider leads the NFL's No. 8 rushing attack with 623 yards and three 100-plus yard games in the last five contests.
Coupled with electric receiver Dez Bryant and a stalwart offensive line, the Cowboys may have enough firepower to overtake Carolina's No. 4 ranked defense.
Allowing only 19.1 points per game, the Panthers are No. 7 against the pass and No. 8 versus the run while forcing a league best 25 turnovers through 10 games.
Of course the Cowboys defense, which allowed 30 or more points three times in Romo's absence and is No. 15 against the run, will have to find a way to contain Newton and running back Jonathan Stewart.
Now in his fifth season, Newton's on pace to obliterate his passing touchdown total for a single season with 20 strikes compared to nine interceptions, and he's gained another 382 yards and scored six more times on the ground.
Stewart came up with his second 100-yard game of the season against Washington, and is fifth in the NFL with 764 yards and four touchdowns at 4.0 yards per carry.
Betting Odds: Pick (PK)
Over/under: 46.5 points
Kickoff: Thursday, 4:30 p.m. ET
TV Channel: CBS
Live Online: NFL Online
© Copyright IBTimes 2023. All rights reserved.