Dak Prescott Laments Losing Ezekiel Elliott, What Moves Cowboys Need To Make This Offseason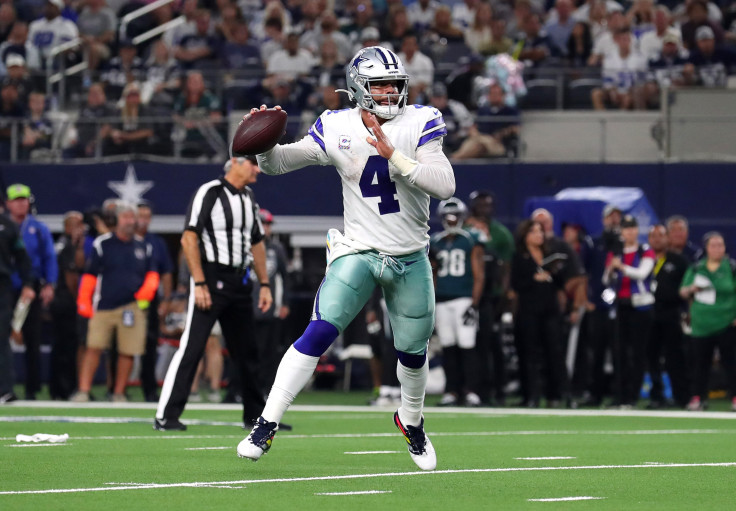 KEY POINTS
The Dallas Cowboys have opted to release running back Ezekiel Elliott
Cowboys quarterback Dak Prescott has addressed Elliott's release
The Cowboys need a perfect offseason to position themselves for a Super Bowl run
For the better part of seven NFL seasons, the Dallas Cowboys offense was powered by Dak Prescott under center and 2016 fourth-overall pick Ezekiel Elliott in the backfield, but that duo has now been broken up after the Cowboys opted to release the latter.
"Zeke's [Elliott] impact and influence is seared into the Cowboys franchise in a very special and indelible way. Zeke defined what a great teammate should be, and anyone that has ever played a team sport would be lucky to have a teammate like Zeke and be much better for it," Cowboys owner and general manager Jerry Jones was quoted to have said about the move.
But for Prescott, the pain is very much real.
In a recent media scrum at the NorthPark Center shopping mall in Dallas, Prescott explained not having Elliott in the Cowboys locker room moving forward.
"He played this game, did everything about this game the right way. When it was time to focus, to give everything that you had [on the field], to show your teammates and the younger guys what really mattered and how to get things done, Zeke was the guy to follow," Prescott said.
"I can't imagine him not being in the locker room."
The duo logged a regular season record of 70-44 across seven seasons and claimed the top spot in the NFC East three times.
However, postseason success eluded them multiple times with Divisional Round exits in 2016, 2018 and 2022 while missing the playoffs altogether in 2017, 2019 and 2020.
With Elliott's release, Prescott is only one of 10 players left standing in the Cowboys' 2016 draft class still with the team.
Names such as wide receiver Michael Gallup, tackle Tyron Smith, defensive ends DeMarcus Lawrence and Dorance Armstrong plus running back Tony Pollard are all part of that group.
Falling to a San Francisco 49ers team that was being quarterbacked by a rookie in Brock Purdy was seen as a major disappointment for the Mike McCarthy-coached Cowboys and that something had to give in the offseason.
Dallas has already secured the services of safety Donovan Wilson and linebacker Leighton Vander Esch while making a trade for Super Bowl champ cornerback Stephon Gilmore, but they still have holes to address on the side of the offense.
Prescott needs receivers and a new running back partner plus a kicker and some talent in the trenches on both sides of the ball.
The Cowboys have the No. 26, 58 and 90 overall picks in the upcoming draft to address the holes in their roster.
According to a new report, there is a "slim" chance that Elliott returns to the Cowboys, but fans of the franchise cannot afford wishful thinking at this point if they are hoping to see them get a shot at winning the Super Bowl.
A lot of things need to go right for the Cowboys this offseason and while losing Elliott stings, the Cowboys are propping themselves up for success as best they can.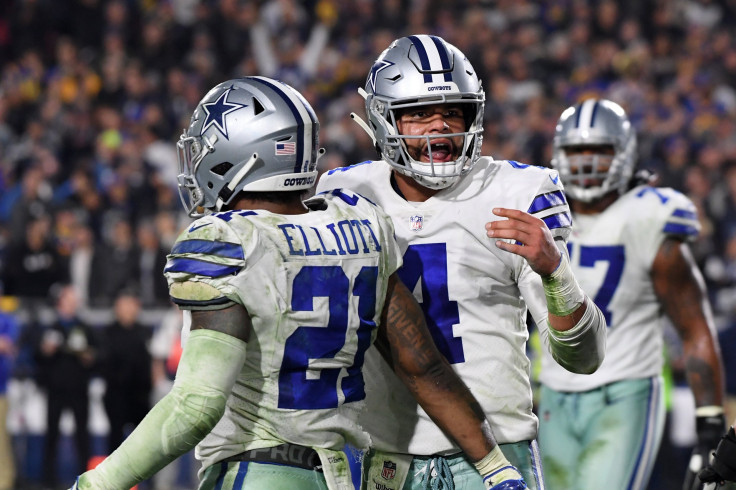 © Copyright IBTimes 2023. All rights reserved.