Dallas Cowboys News: With Lance Dunbar, Tony Romo And Dez Bryant Out, Who Will Step Up in 2015?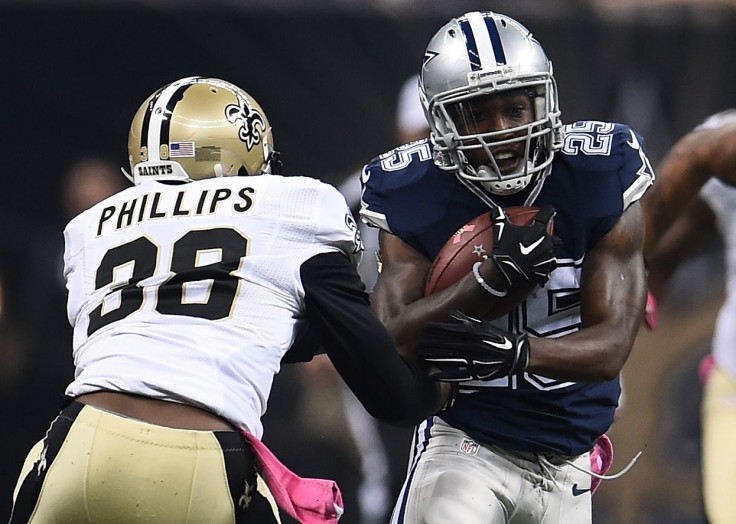 The injuries to the Dallas Cowboys' offense continue, as the team lost running back Lance Dunbar for the season in their Week 4 game against the New Orleans Saints. The team has already lost their No.1 quarterback and wide receiver for a significant period of time, and they are looking for answers that will keep them in the NFC East race.
With Tony Romo and Dez Bryant already likely to miss at least half of the 2015 season, Dunbar suffered a torn ACL and MCL that will keep him off the field until 2016. Dunbar has only five rushing attempts this year, but he's been a key part of the Cowboys' offense. He's second on the team with 21 catches for 215 yards.
The loss of Dunbar leaves current Dallas quarterback Brandon Weeden with limited options. Tight end Jason Witten is the team's top pass-catcher with 25 grabs for 238 yards, but their leading wide receiver is Terrance Williams, who only has 12 catches for 193 yards. Fifty-four NFL players have more receiving yards than Williams.
It's possible the offense may have to take more chances with less-known talent like wide receiver Brice Butler, who hopes to return from a hamstring injury in late October. Another option might be 6'6 tight end Gavin Escobar, who had 122 receptions in three seasons at San Diego State before entering the NFL in 2013. He has 22 career receptions playing behind Witten.
"I've always thought that the real best answer for not having Dez out there is a combination of things, but it included Escobar," team president Jerry Jones told "The G-Bag Nation" on 105.3 The Fan last week.
As the Cowboys look to produce a capable offense following all their injuries, they might have to rely even more heavily on their run game. The Cowboys entered the season expecting less production from their running backs with the departure of DeMarco Murray. Head coach Jason Garrett and offensive coordinator Scott Linehan may have to turn more to Joseph Randle, who has gotten off to an impressive start.
Randle is the team's top rusher, totaling a solid 229 yards. Only 14 running backs have more rushing yards. But Randle's yards per carry (3.9) ranks him No. 32 in the league.
Even with Romo not playing for the majority of the season, the Cowboys have become much more reliant on the pass. This year, Dallas has thrown the ball nearly 56 percent of the time. In 2014, when the Cowboys went 12-4, they threw the ball just 48 percent of the time.
Though his time on the field was limited last year, Randle averaged 6.7 yards per carry on 51 attempts, taking advantage of arguably the best offensive line in football. He hasn't been nearly as good in 2015, averaging 3.9 yards per carry. If Randle doesn't see his carries increase, he could see more opportunities to catch passes out of the backfield. He has six catches for 74 yards this season.
There are other options outside of Randle. Darren McFadden is the team's second leading rusher, totaling 113 yards on 32 attempts. He's also caught three passes for 40 yards.
The Cowboys traded for running back Christine Michael before the start of the season. The 24-year-old will become the team's No.3 running back despite limited experience. He only has only one rushing attempt on the season and no catches after 34 rushing attempts with the Seattle Seahawks in 2014.
Dallas won their first two games of the season, but they've gone 0-2 without Romo. They host the New England Patriots in Week 5, and they're tied with the New York Giants and Washington Redskins for first place in the division.
© Copyright IBTimes 2023. All rights reserved.